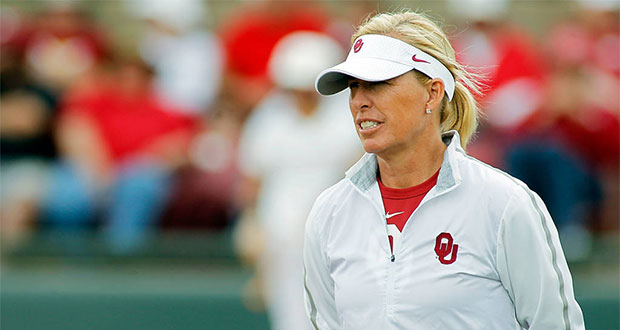 Fresh off winning her 4th national championship in Norman. Patty Gasso is being taken care of in a big way. According to multiple outlets, The Oklahoma Board of Regents approved a monster payday for the head softball coach on Thursday, awarding her a contract extension through 2024 with a $1 million annual guaranteed pay.
Under the new deal, Gasso annual salary will be  $725,000 with an annual bonus of $ 200,000 which she will receive on February 1st of every contract year starting in 2018. As a result, Gasso will be making 925,000 a year starting in 2018. Gasso was already the highest paid college softball head coach prior to this new deal.
Her base salary is $280,000, up from $250,000. The additional $445,000 will come from unrestricted private funds for fundraising, promotions and personal services. That total took the biggest jump, increased from $145,000.
She'll receive an additional $50,000 each year in outside income from the unrestricted private funds through June 1, 2024.
Gasso has led the Sooners to four national championships (2000, 2013,2016,2017) including back to back in the last two years and holds a 11146-322-2 (.780) record at OU. Under Gasso, Oklahoma has reached the Women's College World Series 11 times.
Gasso's staff is also being taken care of as Gasso her son, J.T. Gasso, an assistant softball coach, will make $125,000 annually, an increase from his previous salary of $83,400, while longtime pitching coach Melyssa Lombardi will make $185,000, up from $109,000.