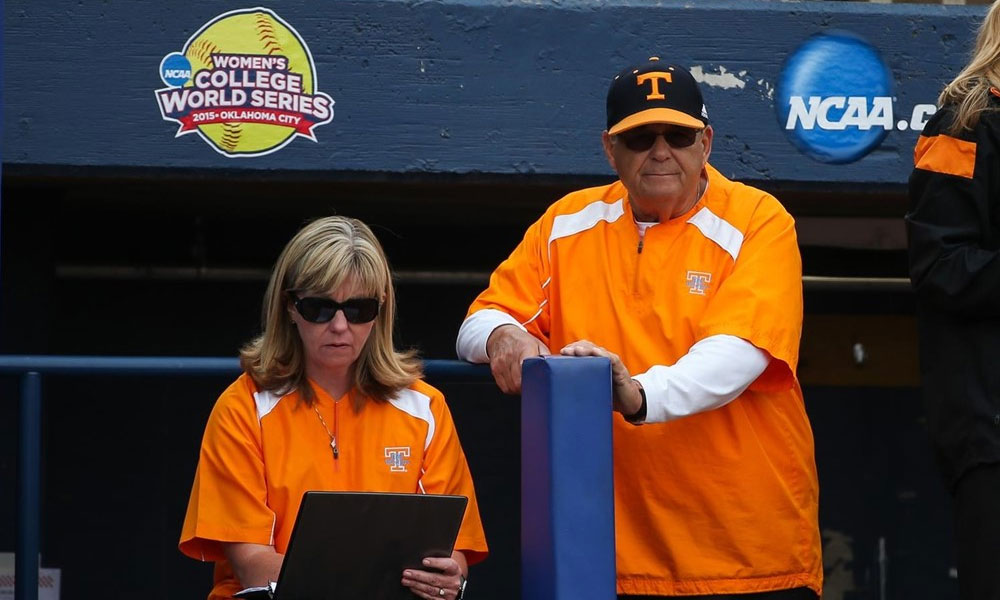 Tennessee Vice Chancellor/Director of Athletics John Currie announced Wednesday that softball co-head coaches Ralph and Karen Weekly have each received raises and contract extensions through the 2022 season.
The Weekly's previous contracts were set to expire on June 30, 2018. Their new five-year deals combine for a total value of more than $2.3 million and average $467,000 annually (also combined).
"Karen and Ralph have built Tennessee softball into a legitimate perennial national and SEC power," Currie said. "Much like the fans who regularly pack sold-out Sherri Parker Lee Stadium every spring, I am excited about the direction of the program and appreciate the way Karen and Ralph lead, teach and develop our student-athletes."
The Weeklys have guided the Lady Vols to seven appearances in the Women's College World Series, including national runner-up finishes in 2007 and 2013.
Having served as co-head coaches of the Tennessee program since 2002, the Weeklys have compiled an impressive record of 802-245-2 (.765) despite competing in the nation's strongest softball conference—all 13 SEC teams made the 2017 NCAA Tournament field. Tennessee has averaged more than 47 wins per season over the last five years.
"Soon after arriving at Tennessee, Vice Chancellor Currie made it clear this was a priority to him, and we appreciate his commitment to the Lady Vol softball program," Karen Weekly said. "From Chancellor Davenport to our terrific fan base, we are blessed with unparalleled passion and support. We are honored to coach at this great institution and look forward to leading the women of Tennessee softball for years to come."
Under the Weeklys' guidance, Tennessee has captured nine NCAA Regional championships, seven NCAA Super Regional championships, SEC Tournament championships in 2006 and 2011, the 2007 SEC Regular Season Championship and SEC Eastern Division titles in 2004 and 2007.
"I am very excited to continue coaching our student-athletes in their pursuit of excellence in the classroom and on the diamond," Ralph Weeklysaid. "It is uniquely special to share this dream job with my wife and best friend, Karen. I am especially grateful to Chancellor Davenport, John Currie and our athletic administration for their leadership and support."
The Weeklys both are members of the elite 1,000-win club, with Ralph Weekly ranking fourth all-time among Division I softball coaches with 1,303 career victories. They both also have coached USA National Teams to gold medals. Ralph Weekly was a member of the coaching staff for the U.S. Olympic teams that won gold medals in the Atlanta (1996) and Sydney (2000) games.
Among the myriad of coaching honors collected by the Weeklys are awards recognizing their UT staff as the 2005 and 2007 Speedline South Region Coaching Staff of the Year. Their staff has been a three-time recipient of the NFCA Southeast Region Coaching Staff of the Year award. Ralph and Karen Weekly also were named SEC Co-Coaches of the Year after guiding the Lady Vols to Eastern Division championships in 2004 and 2007.
The duo has produced 71 All-SEC or SEC All-Freshman selections, 33 Louisville Slugger/NFCA All-American honorees, five SEC Player of the Years, four SEC Freshmen of the Year, three SEC Pitchers of the Year and 59 Louisville Slugger/NFCA All-Region selections.
Under the Weekly's leadership, Tennessee was the first SEC team to reach No. 1 in polls and reach the WCWS Championship Series (both in 2007). They have recruited and developed many of the greatest players in program history, such as 2007 USA Softball National Collegiate Player of the Year Monica Abbott, Madison Shipman, Lauren Gibson, Tonya Callahan, Raven Chavanne, Lindsay Schutzler, Kristi Durant, Sarah Fekete, India Chiles, Kat Dotson, Ellen Renfroe, Tiffany Huff, Rainey Gaffin and Meghan Gregg, to name a few. Abbott and Shipman each were named the prestigious Honda Sports Award winner for Softball in 2007 and 2014, respectively.
Academic highlights during the Weeklys' tenure include a remarkable 21 CoSIDA/Capital One Academic All-American selections. The program also produced back-to-back Capital One Academic All-Americans of the Year for Division I Softball when Chavanne and Renfroe won the award in 2013 and 2014, respectively.
In the May 2017 NCAA Academic Progress Rate data release, Tennessee softball posted a multi-year APR score that was nine points higher than the national average of all Division I softball programs. Tennessee's most recent single-year APR score for softball was a perfect 1000, marking the fourth time the program has achieved that feat.
The Lady Vols also have posted a team GPA of at least a 3.00 in 23 of the last 24 semesters.
Crowds at beautiful Sherri Parker Lee Stadium are so large that standing-room-only tickets are regularly issued for SEC home games. Tennessee hosted 7,176 fans during its 2017 NCAA Super Regional series this past May. That set a facility attendance record for a three-game series.
Season tickets for Tennessee softball go on sale in the first week of January. Fans interested in supporting the Lady Vols at Sherri Parker Lee Stadium are encouraged to visit AllVols.com or call 1-800-332-8657.