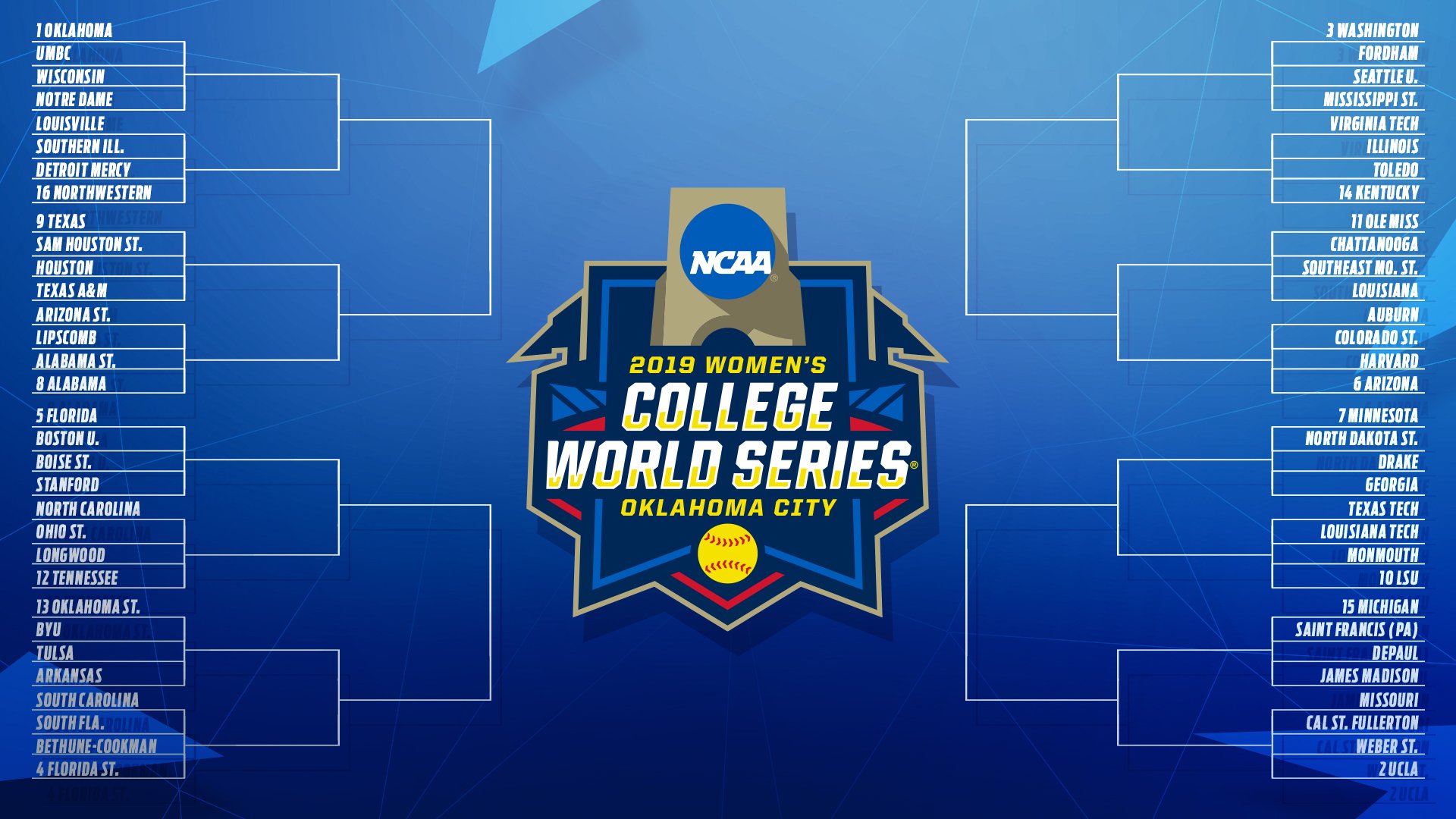 UPSET WATCH
MINNEAPOLIS REGIONAL (NO. 7)
In what felt like a small amount of redemption for the Gopher Softball program, Minnesota was awarded the national seven seed; good for a regional and potential regional host but it won't be an easy road. Minneapolis will host Drake, NDSU, and Georgia who are all 40+ win programs this season. Top to bottom this is arguably the most competitive regional of all 16 sites. The Gophers will rely heavily on ace, Amber Fiser, who will likely carry the entire load this weekend which could come into play (general fatigue) come championship Sunday. NDSU has been trending up and what ended up boding well for them is their original midweek double header with Minnesota was cancelled due to weather so neither team has seen each other yet this season. For Drake, Nicole Newman, has been good and is only getting better; she has thrown five perfect games over the last six weeks. She has a real opportunity to cause a lot of problems for opponents this weekend. Worth noting, Minnesota has beaten Drake twice this season with Newman throwing one of those games, but that was much earlier in the season. Georgia is a team who is definitely trending up and playing their best ball during this post season time. The Bulldogs started off a bit shaky but have begun to click on all levels within the last month or so of play. This past weekend in the SEC tournament they won their opening round matchup over Arkansas before falling in an impressive 2-1 eight inning affair with Alabama. Their rigorous schedule, especially as of late in conference play, should have them ready to face the likes of Newman and Fiser.

Also worth noting, the forecast in Minneapolis is weekend is terrible with rain and thunderstorms throughout. There are legitimate fears about being able to play out the regional so another storyline worth keeping a close eye on. Not only if the games will be played but how intermittent breaks and potential delays will effect all four teams. In the event of a washed out weekend, the high seed advances to Super Regional play.

OXFORD REGIONAL (NO. 11)
Ole Miss was award the national 11 seed to some question and criticism but also drew one of the hottest teams in the country with the ability to upset the Rebels in regional play: the Ragin' Cajuns of Louisiana. A bubble host team, Louisiana did not have a strong enough strength of schedule (T25 games) for the committee to give them a nod. Despite being on the road, this Oxford regional is a great placement for them and one they could very likely win. Ole Miss is considered to be "limping" into regional play while Louisiana is and has been one of the most consistent teams in the country. The Ragin Cajun lineup is talented and powerful from top to bottom while Summer Ellyson has been unreal in the circle.

KNOXVILLE REGIONAL (NO. 12)
While this one may be a but out on a limb, do not write off North Carolina who has steadily gotten better and more consistent over the course of the season. The Tar Heels have played some really good softball that includes wins over Michigan, South Carolina, Northwestern, Georgia, Virginia Tech, and highlighted by a series win over Florida State. The story here, yet again, is which UNC team shows up to the field this weekend. If they come firing on all cylinders, especially in the circle which at times can be shaky, Tennessee will have it's hands very full.
LEXINGTON REGIONAL (NO. 14)
Kentucky plays host to Toledo, Illinois, and Virginia Tech. The Hokies have had a dream season under first year head coach, Pete D'Amour. Unfortunately, they made an early exit from the ACC Tournament which should light a new fire under the Hokies and could bode badly for Kentucky when they go head-to-head. Virginia Tech has arguably one of the best one-two punches in the circle in Keely Rochard and Carrie Eberle while their offensive is collectively hitting a cool .338. Kentucky has been a bit hit or miss this season but played well during the SEC Tournament. What this regional comes down to is which team – for both programs – shows up each game. Home field advantage may be the edge the Wildcats need but all the same, keep an eye on this regional for another potential upset.

ANN ARBOR REGIONAL (NO. 15)
This has been thrown around over the past week that Michigan may be the underdog in their own regional hosting James Madison! Like Louisiana, JMU did not have a strong enough strength of schedule (T25 games) for the hosting nod. I, however, don't think this as much of as "done deal" as some. Michigan's Alumni Field is something special and one of those places that home field advantage rings extremely true. Plus, Meghan Beaubien is still throwing well (even after 199.1 innings) and freshman, Alex Storako, has definitely come into her own towards the end of the Wolverines 2019 campaign. Michigan versus JMU is one of the matchups I am most looking forward to during regional play. It should be exciting, intense, pitcher's dual. This is another location where home field advantage could prove to be the slightest of edge needed to send a team to the Supers; but host site 15 can easily go either way.

EVANSTON REGIONAL (NO. 16)
While I believe there is less of a chance for a ultimate Wildcat upset, Louisville is not one to sleep on. They have continued to develop, grow, and improve over the course of season under their new leader, Holly Aprile. The Cardinals can be hit or miss so it'll depend which team shows up at the plate and in the circle. For Northwestern, Danielle Williams is and has been an incredible force all season. The reason I say Louisville may have a chance is because there isn't as much behind Williams in the circle, so if they an chase her, they have a shot.

STORYLINES + PLAYERS TO WATCH
Courtney Coppersmith – UMBC (Norman Regional)
It will be fun to watch this ace firecracker compete nationally this weekend. Coppersmith has a 1.62 ERA, 342 strikeouts, has only issued 83 walks, while giving up just 53 earned runs over 229.1 innings of work. She could prove difficult to overcome throughout this regional.

Briana Paysigner + Cheyenne Smith – Bethune-Cookman (Tallahassee)
Paysigner helps set the table for the Bethune Cookman offense with a batting average of .306, 45 hits, and an on-base percentage of .416. Cheyenne is another table setter and and run scorer with a slash line of .289 batting average, 44 hits, 37 runs scored, and an on-base of .410. Collectively Bethune-Cookman holds a team on-base percentage of .336 which could serve them well this weekend, just need to find a way to capitalize and hit in those runners.

Lipscomb – (Tuscaloosa Regional)
Making just their third regional appearance and first since 2014, Lipscomb is ready to go. Jordan Fortel and Hannah Devault anchor the offense while Peyton Ward is a big run scorer for the Lady Bisons. Mandy Jordan has been good in the circle with a 1.81 ERA and 154 strikeouts over 170.1 innings of work. Lipscomb has the talent to give teams a tougher game than maybe they would like in earlier rounds. Also notable, they hold a 37 RPI which is one of the highest in the country for a mid-major program.

Kayla Konwent – Wisconsin (Norman Regional)
It will be excited to see how the Big Ten Conference's Player of the Year, Kayla Konwent, and her Badgers fare in Norman. Konwent is hitting an unreal .477 with 15 home runs, 53 RBIs, and 18 doubles. Over 155 at bats she has only struck out 16 times while boosting an insane .599 on-base percentage. All this after battling injuries and almost hanging up her cleats for good. Wisconsin has a good history of making regionals interesting in the past seasons and while I don't believe they are going to overcome Oklahoma they do have the talent to keep it interesting.

Southern Illinois – (Evanston Regional)
A hotly debated team in the field of 64, it will be important for Southern Illinois to come out and play well. Do they have a chip on their shoulder? They should! And hopefully they can use that to fuel a strong weekend statement performance.

Missouri – (Los Angeles Regional)
Give me a better story line this season? If it's not the best it is at the top. How exciting for this Tigers' squad that has been through a lot but are flourishing above all expectations under first year head coach, Larissa Anderson. If you haven't watched them play this season, try to catch a game this weekend, they are fun!

Colorado State – (Phoenix Regional)
The Rams have had a dream season, compiling a 38-10 record en route to a Mountain West Title. Their resume includes victories over Stanford, Oklahoma State, a sweep of Fresno State, two of three from UNLV, and BYU. Collectivley the Rams are hitting .327 while being led by Amber Nelson (.421 BA, 49 RBIs .494 OB%) and Tara Shadowen (.372 BA, .448 ON, 37 runs scored) but their whole lineup contributes and is strong. In the circle, Colorado State has two arms over 100 innings and a third that has gotten some good work in as well. Ultimately, the Phoenix Regional is too strong for them to upset but if anyone overlooks Colorado State they'll find themselves in the losers bracket quickly.

Monmouth – (Baton Rouge Regional)
Keep an eye on Kayla Rosado (.378 BA, .441 OB), Lindsey Baron (.354 BA, 51 runs scored, .437 OB, 9-10 stolen bases), and Katie Harrington who has swiped 19 bases this year. In the circle, Alyssa Irons has gone the distane throwing 257.1 with a solid 1.47 ERA, striking out 225, and only surrending 54 earned runs. Monmouth has had struggles offensively and racking up runs (may of their contests have been low scoring this season) which will be their downfall in a fairly strong pitching regional but it will be great to see how these offensive leaders stack up and how well Irons can continue to perform in the circle.