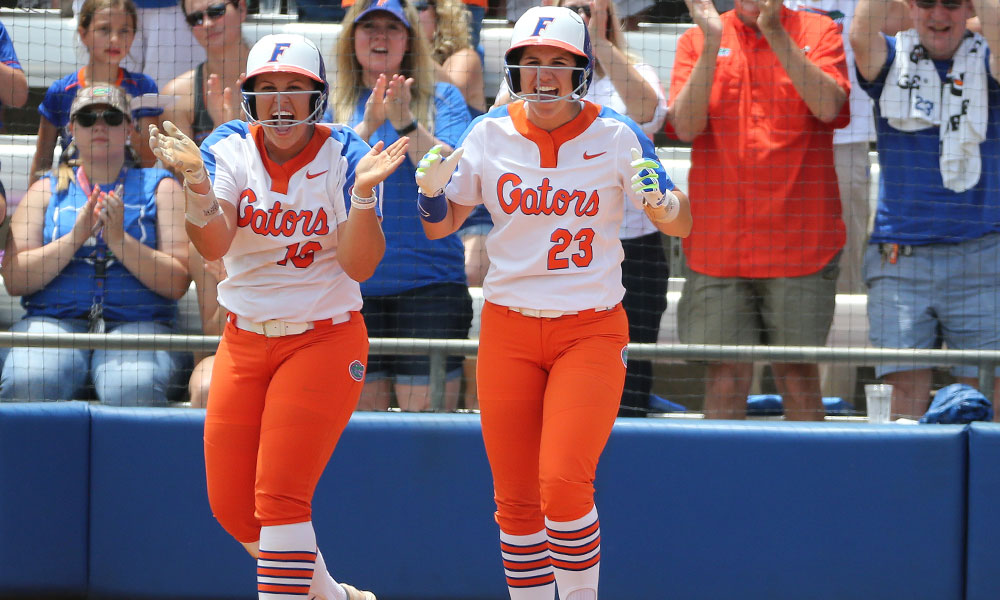 By Mark Allister
Albert Hammond famously sang "It never rains in Southern California," and it's rained very little here in the past twelve months, but this weekend in Fullerton the Judi Garman Classic was played in fits and starts because of the weather.
Opening day of the tournament (before the rain) saw powerhouse Florida and #25 Michigan each win a pair of games. Florida's Alesia Ocasio was a Third Team NFCA All-American as a freshman and First Team All-American as a sophomore, when she dominated teams in the circle. But such was the pitching depth last year, with Delanie Gourley and college pitcher of the year, Kelly Barnhill, that Ocasio became an everyday player in the outfield and only occasionally pitched. But as a senior she's returned to the circle in style in 2018, posting an 8-1 record with a minuscule 0.80 ERA. Ocasio and Florida beat Loyola Marymount in the opener, 13-0. Barnhill followed with a one-hit gem against Cal St. Fullerton, the Gators cruising 10-0. Michigan was less impressive but still notched wins 3-2 over Loyola Marymount and 5-0 over UNC-Charlotte.
Michigan has played a challenging schedule, but Coach Hutchins hasn't been happy with her team's play if the constant tinkering of her line-up is any indication. On day two, in their opening game against #8 ranked Baylor, Hutch inserted two new freshmen into the starting lineup, Lou Allan, and Taylor Bump, to go with fellow freshman shortstop Natalia Rodriguez and ace pitcher Meghan Beaubien. But it was senior Tera Blanco, with a first-inning 3-run HR, who got Michigan on the board, and then in the second inning, junior Faith Canfield homered. When the rains came causing a second delay, Michigan was up 6-0 and Beaubien was throwing a no-hitter; when the game started up again, Baylor's Shelley Friudenburg broke up the no-hitter immediately with a single up the middle. Baylor mounted a mild comeback when Goose McGlaun hit a 3-run home run. (McGlaun is from Humble, Texas, and by all accounts, her character matches her town.) But Michigan held on, and then in their second game of the day, they stretched their winning streak to six with a 3-1 win over #18 Louisiana Lafayette. They closed their five-win weekend by run-ruling Cal Poly on Saturday.
Florida lost two games to weather cancellations on Friday, but they came back with the marquee game of the tourney when they played Baylor on Saturday. Barnhill got the start and no-hit the strong-hitting Bears through six, striking out thirteen, and then Ocasio came in to close it out, striking out the side. Florida won 4-0, behind their pitching and home runs from Nicole Dewitt and Kayli Kvistad. Head Coach Tim Walton believes that his #2 ranked Gators are heading into the opening of SEC play next weekend looking strong: he likes his pitching depth; the hitters have been improving weekly, and his defense is outstanding.
While it was a very good weekend for Florida and Stanford, two other ranked teams struggled. #8 Baylor lost three times, including to Iowa, though in their final game Gia Rodoni scattered eight hits and Baylor beat #18 Louisiana Lafayette 1-0. ULL went 1-2. While Stanford lost their last game 4-2, on a walk-off home run by Michigan State's Kaitlyn Eveland, the Cardinals went 3-1 in the tournament, continuing their improved play.
Mark Allister teaches literature at St. Olaf College in Northfield, Minnesota. He is currently writing a book, Turn and Look: Women's College Softball Is Crushing It.