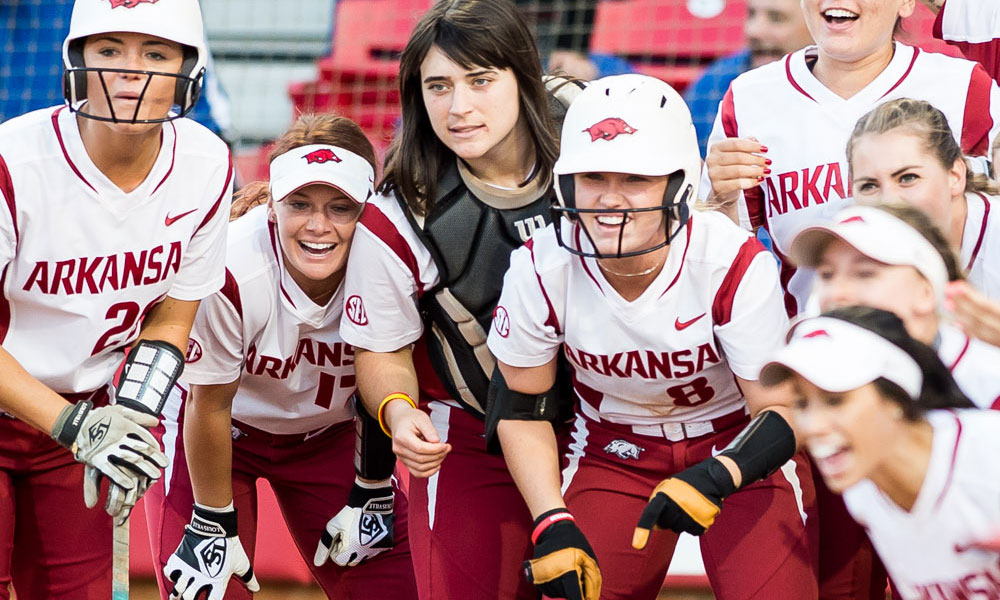 Wow. Time sure does fly, doesn't it? It seems like I was just sitting down in the press box at Jane B. Moore Field in Auburn to cover my first season of Southeastern Conference softball. Now, I'm recapping the regular season and organizing a preview of the SEC Tournament that starts on Wednesday.
Over the course of the season, I traveled to four SEC ballparks, watched seven different programs in person and viewed countless games online. Here are the regular season superlatives.
Most Improved: Arkansas Razorbacks
Without a doubt, the Arkansas Razorbacks get my vote for the most improved team of 2017. They clinched a spot in the postseason for the first time since 2013 and their 31-21 record is a 14-game improvement from 2016. The seven conference wins equals the three previous seasons combined.
Offensively, the Razorbacks proved to be one of the strongest. As a team, they launch 56 home runs, which leads the SEC and is the fifth-highest total in program history. Nicole Schroeder leads the team into the post season with 15 long balls and 47 RBI. They have nine players with double-digit RBI totals and 14 who have recorded extra-base hits.
Pitcher of the Year: Kaylee Carlson, Auburn
Auburn junior Kaylee Carlson earned her SEC-best 25th victory with a complete game shutout of then-No. 15 Alabama in nine innings on Friday night. Carlson has allowed one earned run or fewer in 29 appearances this season, including 10 in SEC action. In conference play, Carlson finished conference play with a record of 12-3 and a 1.60 ERA. She started 15 of 18 and pitched a complete game 15 times. Overall, she finished 25-3 with a 1.17 ERA and appeared in 36 games.
Player of the Year: Meghan Gregg, Tennessee
Tennessee junior Meghan Gregg finished out a stellar 2017 campaign with a grand slam and moved into fourth on UT's single-season RBI list with 71. It also happened to be her third slam of the year, fourth in her career that ties the program record. The Georgia native finished the regular season with an SEC-best .448 batting average. She record 65 hits, 18 doubles, one triple, 11 homers, 71 RBI, 47 runs scored, 30 walks, 11 hit by pitches and only struck 11 times in 145 at bats. She also has a slugging percentage of .814 and a .570 on-base percentage. Defensively, Gregg finished with a .980 fielding percentage. In 148 chances, she recorded 58 putouts, 87 assists and only three errors.
Newcomer of the Year: Bevia Robinson, Mississippi State
Mississippi State junior Bevia Robinson transferred from Pensacola State University and recovered from a torn ACL to lead the Bulldogs in several offensive categories. The Alabama native hit a team-best .340 and also led in runs scored (41), hits (55), triples (tied with 2) and stolen bases (29). She also finished with 17 multi-hit games for a team-high.