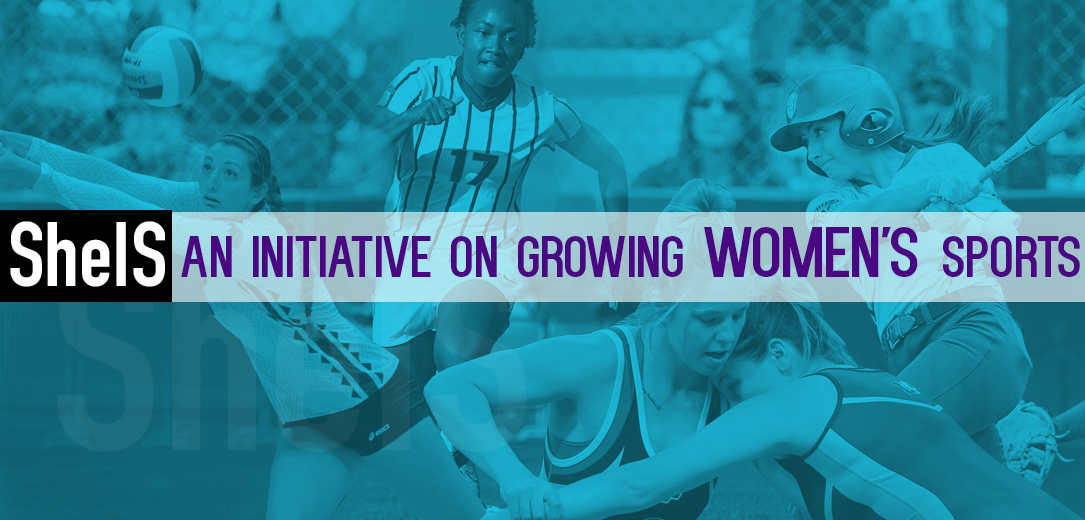 By: Sloan Green who is a writer at PrepVolleyball.com, which is part of the Advanced Sports Media Group network of sites.
Women's sports leagues are banding together with a new initiative called "SheIS." It's driven by the commissioners of eight leagues who have signed a pledge and rolled out public service announcements about it. Those leagues include the Women's National Basketball Association (WNBA), U.S. Tennis Association, Women's Pro Fastpitch League, Canadian Women's Hockey, Women's Pro Lacrosse, Canadian Basketball, Rugby Canada, and the National Women's Hockey League.
The goal of the SheIS initiative is to increase the resources, viewership, and attendance of women's sports. Women need women, and these female leaders have taken the first step to vow to back the collective "She."
WNBA President Lisa Borders said, "Women have to support women before you ask other people to support you."
To begin, the commissioners have agreed to buy tickets to one another's sporting events to help support another She in growing her sport.
They say that this is the first step, beginning with spreading awareness on social media and then buying tickets to attend the events. Next it may look like more sponsorships at standalone women's events, bringing increased coverage, equal salaries, better facilities, and an increase in participation of sport by young girls.
51% of women make up the world and around 42% of all high school athletes are female. (That's a dramatic increase from before Title IX at 7%). Why aren't we talking about more of them?
***
When we play sports that men also participate in (soccer, softball/baseball, volleyball, etc.), we run the risk of getting a shrug of the shoulder. We (the "She") hear responses that downplay the competitiveness of our women's sport such as, "Sure, I play pick-up six-man volleyball on the beach," or, "Yeah, but a softball field is smaller than a baseball field," or even, "The women's game is okay, but you can't check like you can in men's hockey!"
I played volleyball and my father, as well as many other dads I have spoken to out in the field, never thought about watching volleyball until they had daughters who played. Growing up, my male classmates only came to matches so the volleyball team would reciprocate and go to their manlier, more competitive games.
The initiative is singling out a reason many people watch women's sports to begin with: because we know someone who plays and because we want to support her.
Now, instead of knowing a friend or daughter, the SheIS movement is expanding the person we know into the collective woman, the "She." SheIS a student, daughter, competitor.
"SheIS," say the leaders of the initiative, "whatever She wants to be."
Women, in general and in my opinion, are more competitive than men in every aspect of life. We're do-ers and we like to pride ourselves in doing more than other people. We don't want others to do anything better than what we can do and we are expected to look good in our uniforms (sporting or everyday attire) doing it.
We try to be first to class to get a prime seat. We raise our hand so it looks like we're informed. We're the caretakers in society and we are expected to do all the housework, care for children, and go to work (yes, I know those are not entirely the rules anymore, but my mom is Super Woman!).
We want to please people, we don't want to make mistakes, and we want to be the best.
So, maybe it makes sense that we need this reminder to forget being better than another woman who isn't even competing against us. I play volleyball, you play softball, and we can both win.
I'm in the SheIS agreement that believes that if She succeeds, that doesn't mean I can't. Supporting our sisters allows for that open two-way street that begins in knowing someone. That is, I will support you, and I hope you support me, too. We know it's hard so we should help one another along the way. We need each other to succeed if we want the united "She" to thrive.
***
Some say that the male viewership, even among women's sports, might be due to evolution. Men like to size up the competition, even when they're not the ones playing.
As a numbers society, we like to know statistics and facts. We like to know the benchmark speed for football players running a 40-yard dash, and we like to know how far the furthest homerun was hit by a baseball player. We like to be amazed, and we like to compare.
In our comparison, we see that the women will never physically run a 40-yard sprint faster or hit a ball further than a man. Why bother watching if I don't get to see anything record-breaking or spectacular?
Even I, as a female, have caught myself in the mix of talking about the "ideal body" for sport. For mine, volleyball, we look for the long and lean athlete so She can cover a lot of court without too much effort and She can jump efficiently.
So, if that's the "ideal," then what am I? I am 5-8 with a body that gains muscle easily and carries extra body fat around certain areas. I am She. Outside of my sport, I am a typical-bodied woman.
I hear college recruiters talk about an athlete's athletic ability by taking a single look at her in her uniform. Does She have potential to play in the Olympics? Most people do not. But, let's cheer for her anyway.
***
I was just thinking about what it means to be a female writer, covering a women's sport.
Being a female of course has its challenges overall. Being a female writer can be empowering, though it doesn't come without harsh critics.
I even ask myself, "Did I earn my position because I'm the best writer for the job, or am I in this role because they figured they should have a woman covering a women's sport?"
I'd like to think the former, and I look at the statistics of other female sports writers and I'm both discouraged and see the huge opportunity I have in being one of less than 5% of females in sports with by-lines.
When I first started on my journalism courses in college, the number-one question I fielded was, "Oh, you want to do broadcast journalism?" No, I want to write the news, I don't want to be on camera.
I see this SheIS initiative as a larger societal issue I'm not sure will be solved by attending sporting events alone. I love the idea, I'm all-in to support other women, and I'm also conflicted.
On one hand, I see a tremendous need for a push for women's sports to expand and inspire. On the other, if we want equality in viewership, pay, and attention, we'll have to eventually stop saying "women's sports" and just watch "sports."
I eventually want to stop surprising people when I say I'm a "female sports writer," and not a "sports writer," and not mean that I want to be the next Erin Andrews or Sam Ponder on the screen (but I still applaud those women and the ones with aspirations of being an on-air sportscaster).
We need to stop listing the "Top-10 Most Beautiful Female Athletes" and begin celebrating what She can do on the court, ice, or field, regardless of what She looks like. So, we need to watch a lot more women's sports to know about it versus just seeing a picture from a media outing.
We show empowering ads specifically targeted to young girls being tough and playing sports, but we keep our leggings and uniforms pink. We present role models that are terrific ones to young women, but then we criticize their bodies… which have nothing to do with the person and athlete SheIS, by the way.
Think about your local sports club: you are probably friends with some of your rival club's athletes, but you probably also want them to fail a little bit. Stop doing that.
It's a confusing market to be both a female athlete and someone who supports and writes on the topic against an area dominated by males. Still, we need to stop saying or doing one thing and then acting on another.
Will we be able to do that, or will we still need to validate what us women can do?
***
At the same time, I know that things in the United States are changing.
Remember that little thing called the #MeToo movement? Women are being heard, they're coming together, we're seeing change… This is why SheIS is a great first step.
We have to see growth even though the WNBA Finals reached 413,000 viewers versus 1.46 million for the NBA – there was a time when the WNBA wasn't even a league. In 2015, the women's College World Series (CWS) Softball viewership was 31% more than the men's CWS. We have seen that the Women's National Soccer Team has gotten a pay raise more in line with their Men's team counterparts.
The more that young girls can see powerful, strong women changing lives (their own and other's) through sport, the more they will believe they can, too. If She sees it televised, knows achieving athletes, and sees the work She puts in, the growth in sport will only continue. She is a dreamer now and She can be anything She wants in the future.
With 51% of the planet, we (the "She") can do big things over time. We are doing it right now by talking about it and being aware. We are doing it tomorrow by attending her events. SheIS collectively stronger together.