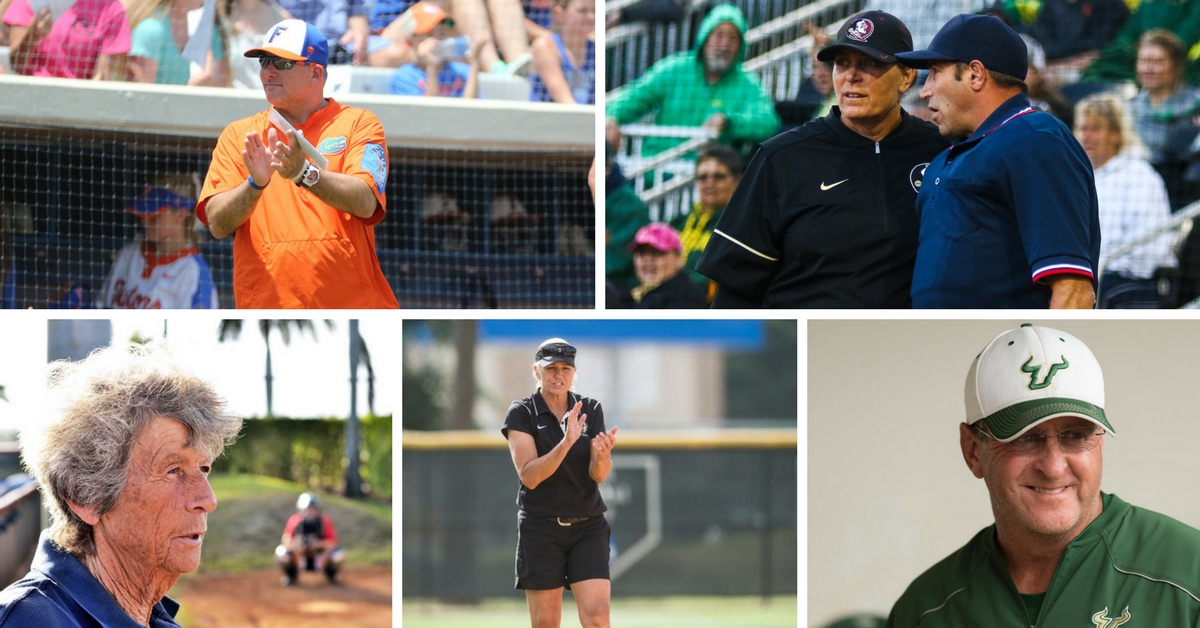 The state of Florida is known to have a College Football tradition, and success with a combined  11 National Titles won between Miami, Florida, and Florida State since 1983. But over the last decade, College Softball in the sunshine state has become equally impressive. Florida now a powerhouse state when it comes to College Softball programs with depth and legendary coaches that have helped raise the bar like the State has never seen before.
Sunday, UCF defeated Jacksonville 5-3 for the program's 600th win in just its 17th season all under Head Coach Renee Luers-Gillispie. Gillispie built the UCF program from scratch arriving in 2000 and putting the team on the field in 2002. Gillispie's arrival began the shift for the state as the growth of College Softball in Florida would start to expand to a different level.
Above is the fifth significant milestone for a DI program in Florida this season. Gillispie picked up her 800th NCAA Division I win on February 16th in a win against LIU-Brooklyn, and 850th NFCA win this past Friday against Penn State. The NFCA mark includes wins during her time at Texas Tech (1996-1999), Bradley (1993-1995) and Joilet-Illinois Junior College (1991-1992).
https://twitter.com/UCF_Softball/status/968184369264431105
On the same day that Gillispie picked up her 850th career win, Florida's Tim Walton pick up career win No. 800 in a 7-2 win over Maryland.
https://twitter.com/GatorsSB/status/968572768408260608
On February 10th, South Florida's Head Coach Ken Eriksen won his 900th game at USF with a 6-3 win over UAB.
An absolutely incredible 22 seasons so far for our head coach Ken Eriksen! Congratulations on 900 spectacular wins, we are so thankful to have you as a part of #OurStory! pic.twitter.com/aLACkglcfY

— USF Softball (@USFSoftball) February 11, 2018
On February 9th Stetson's Head Coach Frank Griffin, who in his 22nd season at Stetson, won his 700th game as the Hatters head coach.
#HatsOff to head coach Frank Griffin on his 700th victory with the Hatters! #Legend #StetsonMade #SUnited pic.twitter.com/onpGpGEEvp

— Stetson Softball (@StetsonSoftball) February 9, 2018
UNF's Marcie Higgs, who is in her 10th season, picked up a landmark win for her North Florida program on Saturday knocking off No. 15 Louisiana for first major out of conference win against a top 25 program in school history. Higgs is hoping this win can be the foundation to build the program and make the programs first NCAA Tournament appearance. David Deiros, in his 16th season at Florida Gulf Coast,  has the Eagles off to a hot 13-0 start ranked 25th in latest FPN Top 25 Poll.
We are seeing the Golden Age of College Softball in Sunshine State. Top coaches in the sport are residing in the state for a long time led by Tim Walton, Lonni Alameda. Renee Luers- Gillispie, Ken Eriksen, and Joan Joyce stand out as they have had their teams in the mix for NCAA Tournaments and Conference championships just about every season since arriving.  This was not always the case in Florida as we take a look at College Softball history in Sunshine State and a timeline on when the State emerged.
The pioneer was Florida State's Head Coach JoAnne Graf, who in 30 seasons at Florida State, won 1,437 games with 1,218 of those coming at the NCAA DI level. Graf led the Seminoles to 21 NCAA Tournament appearances and seven trips to the Women's College World Series. Graf retired from Florida State after the 2008 season. She has been honored with the stadium being named after her.
Joan Joyce is in her 24th season at Florida Atlantic and has led the Owls to 924 wins, 12 NCAA Tournament appearances, and 11 Conference Championships. From the A-Sun to the Sun Belt to CUSA, Joyce has had FAU compete at a high level at every conference and even as recently as 2016 the Owls were a top 25 team dominating and winning the CUSA regular season and conference championship. Joyce is the only Head Coach in Owls program history.
Ken Eriksen is in his 22nd season as the USF head coach and has won 902 games with 12 NCAA tournament appearances, two super regional appearances, and an appearance at the 2012 Women College World Series. Under his leadership, the Bulls have won five conference championships in three different conferences ( CUSA, Big East, American).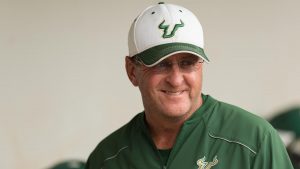 Eriksen was the first USF graduate to have participated in the NCAA Tournament as a player, as an assistant coach, and as a head coach. Eriksen was a baseball player at USF for four seasons from 79-82 and was named the second-ever Head Coach of the Softball program after the 1996 season.
Eriksen has also served as the head coach of the United States National Team since January of 2011 after being an assistant since 2002 under Arizona's Head Coach Mike Candrea. Eriksen was part of the United States Gold medal in 2004 at the Athens Olympic Games and Silver in the 2008 Summer Olympics in Beijing.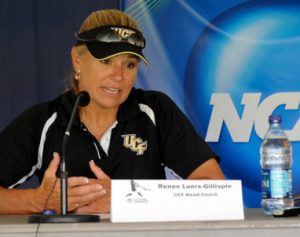 In her 17th season at UCF Renee Luers-Gillispie had the toughest job of anyone, she had to build a program from scratch. She had to compete for players against Graf's Florida State program, Eriksen's Bulls program, and Joyce at FAU. These were established programs and in Joyce's case in the same conference that UCF was going to participate in the A-SUN.  Not to mention Florida was around as well. Still, Gillispie who came over from Texas Tech where she won a share of the Big 12 championship in 1998, turned UCF into a winner right away. Gillispie who has won 852 games in her coaching career with 600 of them coming at UCF. She led the Knights to the NCAA Tournament seven times including three of the last four seasons.
Gillispie has won Conference Championships in three different conferences the A-SUN, CUSA, and American Conferences. Gillispie has also produced players that have gone on to play in the NPF starting with her first ever recruit Stephanie Best who led UCF to it's first ever Conference championship and NCAA Tournament appearance in 2005. That was just the program's fourth season. Three of Gillispie's former players have won NPF Championships in Best who played in the NPF from 2005-2008 winning the NPF title with Monica Abbott and the Washington Glory in 2007. Gillispie also coached Allison Kime (06-08) who won an NPF Championship with Cat Osterman and the Rockford Thunder in 2009 and Shelby Turnier who currently plays with the Chicago Bandits and helped the Bandits win an NPF Title in 2016.
Coach Gillispie has also had players enter into coaching including Turnier who is currently in her 2nd season at UNF as pitching coach. Other players that played for Gillispie who are coaching include Danielle Brewer who is in her first season as Head Coach at D2 Shorter as well as Lindsay Enders who is in her first season as Head Coach at  Stratford in Virginia. Hillary Barrow who coached under Gillispie at UCF from 2013-2016 is currently an assistant coach at FIU, Jessica Ujvari who was a volunteer coach for Griffin at Stetson in 2017 as well as Mackenzie Huhn who was an assistant coach at Palm Beach Atlantic in 2017. Kahley Novak who served as an assistant coach at UCF in 2017, also played in the NPF with the Dallas Charge from 2015-2016.
You can listen to my conversation with Gillispie on the February 8th edition of "In The Circle" on FastpitchNews podcast.
Gillispie was the first Head Coach in the state to be involved with the NPF as Gillispie was part of the USSSA Pride championship team in 2010 as a volunteer coach along with Tim Walton.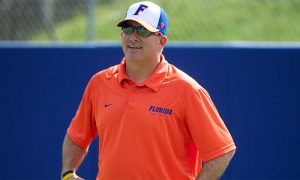 Tim Walton is in his 13th season at Florida where he is approaching his own milestone.  To-date Walton has won 682 games at Florida and 805 games in his career. He started at Wichita State before arriving in Florida in the Fall of 2005. Walton has led the Gators to six SEC Championships, 12 NCAA Tournament appearances, and eight Women's College World Series appearances with National Championships in 2014 and 2015. Consider the fact that Florida had not made it to WCWS before Waltons arrival and had only won one SEC championship.
Walton was Head Coach of USSSA Pride in 2010 winning the NPF Championship as part of a " Dream Team" coaching staff with current LSU Head Coach Beth Torina and Gillispie as part of the Pride staff in 2010.  Walton was an assistant coach of the USA Softball Junior National team winning the gold at the Junior World Championships in 2015. Like Gillispie, Walton had former players that have gone on to coach like Aja Paculba who is an assistant coach at the College of Charleston as well as Bailey Castro who is currently in her first season as Head Coach at nationally ranked DII program Palm Beach Atlantic.
You can listen to my conversation with Tim Walton from the November 30th edition of "In The Circle" on FastpitchNews podcast.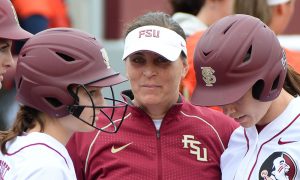 Lonni Alameda had the unique challenge of following a legend in Graf at Florida State. Alameda came over from UNLV where she had been the Head Coach.  She now enters her tenth season at FSU. Alameda has won 437 games in Tallahassee. She has taken the Noles to the NCAA Tournament every season since she has been there. They have also dominated the ACC conference, winning five straight championships and counting.
Alameda brought Florida State back to the Women's College World Series in 2014 and 2016. The Noles had not been to the Women's College World Series since 2004.  In 2017 Alameda took FSU to a program first as the Noles were ranked No 1 in NFCA for the first time in program history holding the spot for eight weeks.
Alameda was the head coach of USSSA Pride in 2016 and 2017 leading the Pride to an NPF regular season title and the best record in the league in each of the two seasons. Alameda has had an influence in international game as well from 2004 to 2008 Alameda helped in the development of Canada's National Team that participated in two summer Olympics. Her name is in the mix for Canada and the 2020 Summer Olympics. You can listen to my conversation with Alameda on the December 14th edition of "In The Circle" on FastpitchNews Podcast.
At Stetson, Griffin has won 706 games and led the Hatters to two A-Sun Conference championships and two NCAA Tournament appearances with most recent in 2014. In the near future perhaps at home hosting The Hatter Classic , Stetson will record its 1,000 win in program history becoming 4th program in the state to accomplish that feat joining Florida, Florida State and USF. Hatters program started playing Softball in 1985.
At Florida Gulf Coast, Deiros has built the FGCU program from scratch going from Division II to the Division I level in 2008. FGCU has won two A-Sun Conference titles and made NCAA Tournament in 2012 whereas as a No. 4 seed in the Gainesville regional they defeated the Gators in their opening game. The win marked the first NCAA Tournament victory by FGCU in any sport in their Division I era. Veronica Wiggins has won over 700 games as the Head Coach at Florida A&M since being the Head Coach of the Rattlers since 1992 with eight NCAA Tournament appearances and 13 MEAC Conference championships. Lauren Watten has spent a total of 12 seasons at Bethune-Cookman leading the Wildcats to five NCAA Tournament appearances including a Gainesville Regional win in 2005 to advance to the Super Regional.
No other sport in the state of Florida can say they currently have as many DI coaches who have coached at least a decade if not more and have had the success that the Softball coaches have had when it comes to winning conference championships, postseason appearances and maintaining it year in and year out.
In comparison, Football,  the longest tenured coach currently is Mark Richt who been at Miami just two seasons. UCF, Florida State, Florida all have new Head Coaches while USF 's Charlie Strong,  FAU's Lane Kiffin and FIU's Butch Davis all just finished their first seasons.
In College Basketball, Florida State's Leonard Hamilton is the only head coach to have coached over a decade in the state as Hamilton finishing up his 16th season at FSU. Miami's Jim Laranaga has been in Coral Gables since 2011 while Mike White has been at Florida for three seasons. USF has new a Basketball Coach while UCF's Johnny Dawkins is in his second season.
Baseball has Mike Martin Sr. at FSU, Jim Morris at Miami , Kevin O'Sullivan at Florida,  John McCormack at FAU and Dave Tollett at FGCU who all have coached over a decade in respective schools. Morris is in his last season at Miami. But USF has a new head coach while UCF has Greg Lovelady who is in his second season.
In Women's Basketball, Florida State's Sue Semrau (21st season) USF's Jose Fernandez (18th season), Florida Gulf Coast's Karl Smesko (16th season), Miami's Katie Meier (12th season), and Stetson's Lynn Bria (10th season) have been succesful for over a decade but Florida has a new Head Coach this season while Katie Abrahamson-Henderson is only in her 2nd season at UCF.
The State of Florida has also has legendary and succesful Head Coaches in the Division 2 level as well with three that stand out. Chris Belloto is in her 37th season as Florida Southern Head Coach which is currently the longest tenured Head Coach in Division 2. Belloto has won 1,213 games leading Florida Southern  to 24 Conference championships which is the most by any D2 program in the country, 20 NCAA Tournament Appearances and National Title in 1993.
Leslie Kanter is in her 24th season as Head Coach at Tampa. Kanter has led the Spartans to 4 Sunshine State Conference Championships and 10 NCAA Tournament appearances. On Friday Februrary 23rd, Kanter pick up her 600th win at Tampa with a win over conference rival Rollins.
Michelle Frew in her 22nd season at Rollins having won 782 games with 4 Sunshine State Conference Championships and 10 NCAA Tournament appearances including 9 in the last 11 seasons. Frew won her 900th game of her coaching career in Sunday's  win against Kentucky State.
All of these coaches will be in their respective schools Hall of Fame and should have names honored in the stadiums and campuses once their careers are finished if not already. They all have helped raise the bar in the state for other programs to ccmpete and have help this make the Golden Age of College Softball in the Sunshine State.