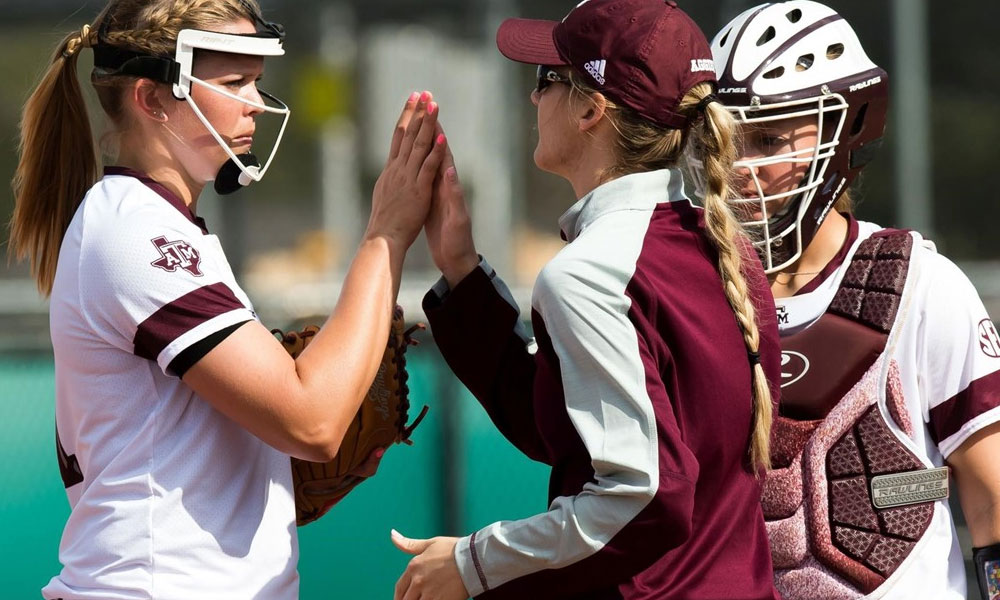 Texas A&M Head Coach Jo Evans announced on Thursday that she is promoting Kara Dill from volunteer coach to assistant coach. Dill who has been in coaching for four seasons since playing at Kentucky. Dill handled the Aggies pitching staff in 2017 and had an impact in her first season, helping improve the team proving in ERA from 3.86 in 2016 to 2.08 in 2017.  This improvement helped the Aggies make it to the Women's College World Series for the first time since 2008.
"Kara has done a tremendous job with our pitching staff in the short time she has been at Texas A&M," Evans said in Texas A&M press release. "She has great work ethic and has done a terrific job preparing our pitching staff to compete on the national stage. She was an integral part of our team advancing to the Women's College World Series last year and I look forward to working with her for many years to come."
Dill came to Texas A&M from  LSU where she spent two years (2015-16), assisting in all aspects of the program, with a primary focus on slap hitters and was part of Tigers trip to the Women's College World Series in both years. Dill,  also served as an assistant coach with the National Pro Fastpitch League's Scrapyard Dawgs in 2016.
Before LSU, Dill was a member of the coaching staff that led the Kentucky Wildcats to their first trip to the Women's College World Series in 2014.
Dill was an All-SEC shortstop at Kentucky (2009-13), finishing eighth all-time at Kentucky in hits with 201, sixth in stolen bases with 57, fifth in batting average at .330 and seventh in runs scored with 119 to go along with two All-SEC selections.
For Coach Evans, who agreed to a new five-year deal back on August 31st, she knows she had to make adjustments to her coaching staff following associate coach Gerry Glasco leaving the program to join Mickey Dean at Auburn. Evans announced on Wednesday the hiring of former Texas A&M baseball player Keith Stein to the coaching staff to be the hitting coach. Stein returns to the Aggies from  UTSA where he was in his first season an assistant coach for the Roadrunners and served as an assistant coach for Stephen F. Austin before UTSA.
From 2013-16, Stein was an assistant and head recruiting coordinator at Texas A&M-Corpus Christi. Stein had worked for Evans before as a volunteer softball coach in 2010.