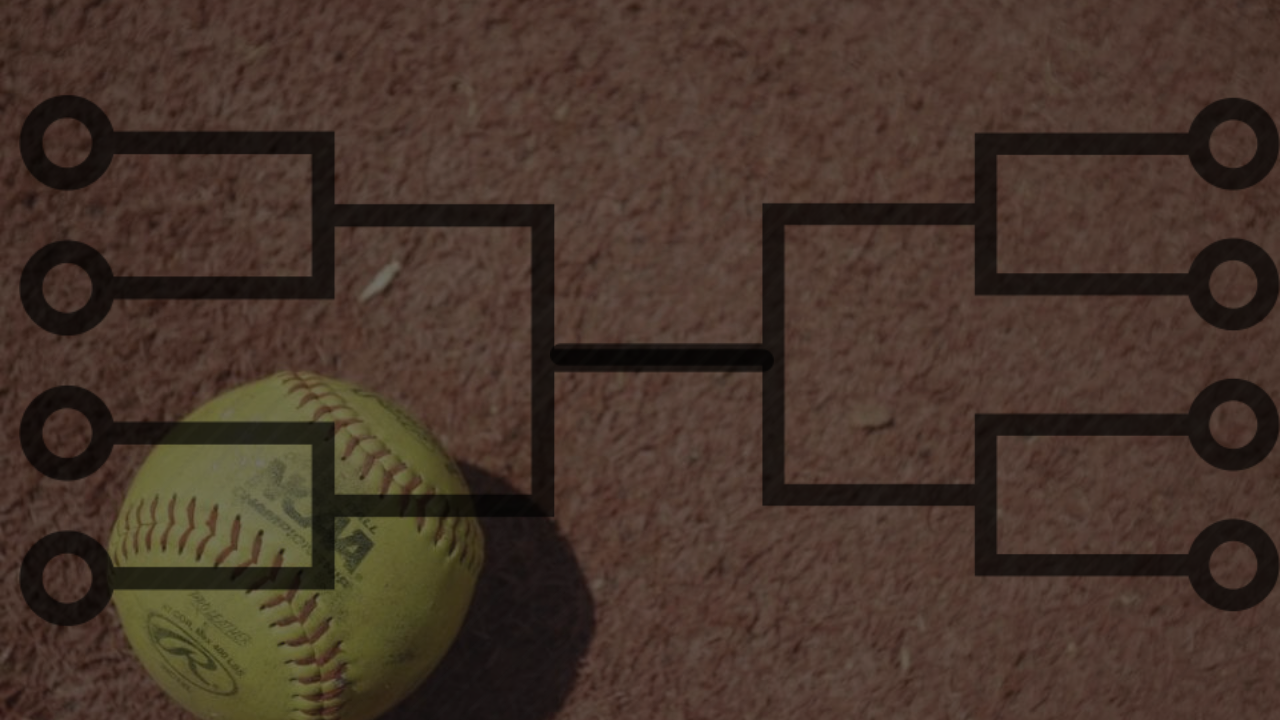 Yesterday FPN's Bracketology Version 5.0 was released courtesy of Eric Lopez and contained interesting statistics on past committee decisions for host seeds, RPI, records, and more. Head over to the link above to check it out.

The all-elusive and mysterious selection committee has the tough job of selecting the field of 64 for NCAA play and, by nature of the job, when the dust settles there are always questions raised, unhappy people, and teams left outside looking in.

The softball committee in particular has come under heavy scrutiny, especially in recent years, for some of the choices it has made.

Here is the designated selection criteria directly from the Pre-Championship Manual.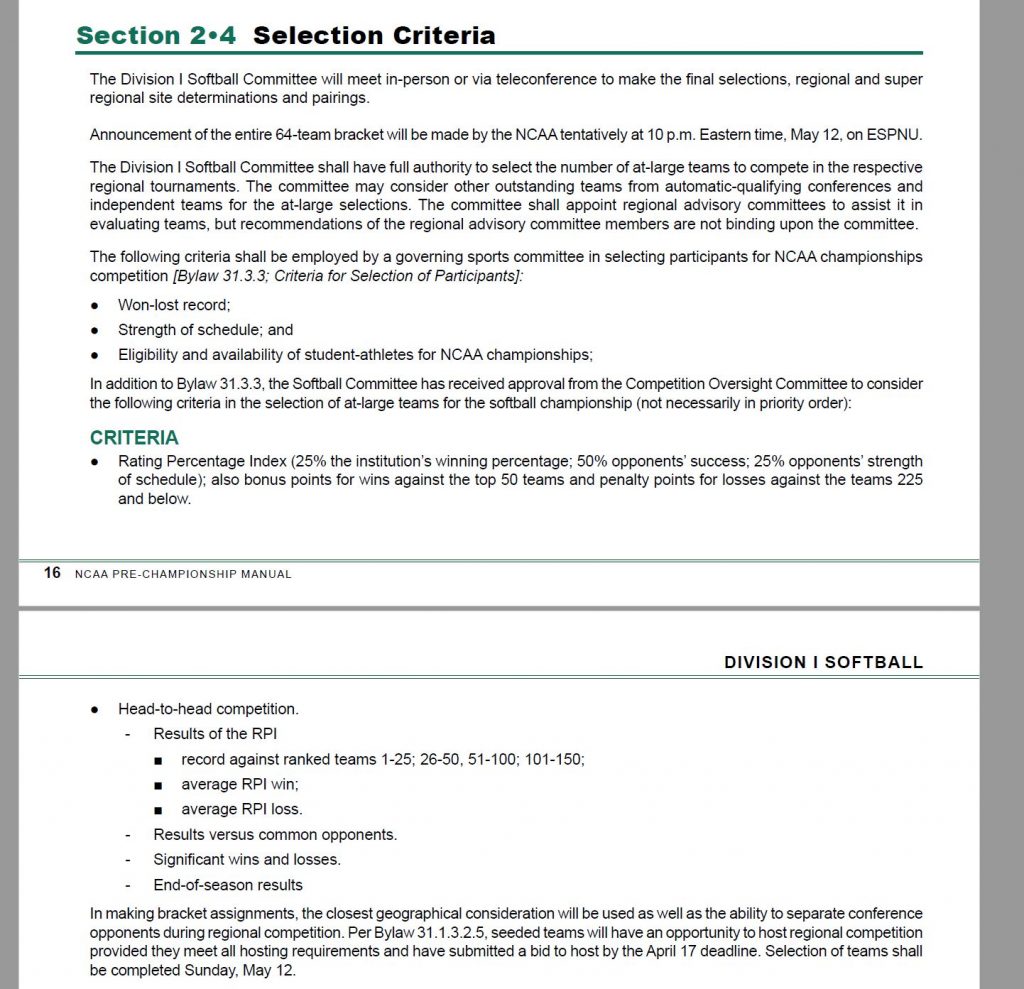 A team's won-lost record is the first and foremost listed criteria used followed by strength of schedule. What is interesting is the language that follows, "the Softball Committee has received approval … to consider the following criteria in selection of at-large teams…" and then RPI as well as record against ranked teams are listed. Often "RPI" and "against top 25 teams" are two of the most quoted and used criteria when committees select teams and defend their choices.

But often rational choices and processes through which decisions were reached can seem hit or miss with vague and inconsistent explanations provided.

The "whys" and "hows" aren't always clear when criticized committee choices are defended but one trend as prevailed time and time again: games versus top 25 RPI programs. Not a team's own, actual RPI but the amount of games played against top 25 programs. Also at times, the committee doesn't necessarily seem to care if a team won against those other programs, just that those games were played.

Let's look at this trends with a few of the many examples you can find over the years of NCAA Softball postseason play.

2009: Mercer Snubbed
– Held 50 RPI
– Win-loss record of 40-19
– 6-4 in their last 10 games
– 0-2 versus T25s

That season Mercer was only one of two teams with 40 plus wins to not qualify for the NCAA Tournament. There were five teams that qualified in front of Mercer with less wins than the Bears but with more T25 games: Long Beach State (34-19, T25: 1-7), Nevada (39-17, T:25 1-6), BYU (39-16, T:25 1-6), and Oklahoma State (34-20, T25: 1-5).

The Telegraph covered this in-depth when it happened citing, "The A-Sun's conference RPI was 11th out of 31, but the 10th-ranked Mountain West has two at-large teams with San Diego State (43/46, SOS 67) and UNLV (42/41, SOS 47). The 12th-ranked Ohio Valley Conference got an at-large with Jacksonville State.

Several teams in the NCAA tournament are within only a few games of .500, including automatic qualifiers Florida A&M (30-30), Sacred Heart (25-26) and Bradley (25-26). But at-large bids went to Mississippi State (28-26), Auburn (29-27) and Arkansas (27-27). Mississippi State failed to qualify for the SEC tournament, lost to Kennesaw State, the A-Sun's eighth-place team, and was 13-24 against top-100 teams.

Mississippi State and Auburn each lost twice to A-Sun teams, Mercer sweeping Auburn on the road."

Let's also look at the above qualifying team's T25 data:
– Mississippi St: 4-15 (RPI 33); Auburn: 3-18 (RPI 31); Arkansas: 4-14 (RPI 37).
2015: UCF didn't host
– Held a 15 RPI
– Win-loss record of 48-7
– 9-1 in final 10 contests
– 2-2 versus top 25 teams

While UCF did not get the nod, Notre Dame did. They held a RPI of 19, a 40-13 record, 8-2 in their final 10 games, and were 4-6 against top 25 programs.

2015: Hostra didn't host
– Held a 13 RPI
– Win-loss record of 37-12-1
– Were 9-1 in final 10 games
– Were 3-8 versus top 25 teams

2017: James Madison didn't host
– Held a 13 RPI
– Win-loss record of 47-6
– Was 10- in their final 10 games
– 1-1 versus top 25 teams

JMU hosted in 2016 holding a seven RPI, a win-loss record of 46-4, went 8-2 through their final 10 games, and posted a 5-3 record versus T25s.

2017: Minnesota didn't host
– Held a 12 RPI
– Ranked in the top 10 through the majority of season
– Win-loss record of 51-3
– Was 10-0 through final 10 games
– 2-2 versus top 25 teams

Minnesota hosted as the national 16 seed in 2014: they held a RPI of 16, a win-loss record of 41-9, were 8-2 through their final 10 contests, and posted a 6-4 record versus top 25 programs. Though the 2017 team was arguably a stronger squad with a slightly better resume.

2018: Pitt excluded from field of 64
– Held a 48 RPI
– Almost defeated FSU for the ACC Tournament title
– Win-loss record of 33-18-1
– 8-2 in through 10 games
– 1-3 versus top 25 teams.

It was believed Pitt was ousted for Wisconsin who held a RPI of 50, a 28-21 record, came from a lower RPI ranked conference, went 6-4 over their last 10 games, but went 1-7 versus top 25 teams.

And while, yes, this doesn't delve into "good wins" and "bad losses" which can (and should) be key factors in these decisions, time and time again a team's "versus" with the top 25 appears to be a repetitive story line and highest ranking factor in both hosting seedings and at-large bids. But that's not how the criteria is supposed to be applied as outlined.

The first and foremost listed criteria is "won-loss" record yet, that often does not actually seem to be enough for teams to push them over the edge. While "RPI" and "records versus top 25, etc." are only supposed to be supplemental considerations aiding the process, at least as it is written.
Rather intentional or not, this model is inherently geared toward the Power 5 conferences, specifically benefiting the SEC followed by the Pac-12. Here's where the debate gets heated: is it fair to fault conferences for being strong and having many successful teams? No it's not. On the flip side, is it fair to hold a weaker conference against a program when it hinders said program's ability to continue to hold a higher RPI or rise their number of games played against top 25 teams? No, that's not right either. Teams can't control their conference, they can't control their fellow conference team's scheduling, and they can't really control who they play during a conference season if housed in one where not all teams are able to play each other (e.g. ACC, Big Ten, etc).

A common rebuttal to that debate is, "well, make sure you schedule those higher ranking teams outside of conference play." While this is a fair point, it isn't always that simple, especially when trying to keep pace with programs in a conference like the SEC who are able to simply perpetuate one another up through the RPI which results in racking up more T25 contests regardless of record or wins/losses. It can be easy for a SEC or even Pac-12 team who is not in the top 25 to get there quickly after a few conference series; no matter if they lose or are even run-ruled every single game.

Take Arkansas in 2016: they posted a record of 17-39 and still held an RPI of 67 which, considering the record, is really good. Then look at Mississippi State who was 26-31 with a 38 RPI, that's nuts. To put it into perspective, within the top 70 rankings RPI teams in 2016 only three programs had a losing record (Arkansas, UAB, and Mississippi State). No way do Arkansas and Mississippi State hold that high of an RPI without the double digit number of games played agains T25s. But what also needs to be noted is that they didn't seek out scheduling those games on their own, they were told when and where to show up and play = rode the benefits of a strong conference.

There are 56 allowed games in the NCAA Softball regular season. Of that teams play give or take 30-45% of their schedule in conference games and during midweek contests. Now, midweek games are an entirely separate topic and the level of teams programs can play is heavily based on geographic location which is its own issue but for another article…

But anyway, in the SEC there are 24 conference contests: in a good or even average year that is easily 15-24 T25 ranking games right there. That can't be kept up with, and while we go back to the debate of not faulting the SEC for being talented you have to acknowledge the flip side of that coin to credit talented programs in conferences that aren't as strong. You have to look at it proportionally, and so, you have to honor and balance the win-loss criteria.

There is also only so much scheduling team's can do to rack up potential top 25 games because, at the end of the day, they do still have to win games. Plus, keep in mind those early season tournaments are not the same as one game a day conference series play. It's different. Playing three games in a weekend is instead of five or six, is different. Teams can go to a Mary Nutter type of tournament and put themselves through a gauntlet one weekend to collect four, five, or maybe even six top rankings games but that isn't sustainable all spring nor are there enough of those events out there. More are being added (the new St. Peter/Clearwater Tournament is helping this) but there isn't a "Mary Nutter" every single weekend. Even if it was possible, programs could play every T25 team in the country but if they don't win enough of an arbitrary number over .500 they also won't get the nod. So it's about striking that balance between winning games and playing "high ranking" teams. This is another issue with the committee's vagueness and inconsistency. How many T25 games do you have to play? How many do you have to win? Is it a percentage? Is it straight number? What happens if you play 20 top 25 games but lose every single one, does that make you a more "valid selection"? Does this whole thing change every year? What happens if you schedule teams who have been strong and rank high but their all-american pitcher is injured for the season and that team falls far or what if everyone transfers? What if a team on the "T25 bubble" goes into their conference tournament, gets upset, and falls out of the top 25 taking away that high ranking game from another team on a hosting or general selection bubble who was counting on that contest to help them? It's a crap shoot.

And this is where the over application of "games versus top 25s" and the elevation of that one number above the foremost mentioned "won-loss record" becomes such a detrimental issue.

I think the biggest frustrations come from the divergence of selections from the criteria set fourth. The committee needs to pick an openly shared narrative and stick to it. If that means the written criteria needs to be changed, or rearranged so be it! Do it! If games played against T25s is the end-all-be-all than let's rewrite the bylaw, reorganize the order of criteria, get everyone on the same page, then stick to it. Give teams a shot to schedule in a manner that is going to best give them a chance to appease the committee's expectations for the field of 64 and/or hosting. If a team can post record of 29-27 and make the tournament since they played 18 top 25s, so be it, but rewrite that criteria and let these teams know. Real life example: 2016 Northwestern made the tournament with a relatively unimpressive 26-26 record and a 45 RPI. And no, they did not win the automatic qualifying bid from the Big Ten. They did, however, play 16 top 25 opponents, going 3-13 in those games. Two bubble teams who were left out included Grand Canyon (RPI: 53, 35-15, T25: 0-4) and CSUN (RPI: 55, 33-22, T25: 0-7). Yes, their RPIs were lower and they hailed from lower ranking RPI conference but the win records raised conversations. Again, it does not align with the listed criteria. Is win-loss record important or is it not?

This year, all eyes will be on Texas A&M. The Aggies lost their SEC Tournament play in game earlier today which means they now wait for Selection Sunday with a 28-25 overall record, 6-18 record in conference play, a 45 RPI, and what will be a 6-16 T25 record when everything is updated. That shouldn't be enough to get them into the tournament and the resume isn't all that impressive, but ultimately it may be. We will have to wait and see.

…lastly, there's also the outside influences of ESPN/TV coverage, facilities, and the NCAA's love of "busing trips" rather than paying for team flights but that, too, is a topic for another time.
——————————————-
With all the above being said, for fun, here are my versus Eric Lopez's host seed picks as of today:
| | |
| --- | --- |
| Eric Lopez's Picks | Michael Kyllo-Kittleson's Picks |
| 1. Oklahoma | 1. Oklahoma |
| 2. UCLA | 2. UCLA |
| 3. Florida State | 3. Alabama |
| 4. Alabama | 4. Washington |
| 5. Washington | 5. Arizona |
| 6. Arizona | 6. Florida State |
| 7. Texas | 7. LSU |
| 8. Minnesota | 8. Texas |
| 9. LSU | 9. Florida |
| 10. Tennessee | 10. Minnesota |
| 11. Florida | 12. Tennessee |
| 12. Oklahoma State | 12. Oklahoma State |
| 13. Michigan | 13. Kentucky |
| 14. Ole Miss | 14. Ole Miss |
| 15. Northwestern | 15. Michigan |
| 16. Kentucky | 16. James Madison |
The biggest issue I'm sure people will have with this is that I left Northwestern out of hosting and leaned more towards SEC schools. I hear you but working off what we have seen in past season (the jist of this whole article) and what we know about the involvement of ESPN/TV plus facilities I think Northwestern is in trouble unless they make a deep run in the Big Ten tournament, even then, they could suffer from the same "strength of schedule/top 25" "reasoning" that hit Minnesota in 2017. Conversely, the SEC Tournament only helps programs on the hosting bubble pad their resumes just a little bit more (more top 25 contests), pushing out other schools.

Northwestern's facility will need a number of concessions brought in such as lights. Currently, Sharon J. Drysdale Field does not have them. During the 2014 Big Ten Tournament they brought in lighting and it was fine but still, the fact remains. The seating capacity is also on the lower end and while there are the required facilities for teams and officials they are off set from the field a bit. In addition, the press box is on the small end meaning secondary areas would need to be provided/created and also better infrastructure brought in to accommodate all of ESPN's needs. Now it's all possible and doable, especially since the cost of those additions falls on the universities to shoulder, not the NCAA. But if it comes down to either Michigan or Northwestern hosting and they have similar resumes with no head to head competition to compare Michigan and their facility will win out every time. I also do not believe the committee is going to select three Big Ten teams to host this season.