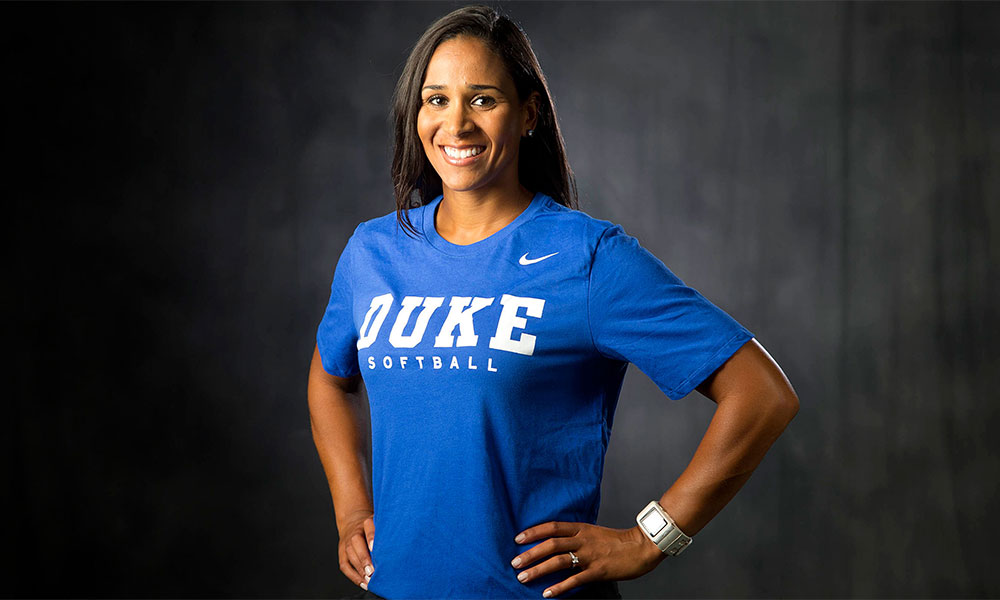 July 29, 2015, was the day I took the job at Duke. It was a dream come true for me.   Taking leadership of this program from scratch was about representing my family who has supported me throughout my career's journey and to start a program at one the country's best universities is just incredible.
To be honest, I didn't hear about Duke's softball program until late 2014. I was on the road recruiting for North Carolina and heard about it through the grapevine. I loved what I was doing and it was a dream job but this was an opportunity that I had to go for. I love Donna Papa and that was a tough conversation to have but she was supportive and the rest is history.
You know, God works in mysterious ways. I almost didn't apply. I thought they would look for a coach with a lot of experience but my husband really pushed me and once I got to campus, I realized this is where I needed to be. The day I found out I got the job, my husband and kids were right there so we all enjoyed the moment together. Then, I called my parents.
My father is my greatest influence. His attention to detail, work ethic and being a great competitor are things that he instilled in me and I think they resonate most in our program. When I was at UNC, I tried to get them to move out this way but my dad said they wouldn't move out this way until I got a head-coaching job or was somewhere I would be for a long time. Duke is both of those things and it's great to be able to build a program with him on a daily basis.
The process of building this program took a lot of creativity and adjusting on the fly but I feel like we are finally at a point where we have everything in place and are ready to roll.
We had five girls enroll last year and redshirt (Allison Florian, Hannah Pridmore, Emilie Cieslak, Jazmine Moreno and Kortney Dry). It was huge for us that they were willing to make a sacrifice to sit out a year and I give them a ton of credit for really being our guinea pigs. Last year was a test run of programming needs and they really helped us lay the groundwork. We did weights three days a week, conditioning two days a week and practice nearly everyday but with five it nearly felt like individuals.
Our coaching changes this year were another bump in the road but the coaches that were here before made the program better and the ones who are here now are making it even better. I'm a person who truly believes in taking the benefit in any situation and our program is in a really good place.
It's been a tough balancing act to realize that the fall is about growth and the process of getting better. Yet, the first time we step on the field we want our best to shine. We are really excited and don't want to get caught up in the win, although we'd really love it, but it's really about the process. It's not about where we are today but where we are come May.
It's an honor to be surrounded by so many great coaches at Duke and I take a great amount of responsibility upon myself to know that I need to carry forth the same standards and traditions of greatness that have been set before me and create it for softball.
Everybody I talk to sends the same message. It's about the people here at Duke. Being an outsider, I didn't really understand what people meant when they talked about the Duke family but now that I'm living it, I feel it.