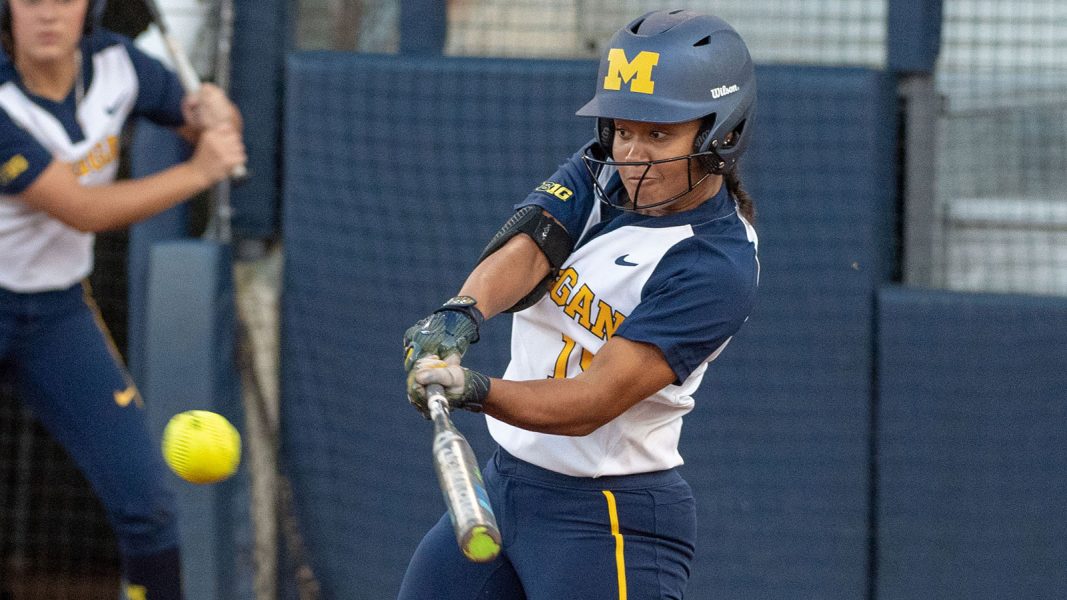 As we move into conference play across the country, take a look at the nation's most impactful freshmen, the stat lines they are putting up, and the big ways they are contributing to their respective teams.

**, bold, and italicized names represent those athletes who we would expect to see on the NFCA National Freshman of the Year list that comes out in coming weeks.

We do our best to make this the most encompassing list but did we miss someone we should be watching? Let us know at support@fastpitchnews.com
Abby Odneal – Houston
.345 batting average with three doubles, two home runs, and 12 RBIs.

Abby Settlemyre – North Carolina
.324 batting average with nine RBIs, three triples, .406 on-base, 10 walks.

Alex Storako – Michigan
2.07 ERA, 71.0 innings, and 82 Ks. If Storako can lower her earned runs (21) and free passes (31) she's going to be a force.

Ally Miklesh – Wisconsin
.370 batting average, 16 runs scored, seven RBIs, on-base percentage of .452.

Ally Shipman – Tennesse
.328 batting average, five doubles, three home runs, and 20 RBIs.

Anna Vines – UCLA
Vines is not an "every day player" (25-11 gp-gs) but she's taking advantage of opportunities when presented hitting .421 (8-19) with one RBI.
Baylee Klingler – Texas A&M
.316 batting average 15 RBIs.
Breanna Vasquez – Central Florida
66.1 innings, 1.37 ERA 7-3 in 13 appearances, 50 Ks.
Charla Echols – Michigan State   
Batting .377 with 16 runs scored, eight doubles, two home runs, 14 RBIs, 13 walks and an on base of .488
Daisy Munoz – Cal State Fullerton
.309 batting average with four homeruns, 10 RBIs, three doubles, and a .397 on-base percentage.
**Danielle Williams – Northwestern
90.1 innings, 1.24 ERA, 13-3 in 17 appearances, 113 strike outs.
**Emily Klingaman – Stanford
Batting .279 with seven doubles, two triples, one home run, 11 RBIs, 16 walks and a .443 on base percentage.
Emily Young – Stanford
.290 batting average with three triples, seven RBIs, a .353 on-base percentage, and has scored 15 runs.
**Frankie Hammoude – Oregon State
Second on team batting .323 with seven home runs and 23 RBIs, on-base percentage of .477 while drawing 19 walks.
**Geana Torres – Mizzou 
.395 in 43 Abs, three home runs, four doubles, 11 RBIs, nine walks, .500 on base percentage.
Haley Simpson – South Carolina
.302 in 25-15 gp-gs, seven RBIs, seven walks.
Jasmine Sievers – Oregon
Leading the Ducks in batting average hitting .321. Has had to step up into a much bigger role than originally expected yet she is performing well and taking it in stride.
**Jazmyn Rollins – Mizzou
.439 batting average in 41 ABS, 12 RBIs, 16 runs score, .510 on-base, four home runs.
**Jordyn Rudd – Northwestern
Team leading .342 batting average with eight doubles, two home runs, and 25 RBIs. Also holds a .419 on-base percentage.
**Kaili Phillips – Tennessee
Batting .315 with 18 runs scored, nine home runs, 25 RBIs, and nine walks for a .439 on-base percentage.
**Kayla Kowalik – Kentucky
.380 batting average with 16 RBIs, seven doubles, four triples, 14 walks, and a .490 on-base percentage.
**Kellie Godin – UCLA
Godin's hitting a team leading .500 (24-48). Has a few less games under her belt than the rest of the line up but she is doing great and being a big contributor.
**Kelsey Bennett – Va Tech
Batting .389 with six home runs and 14 RBIs, .494 on-base percentage
**Lacey Fincher – Georgia
.362 average, five doubles, six home runs, 20 RBIs, 30 walks.
**Lexie Blair – Michigan
Batting .368 with nine doubles, 21 RBIs, and a .406 on-base percentage.
Lindsay Edwards – LA Tech
.338 average with eight RBIs and a .422 on-base percentage.
Lindsey Walljasper – Nebraska
Hitting .275 with 16 RBIs, four home runs. Walljasper is also developing in the circle for the Huskers.
Makena Smith – Cal
.317 batting average with 13 RBIs.
MaKinzy Herzog – FSU
Not an necessrily everyday player for the Noles but making an impact (23-20 gp-gs) hitting .345 with five doubles and five RBIs. She is also 4-1 in the circle with a .99 ERA through 28.1 innings of work with 27 Ks.
**Megan Faramino – UCLA
And early favorite for National Freshman of the Year Faramino holds a 1.29 ERA over 48.2 innings pitched with 66 strikes out and has only allowed nine earned runs. She is 7-1 in 11 appearances.
Megan Pierro – South Florida
Hitting .325 with 12 RBIs, three doubles, and a .415 on-base percentage.
Meghan Schoman – Kentucky
1.87 ERA over 30 innings of work, 4-0 in 10 apperances with 30 strikeouts.
**Montana Fouts – Alabama
Fouts has come out strong and played a key role in Alabama's undefeated season thus far. Through 76.0 innings she holds a 0.74 ERA, is 11-0 with 96 strikeouts and only 11 walks. Fouts also also only allowed eight earned runs.
Mya Felder – New Mexico State
294 batting average with 10 runs scored, five double, and is second on the team in RBIs with 17. She has also drawn seven walks.
**Natalie Den Hartog – Minnesota
Den Hartog is second on the team in batting average hitting .318 batting and has about 20 less at-bats from the other starters as she didn't join the daily lineup until week two or three of season. Since then, she holds a team leading nine home run, 26 RBI, four doubles, and one triple.
Nikki Cuchran – Norhtwestern
Hitting .310 with five doubles, 17 RBIs, and a .400 on-base percentage.
Rachel Cid – Oregon
.275 batting average, four home runs, three doubles, 16 RBIs (team leading), and a .412 on-base percentage. If she can lower her strike out numbers, watch out.
Sami Reynolds – Washington
.303 average with 11 RBIs, eight walks, and has scored 17 runs.
Sammie Stefan – Maryland
Hitting .318, eight doubles, 12 RBI.
Savana Sikes – Georgia
.282 average with seven home runs and 31 RBIs. Sikes holds a .363 on-base percentage.
**Shea O'Leary – Texas
Through 55.2 innings O'Leary has shined holding a .38 ERA in 55.2 with a 9-0 record. in 11 appearances. She has recorded 44 strike outs while only allowing eight earned runs.
Shelby Wickersham – LSU
A huge addition to the Tigers' lineup, Wickersham has worked 55.1 innings and holds a 1.39 ERA with 28 strikes outs and a 8-1 record.
Skylar Wallace – Alabama
Hitting .329, four doubles, three home runs, 11 RBIs, with a .434 on-base percentage.
Sydeny Nester – NC State
77 innings, 1.73 ERA, 8-3 in 17 appearances, 91 strikeouts.
Sydney Sickels – Illinois
Holds a 11-2 record with a 2.87 ERA in 68.1 innings with 54 strikeouts. While the ERA may be a bit high she is doing enough to allow the powerful Illinois offense to outscore opponents and win games.
Tate Whitley – Ole Miss
.375 batting average, six RBIs.
Tayla Evans – North Texas
.354 (20-17 gp-gs) average with three home runs, 15 RBIs, and 12 walks for a .469 on-base percentage.
Teagan Shaw – Harvard
.350 average with four home runs and a team leading 12 RBIs.
**Zoe Jones – Texas Tech
Hitting .406 with 13 runs scored, three doubles, two home runs, 13 RBIs, and 17 walks for a .534 on-base percentage.