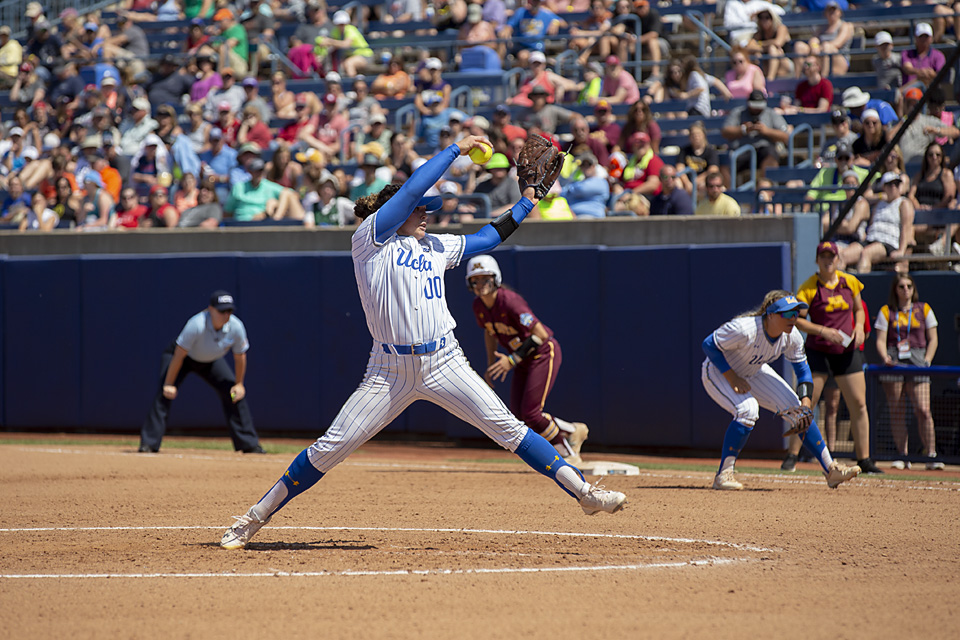 LOS ANGELES – For the second year in a row, Rachel Garcia has been named the Honda Sport Award winner for Softball, as announced on Tuesday by Chris Voelz, Executive Director of THE Collegiate Women Sports Awards (CWSA).
The Honda Sport Award has been presented annually by the CWSA for the past 43 years to the top women athletes in 12 NCAA-sanctioned sports and signifies "the best of the best in collegiate athletics." With this honor, Garcia becomes a finalist for the Collegiate Woman Athlete of the Year and the prestigious Class of 2019 Honda Cup, which will be presented on a live telecast on CBS Sports Network on Monday, June 24 at 6 p.m. PT in downtown Los Angeles.
Garcia was chosen by a vote of administrators from over 1,000 NCAA member schools. Softball finalists included Abbey Cheek (Kentucky), Caleigh Clifton (Oklahoma) and Amber Fiser (Minnesota). Garcia's fellow Honda Sport Award finalists are Maria Fassi (Golf, Arkansas), Megan Gustafson (Basketball, Iowa), Ashley Hoffman (Field Hockey, North Carolina), Dani Jones (Cross Country, Colorado), Lilly King (Swimming and Diving, Indiana), Natalia Kuikka (Soccer, Florida State), Maggie Nichols (Gymnastics, Oklahoma), Estela Perez-Somarriba (Tennis, Miami) and Kathryn Plummer (Volleyball, Stanford), with the Lacrosse and Track and Field winners announced later this week.
"I am extremely honored and humbled to receive the Honda Award in the sport of softball," Garcia said. "To be named as a finalist alongside Abbey Cheek, Amber Fiser and Caleigh Clifton is an honor in itself. I am so grateful to represent UCLA as a student-athlete in the sport that has given me so much. I want to thank my coaches and teammates for their continued support because without them, I could not do what I do. This season was exceptional and to win the National Title with my team will forever be special."
"We are so proud for our Rachel Garcia to be honored with the Honda Award for Softball in back-to-back years," UCLA head coach Kelly Inouye-Perez said. "She has put UCLA Softball back on the stage and brought home a national championship in front of millions of viewers. She represents one of the greatest to ever wear the four letters here at UCLA."
This year's Honda Sport Award for Softball is the 11th time a UCLA softball player has won the honor. Garcia joins multiple-time honorees Lisa Fernandez(1991, 1992, 1993) and Lisa Longaker (1988, 1990), as well as Debbie Doom (1984), Janice Parks (1989), Jennifer Brundage (1995) and Natasha Watley (2003). Both Fernandez (1993) and Watley (2003) also went on to win the Honda Cup.
Garcia, the back-to-back USA Softball Collegiate Player of the Year, was named the Most Outstanding Player of the Women's College World Series, helping the Bruins post their 13th National Championship. The first to ever be named both Pac-12 Conference Player and Pitcher of the Year in the same season, Garcia was also named Schutt Sports/NFCA Division I National Pitcher of the Year, NFCA and Softball America First Team All-American, NFCA All-West Region First Team, All-Pac-12 First Team, Pac-12 Pitcher of the Week four times and NFCA National Player, USA Softball National Player and Pac-12 Player of the Week once each.
Garcia went 5-0 in the circle at the WCWS with a 1.75 earned run average and 33 strikeouts in 36 innings. She went the distance four times in Oklahoma City, including a 10-inning, 16-strikeout performance against Washington (June 2), capping the game off on the offensive end with a walk-off, three-run homer to propel the Bruins into the WCWS Championship Series. She hit another home run versus Oklahoma in game one of the WCWS Championship Series (June 3), as she batted .333 (5-for-15) with two homers, eight RBI and five walks. Garcia led all WCWS pitchers in wins and was second in strikeouts, and was also first in RBI.
In the entire NCAA Tournament, Garcia was 9-0 in the circle with a 1.49 ERA and 79 strikeouts in 65 2/3 innings, while also batting .300 (9-for-30) with three homers, 16 RBI and eight walks. Garcia led all postseason players in wins and RBI. On the season, the redshirt junior went 29-1 with a 1.14 ERA and 286 strikeouts in 202 innings. In 36 appearances and 25 starts, she went the distance 19 times with seven solo shutouts, adding four saves and a .162 opponents' batting average. At the plate, Garcia hit .343 with 11 homers, 57 RBI and a team-best 35 walks and five sacrifice flies.
Honda Sport Award winners will be presented with the honor during on-campus presentations throughout the year.
The CWSA, in its 43rd year, honors the nation's top NCAA women athletes recognizing superior athletic skills, leadership, academic excellence and eagerness to participate in community service. Since commencing its sponsorship in 1986, Honda has provided more than $3.1 million in institutional grants to the universities of the award winners and nominees to support women's athletics programs at the institutions.
———————————————