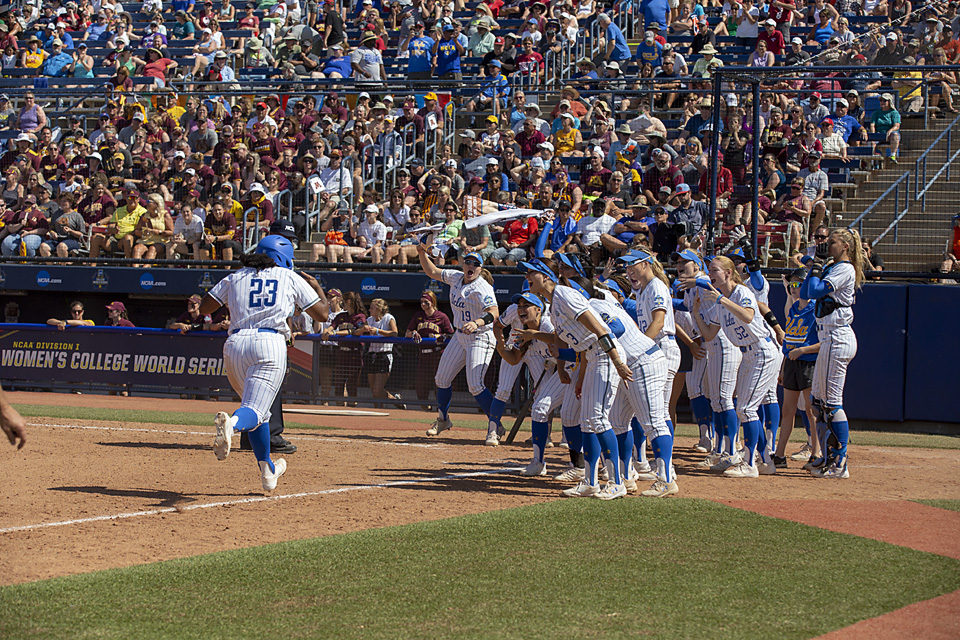 No. 3 Washington 0, #2 UCLA 3
Rachel Garcia launched a two-out, three-run walk-off home run in the 10th inning to send UCLA to the Championship Series. Garcia added complete-game shutout, striking out 16 in 10 innings work. She scattered eight hits, walked four and tossed 179 pitches for her seventh shutout and 27thvictory of the season.
Garcia's counterparts, Gabbie Plain and Taran Avelo of Washington, were equally as impressive. Plain started and reentered just before Garcia's long ball. She totaled 6.2 innings, allowing two runs on five hits with seven punchouts and three walks. Alvelo (26-5), whose tremendous career came to an end today, suffered the loss in three-plus innings of work. She allowed a run on three hits with four strikeouts and a free pass.
Both teams had chances to get on the board over the course of the first nine innings, leaving a combined 20 runners on base and going 1-19 with runners in scoring position.
Sami Reynolds went 3-for-5 at the plate for the Huskies (52-9) and Sis Bates was 2-for-5. Bubba Nickles was the only Bruin to record multiple hits with a 2-for-5 outing at the dish.
No. 1 Oklahoma 0, No. 8 Alabama 1

Victory Anderson, In the Circle Podcast
The number eight has been a rallying point for Alabama during their postseason run.

It appeared again thanks to Caroline Hardy's pinch hit walk off single to make the if necessary necessary against Oklahoma.
Montana Fouts and "G" Juarez were dominant early on with six combined strikeouts through the first three innings. Oklahoma made their first threat in the fourth thanks to back-to-back base runners with one out.

However, Fouts worked her way out of the jam to keep the game scoreless. We stayed that way until the sixth when the Sooners mounted another one-out threat. Maddie Morgan had other ideas as she snatched a liner and turned an outstanding double play.

Stellar defense on both sides including Nicole Mendes' game saving play in the seventh inning kept the game alive. However, the Tide used more magic from their senior pitch-hitting star to extract revenge on Oklahoma, forcing the winner-take-all if necessary matchup.

DYK: The Sooners' Senior Class are now 15-4 at the Women's College World Series
No. 1 Oklahoma 7, No. 8 Alabama 3

Oklahoma used three late home runs to defeat Alabama, 7-3, in the winner-take-all semifinal and advance to tomorrow's championship series.
A two-out, 300-plus foot bomb to centerfield by Jocelyn Alo in the fifth inning pushed Alabama's advantage to 4-1. That long ball started a stretch of three home runs in seven Sooner at bats, which helped OU maintain the lead in the latter innings.
Before two more OU homers, Skyler Wallace answered Alo's towering blast with a two-run shot of her own in the top of the sixth to once again make it a one-run deficit for the Crimson Tide. Wallace finished the night 2-for-3 with two RBI and a run scored.
However, Nicole Mendez matched Wallace and pushed the Sooners' advantage back to three runs, crushing a two-run round tripper into the leftfield bleachers in the bottom of the sixth. Grace Lyons added another run with a solo homer off relief pitcher Sarah Cornell.
Mariah Lopez picked up the win in relief for OU. She entered in the second inning and went 4.1 innings, allowing two runs on four hits with three strikeouts and a walk. Juarez started and went 1.2 innings, surrendering a run on one hit with two punchouts.
Krystal Goodman started for the Crimson Tide and allowed six runs on just four hits (two home runs) in five-plus innings of work. She struck out five and walked three.
The Sooners struck quickly with two runs in the bottom of the first. Caleigh Clifton roped an RBI double and then scored on a wild pitch for a 2-0 Sooner lead.
Reagan Dykes, who scored two of Alabama's three runs, put the Crimson Tide on the board with a solo homer in the second to cut OU lead to 2-1.
—————————————