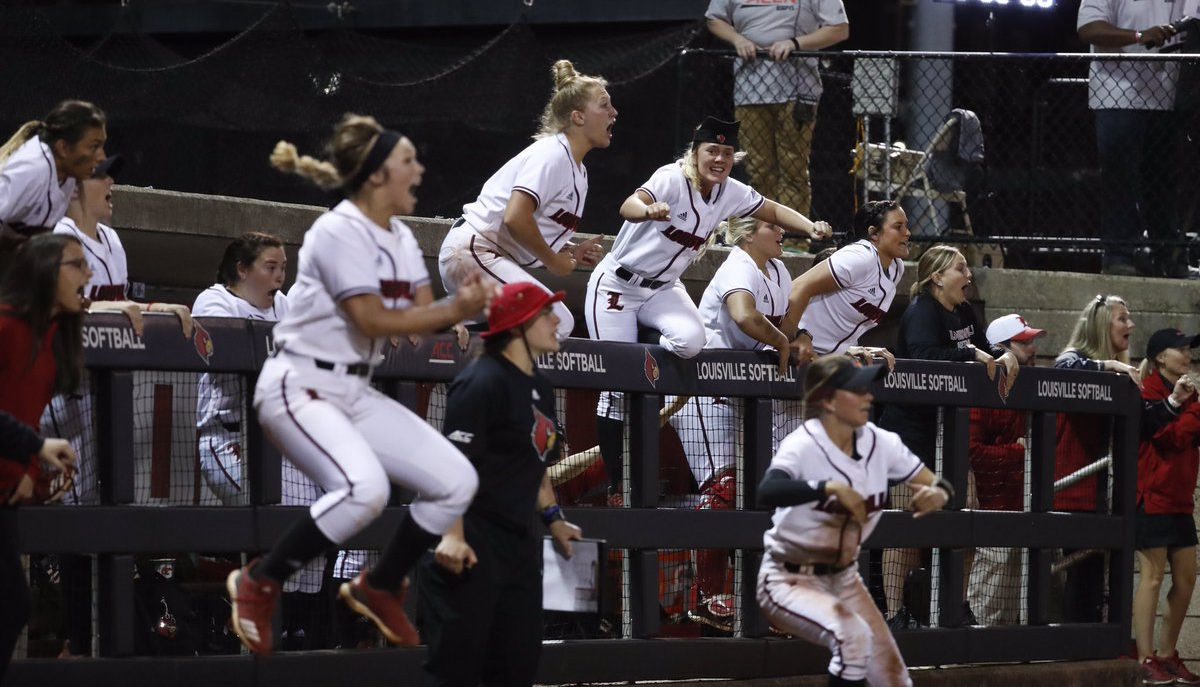 No. 2 FSU at Louisville
Under the new leadership of Holly Aprile, Louisville has had a bit of an up and down year but has the talent and puzzle pieces to put it all together into something special both now and into the future; and that's exactly what happened this past weekend when the Cardinals handed FSU their first ACC series loss in seven years. The rubber match was a high scoring, exciting game that ended in a three-run two-out double lifting Louisville to the walk-off victory.

No. 23 Indiana at Michigan
In a series that will play a crucial role in the outcome of the regular season Big Ten race, Indiana traveled to Ann Arbor to take on the 6-0 Wolverines. It was a back-and-forth affair but Michigan came out with the series sweep, all but ending Indiana's realistic chances of claiming the regular season title. Home field advantage played a key role in this series as Michigan doesn't often loss on their home turf. Indiana lead at times, threatened often, and gave Michigan a run for their money but in the end couldn't seal the deal. The Wolverines move to 9-0 in conference play, surviving one of their three "toughest" conference tests this season.

Much praise goes to sophomore ace, Meghan Beaubien, who collected three wins while throwing 14.1 innings, striking out 18 batters, and holding a fairly strong offense to only five earned runs.

Offensively, freshman Lexie Blair continues to be consistent and strong while Mackenzie Nemitz played hero on Sunday.

No. 6 Arizona at Utah
There isn't too much else to say but, "wow"! Arizona set a program record for runs scored in a Pac-12 series plating 48 over the three game affair. And by the way, each game was only five-innings.

While the offense mashed, the defensive and pitchers handled their jobs. The Wildcast committed no errors while pitchers Taylor McQuillin, Alyssa Denham, and Gina Snyder only allowed three earned runs combined.

Arizona's Malia Martinez was unreal and was named FPN National Player of the Week, read about her accomplishments here.

No. 11 Texas Tech at No. 15 Texas
A really exciting matchup we hope will continue to be high-stakes affairs well into the future, Texas came away with the 2-1 series victory but not after an intense series of games.

Texas' Miranda Elish lead the way in the circle picking up the two victories, allowing no runs, and fanning 15. Shannon Rhodes, Janae Jefferson, and Kaitlyn Washington came through "clutch" with RBIs which were few and fair between for both teams.

For Texas Tech, a lot of "kuddos" should be given to Red Raider pitcher, Missy Zoch, who unfortunately recorded both of the losses but held Texas' offense to just four runs over those two games and in 14 innings of work struck out 13 batters while only issuing three walks. She pitched extremely well.

No. 5 Alabama at South Carolina
The Gamecocks were presented with an opportunity and capitalized on it! With Alabama's ace, Montana Fouts, out indefinitely the Gamecocks were able to nab their first SEC series victory in 2019. After a 9-1 Alabama win in game one, South Carolina battled back to claim game two 5-1 and game three 2-0. It was a scrappy series and a couple of huge wins for the Gamecocks.

No. 16 Auburn at No. 8 Tennessee
Auburn has been an interesting story line this season and have flown somewhat under the radar due to the lack of "toughness" in their schedule, however, that changed this weekend when the Tigers traveled to Knoxville and took the series from Tennessee; a huge outcome for Auburn.

Tannon Snow delivered for Auburn going 5-6 at the plate with eight RBIs and three home runs in Auburn's two victories.

No. 21 Virginia Tech at Duke
The Virginia Tech Hokies …just …keep …winning. In Coach Pete D'Amour's first season at the helm his squad currently holds a 33-5 record, for comparison here are Virigna Tech's records from the past five seasons: 2018, 23-30; 2017, 19-34-3; 2016, 29-28; 2015, 34-23-2; 2014, 36-23-3 and while the argument has been made the Hokies haven't "played a tough schedule" the turn around cannot be disputed. Virginia Tech currently sits at No. 27 RPI and No. 21 FPN Power Rankings. There is also an exciting test on the horizon as the Hokies are set to face off against JMU in a doubleheader Wednesday, April 10th.

This past weekend the Hokies swept a gritty and tough Duke program. Pitchers, Carrie Eberle and Keely Rochard were great, only allowing a combined one run on the weekend while the offensive stepped up enough to get the job done.

It's a shame Virigina Tech and FSU won't collude in the regular season but what a story line that could be for the ACC Tournament! Oh and another thing, the Hokies sit atop the conference with three conference series left to play. It's going to be fun!