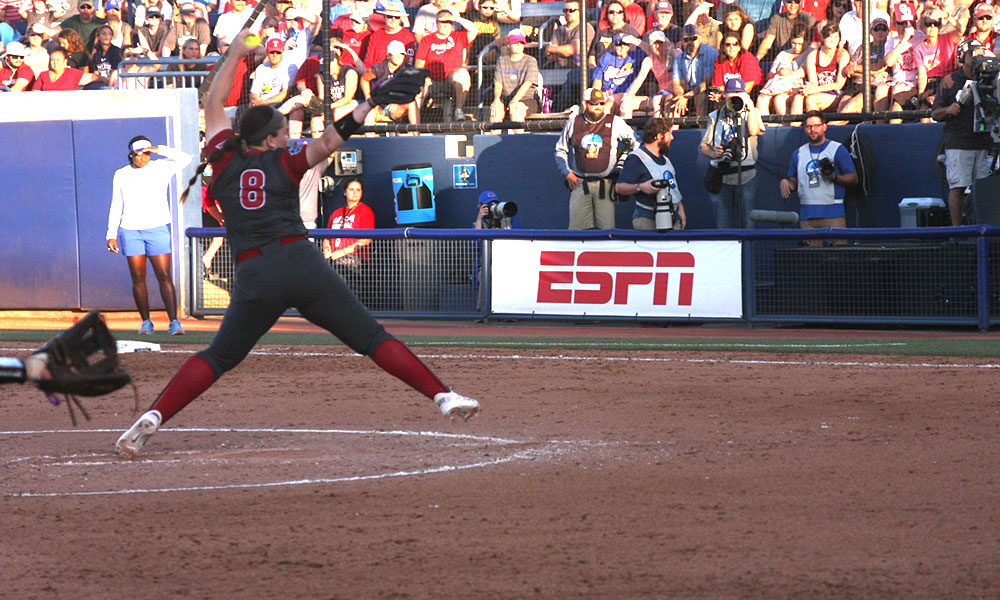 Elimination Game 3: Oklahoma vs. Florida
It's the rematch game everyone has been anticipating all season. Oklahoma and Florida met last year at the 2017 Women's College World Series where the Sooners came out on top and were crowned as National Champions. This year, the two teams meet again but under different circumstances. No one predicted these two would meet in an elimination game, where the winner will advance and the loser will go home.
Paige Parker got the start for the Sooners in the circle. The senior tossed 7.0 innings earlier in the day in the team win over Arizona State. The Florida hitters came out with aggressive swings against Parker. With two outs, Kayli Kvistad produced the game's first hit, a single off of the right field wall that was played perfectly by the right fielder.
Kelly Barnhill earned the start for the Gators, coming off a 7.0 inning defeat against UCLA last night. With one out, Jocelyn Alo blasted a towering home run over the left field wall, her 30th of the year and tying the NCAA freshman single-season home run record. Shay Knighten followed up with a single up the middle, but a double play ball would end the inning. 1-0 Oklahoma.
In the bottom of the third, after a lead-off walk, Florida called for a pitching change and replaced Barnhill with senior Aleshia Ocasio. With two outs, Alo was intentionally walked putting Sooner baserunners on first and second. Knighten drew a 3-2 count, but Ocasio fooled her on a pitch on the outside part of the plate, garnering the strikeout.
In the bottom of the fifth inning, Caleigh Clifton led off with a walk. Ocasio retired Kelsey Arnold and Lea Wodach via strikeout to record the first and second out. Sydney Romero singled to keep the inning alive for OU. With runners on first and second, Florida elected to intentionally walk Alo for the second time in a row to load the bases for Knighten. A drop third strike that got away from Gator catcher Janell Wheaton scored another run. Ocasio retired Pendly to end the inning and limit the damage. Oklahoma 2-0 after five.
With one out in the top of the seventh, Janell Wheaton singled up the middle giving Florida a base runner. Parker retired Jordan Roberts for the second out and strikeout of the inning. Parker got Jaimie Hoover to ground out to third base to end the inning. Oklahoma moves on and will face Washington on Sunday at 12 p.m. If the Sooners win, the "if-necessary" game will be played at 6 p.m. CT.