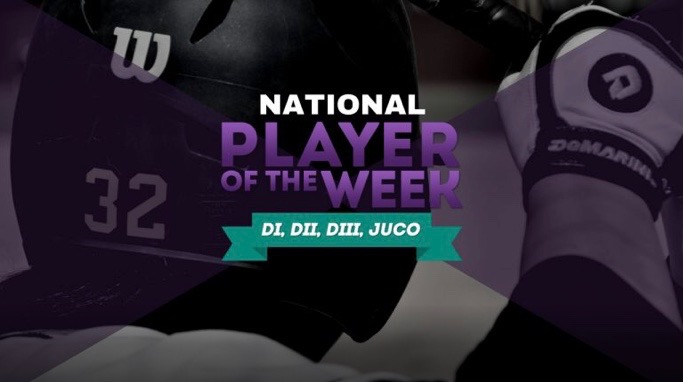 Fastpitch News has released its April 10, 2018, College Softball Players of the Week Awards. All nominations will be considered and are due each Monday by 3:00 p.m. Eastern time. Please submit to rankings@fastpitchnews.com for review.
NCAA DI
Jessica Hartwell
Junior
Texas Tech
Hartwell blasted a school-record three home runs against Baylor on Friday. Hartwell went deep in the first, third and seventh innings to finish 3-for-3 on the day with five of the team's seven RBI. Hartwell went 5-for-9 with three home runs and a walk this past weekend to improve her average to .500 in Big 12 play.
Gabbie Plain
Freshman
Washington
Plain threw the seventh perfect game in Husky history and second ever by a freshman as the No. 1 Washington Huskies defeated Utah 12-0 Saturday. Plain retired all 15 batters she faced, with only two balls reaching the outfield all game. Over her last 19.0 IP, Plain, has a 0.39 WHIP. She has allowed two or fewer hits in 11 of her 17 appearances.
NCAA DII
Sarah Pauscher
Sophomore
Saint Leo University
Pauscher led the Lions in Saturday's doubleheader from the plate with a .750 batting average with six hits in eight at-bats and four runs scored. Pauscher hit two doubles and two triples, between the two games while driving in four runs.
Cambrie Hazel
Freshman
Dixie State
Hazel tossed two no-hitters and combined for a perfect game this past week. The first no-hitter was on Wednesday April 4 against Cal State East Bay. The freshman threw her third no-hitter of the season and recorded 7 strike outs. On Thursday Hazel combined for a perfect game with fellow pitcher Madi Dove. On Saturday Hazel recorded her fifth no-hitter of the season against Dominican and also had a career-high 14 strikeouts in the contest.
NCAA DIII
Madison East
Sophomore
University of Pittsburgh at Bradford
East reached base all seven of her plate appearances during a doubleheader against Alfred State in the team's home opener. Included in her 5-for-5 day was a triple and a double. She had three RBIs in each game for six total and delivered the big hit in game two — a bases-clearing, bases-loaded double. She also stole three total bases and scored as many runs. With perfect batting averages and on-base percentages, she also posted a 1.600 slugging percentage.
Kylee Schwind
Sophomore
Arcadia University
Schwind went 2-0 with a 0.55 ERA, 14 strikeouts, three walks and 11 hits over 12.2 innings of work. The sophomore tossed 5.2 scoreless innings with five strikeouts and allowing four hits in a 3-0 win over Stockton. She capped the week by fanning nine batters and allowing just one run in a complete-game 2-1 win over Hood.
NJCAA
Caleigh Wallace
Freshman
Northeast Mississippi Community College
Wallace broke the program record for most home runs in a single season with her 13th long ball of the year in a 17-0 win at Coahoma Community College. Wallace batted .545 (12-22) and had a .600 on-base percentage with 13 runs scored, 11 RBIs, three home runs, two doubles and four stolen bases. She was also 1-1 in the pitcher's circle with an extra inning loss in relief to 17th-ranked Mississippi Gulf Coast and a complete game win at 8th-ranked East Central.
Monique Ashley
Sophomore
Seward County
The right handed pitcher picked up two more wins in the circle this past weekend at Pratt. In 11 innings pitched, Ashley recorded 17 strike outs while surrendering 3 walks. Ashley improved to 19-4 on the season and holds a 1.40 ERA. Her 2018 strikeout total also climbed to 217.