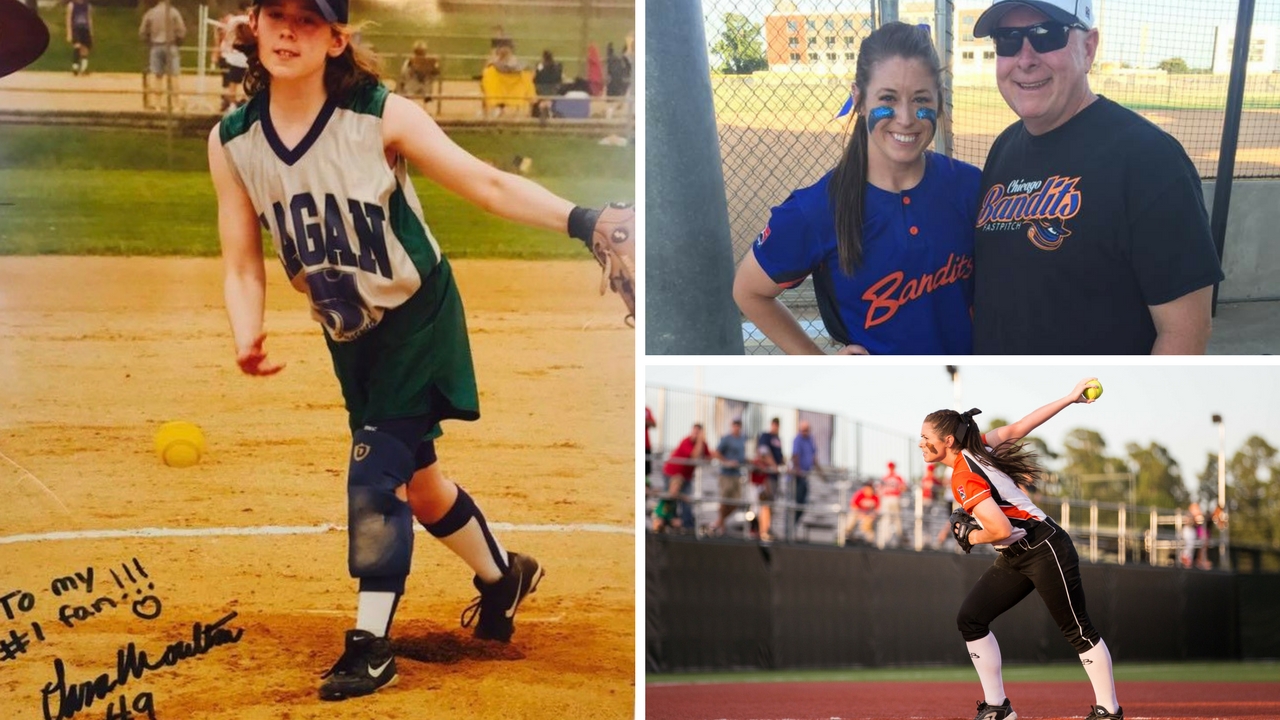 By Mark Allister
Living in a Minneapolis suburb, I watched Sara Moulton throughout her outstanding career at the University of Minnesota. Regular readers of the Fastpitch News website know Sara as the primary softball writer for the past eighteen months; with this interview, I hope to give you a sense of her journey with softball. I also interviewed Sara's father, Jeffrey Moulton, to present a parent's perspective.
Mark Allister (MA): What events or feelings do you remember most about your early days playing softball? It's sometimes said that it takes a family to get a girl through travel and high school ball. Did you need encouraging, or just not to be held back?
Sara Moulton: I started playing softball when I was around five years old, in Eagan's [her home town] In-House Slowpitch K-3 league. I was really competitive by nature, and I remember that in that league when you hit a ball to the outfield, you were held up at second base, and I would always get mad. Then when I was nine I tried out for fastpitch with the Eagan Athletic Association. I remember at the tryout learning to bunt for the first time. I had a really strong overhand throw, and I don't remember if I could hit back then, but I did make the A team as one of the youngest players. Growing up in travel ball I was always playing with girls who were older than me. I think that helped push me and I learned how to grow as a player and as a young lady quicker than a lot of my friends did.
My family helped a lot. My dad was the one who took me to out of state tournaments and pitching lessons where he caught for me. For years he sat on a bucket and really helped with my pitching development. He was at almost every game, encouraging me. My mom did more with my sister, Emily, who is three years younger and who was on her own team. My parents split the work up, in a sense, but we always came back together at night and had family dinners. Mom was always the one staying up late on weekends, washing all the uniforms from tournaments. My sister was always there for me, too, in her own way, even when we were playing at the same time. There were times in high school when I was on the varsity field and she was on the junior varsity field and our parents would walk back and forth trying to watch both of us. I wouldn't have been half the athlete or half the person I became without my family's support.
I remember telling my parents when I was ten that I would get a full-ride college scholarship. I'm sure that they laughed at me, but I was serious. They might not have known how serious I was about it even then. I knew that if I put my mind to something that I was going to do it.
Jeffrey Moulton: As a softball parent, I would say I was "involved," especially early on. I did not like coaching all that much. Dealing with the parents and the politics was a challenge. Each family had different reasons for being there and sometimes our goals just did not always match up. Travel ball took care of a lot of that but it was not perfect. I have a lot of respect for Sara's travel ball coaches. They did a nice job with her. I remained involved but more on the sideline as she developed. We still spent a lot of time practicing. My role was to support her by catching for her and offering my two cents when needed or when I felt it was needed. I cannot even guess how many hours I sat on that bucket catching two pitching daughters.
The first time I realized that Sara might be able to play at the college scholarship level was at 18U ASA Nationals in Moline, IL.  She was fifteen and we had moved her up that season to play on this team of girls entering college that fall. They finished second with Sara pitching the majority of the innings. This was our first tournament where college coaches actually expressed interest in Sara.
MA: Sara, you excelled pitching in high school and travel ball, and committed to the University of Minnesota before your junior year. I've heard an amusing story about how your college pitching career began. Could you tell that story?
Sara Moulton: We opened up at New Mexico State. I didn't pitch the first game, but we lost 15-0, which was an eye-opening experience. And then I got the next three games. I lost the first one by giving up a grand slam in extra innings, 12-9. That was the most runs I had ever given up in a game before. It was frustrating and I didn't understand what I was doing wrong. I was disappointed in myself after the weekend, but it lit a fire in me.
Freshman year was a year of survival. When people ask about my favorite year of college, I always say that one. It was brand new for everyone [the previous year, Minnesota had gone 16-37 and were rated 197th in the RPI; they then hired a new head coach, Jessica Allister]. We learned a lot. We made a bunch of mistakes on and off the field, but we came together. We were very close as a team that year. Even though we took our lumps, we went 31-24. Overall it was a huge culture shift and a big turnaround and I feel blessed to be a part of it.
Jeffrey Moulton: I returned from that opening weekend in Las Cruces in a panic. I had no idea or perspective going in what it would be like. She gave up 27 runs on the weekend. I'm not sure she ever gave up 27 runs in an entire season in high school. When we talked during the week, I did say that maybe she should contact Coach Tschida at St. Thomas University [a DIII school] and see about next year. I am glad she did not listen to my babble. But two things came out of that first weekend. Sara learned what it means to throw in the "river" and I learned to stay far away during games. It was our little deal and served us both well.
MA: Sara, upon graduation, you held Gophers career marks for victories (112), complete games, strikeouts, shutouts, and innings pitched. You got drafted 5th overall in the second round by the Chicago Bandits of the National Pro Fastpitch League, and you played for them for three seasons. What was different about — what were the ups and downs — of your pro career?
Sara Moulton:  I knew almost nothing about the pro league and I really didn't think I was good enough to play in it. On draft night I was actually studying for an exam, and I got a text message from Brittini Merchant telling me "congratulations." I thought she had written the wrong Sara, because Sara Groenewegen [a teammate] had received Big Ten Pitcher of the Week honors that week. I texted back saying "oops, wrong Sara." And she wrote back and said, "no, look at Twitter! You got drafted 5th overall by the Chicago Bandits!" So I clicked on my Twitter account and turns out everyone had been congratulating me.
I arrived in Chicago the day after we got home from losing in the Super Regional at Oregon. It was a very quick turnaround. I had twelve hours to get my apartment packed up and get off campus and head to Chicago. I had very little sleep, and they brought me to my first practice, and it was raining hard. They told me I would be throwing live that day, which I knew was going to be difficult as I'm a drop ball pitcher and need rosin to be able to grip the ball. I was having trouble holding on to the ball and I hit the first six batters I faced. I'm sure everyone on the Bandits was thinking, "who is this girl and can she even pitch?" It was horrifying. I thought I had ruined everything. But I got to pitch that weekend. I came in to finish the game in the seventh inning, and got three ground ball outs.
My favorite memory of that year was a game in which one of my pitching idols Cat Osterman was throwing. She was undefeated on the season, and my coach asked the staff who wanted to pitch against her. I said "Coach, I'll pitch." So I got to throw against Cat Osterman, and to top it off, Jennie Finch threw out the first pitch for the game. I will forever cherish that game because I shared the mound with two Olympians I had looked up to my entire life. My next two years the Bandits won the Cowles Cup, and those were very special.
Jeffrey Moulton:  When Sara went to play for Chicago, my role as a parent changed tremendously.  I traveled to almost every Gopher game during Sara's career at Minnesota. When she went pro, that was no longer possible with so many weekday games.  Also, there were so many pitchers on the Bandits' roster that innings for Sara were much scarcer. We did travel to Chicago two or three times each season for weekend games. Other games were streamed on the internet. I still watched all I could.
MA: Sara, what achievements, looking back, are you proud of in your personal (not athletic) journey at Minnesota? What did you imagine you would do after graduation?
Sara Moulton: I graduated in four years with a degree in business marketing. I received the Medal of Honor, (the second Gopher softball player in program history to do so), which is for athletics and academics combined. I always tried just as hard in the classroom as on the field. I was hoping to perhaps do marketing in some sports context after college, but I hadn't given it much thought because of the softball season. After that first year with the Bandits, my pitching instructor when I was young, Michelle Harrison, called and asked if I would be interested in opening an indoor softball training facility with her and joining Strike Zone Sports as a co-owner and full-time instructor. I said yes! Then in the summer of 2016, my last year with the Bandits, Eric Bettermann with Fastpitch News asked if I'd be interested in writing a weekly column about life in the pro league as a way to raise awareness about the league. It turned into a full-time writing gig after the season. I tell people that I'm a writer by day and a pitching instructor by night. I work seven days a week, but I love it.
Jeffrey Moulton: Softball has been very good to Sara. Her softball career shaped her as a person. We talked so many times about giving back and she has that exact opportunity in her business. She truly is a role model for the kids she works with. I hear from so many parents about that. As a parent, it makes you feel good that you raised your child with good values and character. Sara received a tremendous amount of recognition over her career. I feel like she handled it as humbly as possible.
MA: You went public in your column for Fastpitch News about the weight you gained in college, and the reasons why, as well as your journey to lose that weight and eat better and become more healthy. What have been the reactions to your telling that story?
Sara Moulton: I lost and have kept off 70 pounds in the last three years. I feel healthier and happier. I was very open about this journey to lose weight and I had a lot of people reach out to me and talk about their own struggles with weight. They asked for suggestions on how to change. I've always taken the time to respond to each person who's contacted me. I thought that if I could help one other person by sharing my story, it would be worth it. And I also work with a lot of young players, and their parents will ask me what I think their daughters should be eating or not eating, and I point them toward my articles.
Jeffrey Moulton: Sara's weight gain was of tremendous concern to her mom and me.  We saw it happening but it was tough to bring to her attention without hurting her confidence in herself. When she got to the pros, she made some life-changing decisions. We could not be happier. I know she uses this story to motivate others. I lost forty-eight pounds in support of her life changes. We are so proud of her for realizing what was going on and doing something about it for the long run benefits.
MA: To close each interview, I asked if they had a favorite story that should be included. Here they are. I give the dad the last word.
Sara Moulton: When I was nine and first learning to pitch, we were very limited on practice space in the winter months because we lived in Minnesota. My dad thought it would be a good idea to throw in our finished basement. There was just enough space for me to throw from the 35 ft. 10U pitching distance. I remember throwing one pitch through the storage room door and a second through the actual wall before we decided that probably wasn't the best idea. After that, we found space to throw at the YMCA and gym space when it was available.
My dad's voice was the only voice I could hear in the stands, even when there were hundreds or thousands of people in attendance. He was never allowed to stand or sit in my peripheral vision because I could read his body language and hear what he was saying. He would yell things like "mix it up" or "get ahead," which I learned were his way of coping with his nerves and emotions. I used to laugh in my head because I wasn't trying to fall behind in the counts.
Jeffrey Moulton: I moved my viewing perch to as far away as possible when Sara was pitching.  While at Florida Gulf Coast, I was standing with two other player's dads in the bullpen area.  Coach Joseph from Michigan State [long-time head coach, Jacquie Joseph] was there with us.  She observed how we lived or died with each and every pitch. She flat out told us that we would never make it. She told Coach Allister all about us on the flight home, and Coach Allister told everyone this story at Senior Day. We certainly were devoted fans and happy with the opportunity being afforded our daughter. The best part is that we all made it.
Mark Allister is a professor of English at St. Olaf College in Northfield, Minnesota. He is currently writing a book, Turn and Look: One Season of College Women's Softball.