Core Training
Inside the Circle: Pitching practice, how much is too much?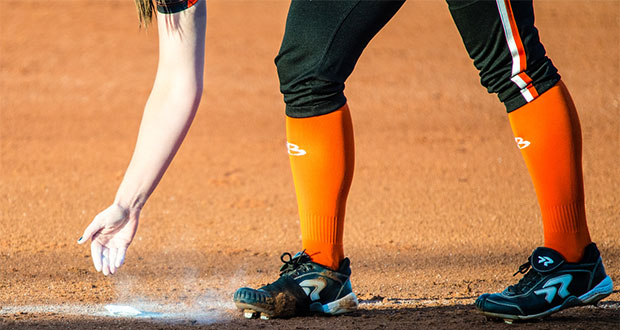 A common question parents of pitchers ask is how much should their daughter be practicing pitching? It's a question that is commonly asked by players to the instructor of the pitcher, and one that can be answered in 100 different ways depending on instructor preference. But let's dig deeper into this question and not only develop our own answer but also understand the purpose behind pitcher practices. Pitching is a craft that is developed over time. It takes discipline, hard work, and focus from the pitcher because pitcher practices rely solely on repetition.
Let's break down the different age levels of softball so parents and coaches can evaluate pitcher expectations at these levels and understand what their pitcher responsibilities are. We are going to assume pitchers at all levels have some sort of pitching instructor. If not, we would encourage that you invest in one for your daughter if she has a future in pitching.
8U-10U Level: At these levels, pitchers should be working on developing the basic fundamentals and mechanics of pitching. It is encouraged that pitchers at these levels start working with an instructor so they can learn the proper mechanics and body positioning for the Fastball. Instruction work at these levels can take place in one on one lessons, camps, or clinics. The amount of practice days at these levels are going to vary from pitcher to pitcher. We encourage that the beginners actually throw less on their own and more with instructor eyes on them. Bad habits start to form when beginner pitchers are set free to practice on their own. Once pitchers get the hang of the basic fundamentals and mechanics, it is encouraged they throw with an instructor once a week, or every other week, and a few times on their own. They actually aren't getting worse by not throwing, because those bad habits aren't forming. Are you following?
12U-14U Level: Pitchers graduate from the 11" ball and move up to the 12" ball at the 12U level and the mound moves back five feet (40 feet) from where they were in 10U (35 feet). 14U pitching mounds will move back another three feet (43 feet) from the 12U level. This is the distance pitchers will remain for good. Pitchers at these levels should be consistently working with instructors on proper mechanics for their fastball, spotting the fastball to corners, throwing a change up, and some may even begin to develop a third pitch. Pitchers at these levels should be checking in and seeing an instructor every other week based on preference, and throwing an additional three times a week on their own.
16U-18U Level: At these higher age group levels, pitchers are probably already looking at and communicating with the colleges they wish to or will be attending. It's encouraged to communicate with the college pitching coach and pick his/her brain about things they want you to work on before you get there. We know there are rules with communication between recruits and college coaches, so we encourage you send your pitchers current pitching instructor to serve as the middle man. It will be important that he/she is kept on the same page, seeing as you won't be working with the college pitching coach until you get there. Pitchers at these levels should have mastered the fastball, change up, and a third pitch. Depending on the pitcher, some may have an additional fourth or fifth pitch in their arsenal. Speed and power work is recommended at these levels because pitchers will have grown into their bodies and will be looking to tap into the speed category. There isn't a recommended amount of instructor and pitcher practices at these levels, it's based on what you're working on and how often you want to. Some pitchers may work with instructors once or even twice a week with an additional three days on their own.
Collegiate Level: The amount of pitching practice at the collegiate level is going to vary based on what school the athlete attends and the pitching coach's preference. During the fall season at the D1 level, the softball team is allowed 20 hours of practice a week. If you break that up into five days, that's four hours a day that can be softball related. There will be days with an hour or two of weight lifting and conditioning, once again depending on the school. Pitchers could throw five days in a row, five days a week, four days a week, every other day, for three, two, or one hour a day etc. It's hard to predict what college pitcher schedules will look like until you are there. But, if you want to get ahead and on the right track early, start communicating with the coach before you arrive.
These are good guidelines for pitchers and parents to follow or evaluate as they move through the levels of softball. These guidelines were developed when thinking about the off-season training months and may need to be re-evaluated for the summer season months. It's hard to develop pitches and work on specifics in game settings, but that's a post for another day. Bottom line, perfecting the craft of pitching takes time, practice, and money. The more you put in, the more you will get out. Seem simple enough?
Feature Photo by: Sam Janicki