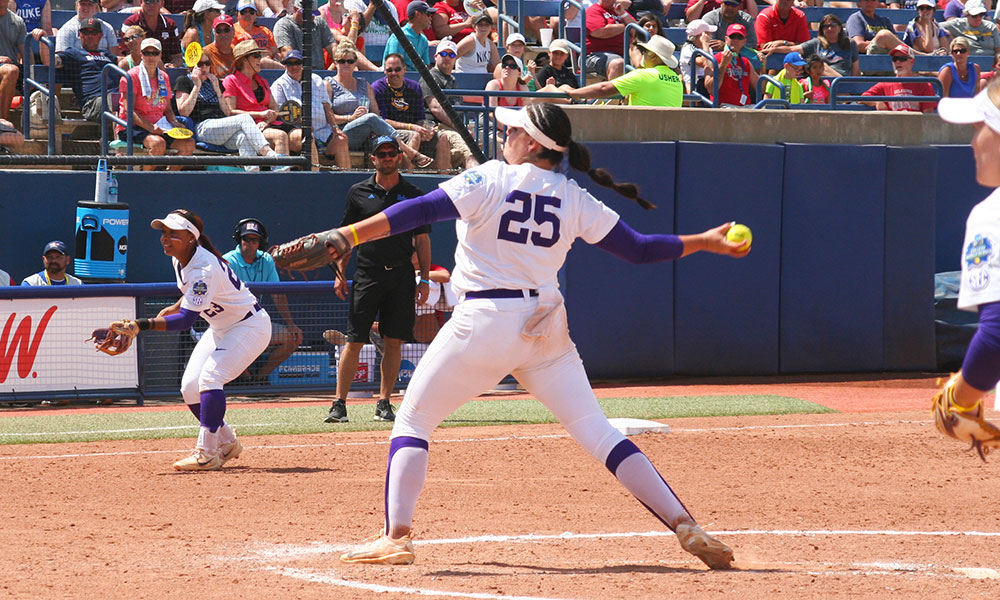 Softball pitchers don't need to learn and throw every single pitch available to be successful. Learning a new pitch can be exciting for pitchers and eager parents when the pitcher is young. But what age should pitchers be adding additional pitches and what should that next pitch be? Just because a pitcher claims to throw five pitches doesn't necessarily mean she is confident in them all, or that they work. What's the point in claiming to have five pitches when you have only mastered or have confidence in two or three? When it comes to softball pitching and the number of pitches that pitchers throw, often less is more.
Every single softball pitcher needs to start with the Fastball. A fastball will be the most important pitch a pitcher learns because all of her other pitches will be built off the Fastball. When pitchers start out, they need to be introduced to the Powerline. The Powerline is the imaginary line that runs from the center of the pitching mound and continues all the way to the middle of home plate. This line helps pitchers with body positioning and if they can stay lined up on the Powerline and release on time, the chance of throwing a strike increases.
(FPN is offering this article to all visitors, for access to more great content like this join the "Inner Circle Today". You will also get access to the Fastpitch Trainer.)
After pitchers develop proper pitching mechanics behind the Fastball and can throw consistent strikes, a change-up can be introduced. It is encouraged that the change-up is the next pitch learned by pitchers following the Fastball. As pitchers get older, the change-up will become the most important pitch they have in their arsenal. The change-up needs a ton of focus and practice to be a dominant second pitch. Think about how many hours and pitches it took to develop a consistent Fastball, the change-up needs to be worked on twice as much to catch up.
Once a pitcher has her Fastball down and is working on change-ups, they should work on spotting the Fastball. The concept of spotting pitches is straightforward once the pitcher learns how to use the Powerline and develops body control. As pitchers get older, they will locate all of their pitches to the inside and outside corners and avoid the middle of the plate completely. The hitters in softball are getting too good and can cover most of the plate with their bats. The pitchers who take the time to locate their pitches in the corners of the plate by using two new Powerlines and who can keep hitters off balance with a change-up will be successful.
We have already talked about two pitches, the Fastball and the change-up. Would you believe me if I told you that at the college level, almost every pitcher would be required to throw these two pitches? That's right; Fastballs are not left in the 12U and 14U levels. They will be important and a top pitch for pitcher's once they reach the next level.
The philosophy behind most college softball pitching coaches is having pitchers be able to locate a fastball around the plate, have a devastating change-up, and if needed a third or fourth pitch will be added. The most common third pitch at the college level is something with vertical movement, a rise or a drop ball. Horizontal movement pitches aren't stressed at the beginning because the pitcher is expected to locate her fastball to corners. College pitching coaches prefer to spend time on having their pitchers master a change-up and then when they are ready, something that goes up or down. Pitchers have four years in college to develop that additional third and sometimes fourth pitch. If pitchers are able to arrive at their college with a perfected fastball and change-up mechanics, they will be well on their way to learning, or often re-learning, a third pitch sooner rather than later.
Softball pitchers who have two or three pitches and have command and confidence in them are better off than a pitcher who has five average pitches. Start with learning and mastering one at a time. There is no rush to learn every softball pitch because in reality, once the pitcher gets to the next level, they will go back to the two core pitches; a fastball and change-up. Pitchers who are reading this article and who already have a fastball and change-up, perfect them. Learn leg and arm speed drills that will increase velocity on the Fastball and have command of your spots. If you have a third or fourth pitch, keep working to tighten it up and make it move. There is always something a pitcher can be working on to make the pitches they already have better. If you learned anything from this article, it's that when it comes to pitching, having less can bring you more success.