Inner Circle
Where are they now? Kiki Stokes, Scrap Yard Dawgs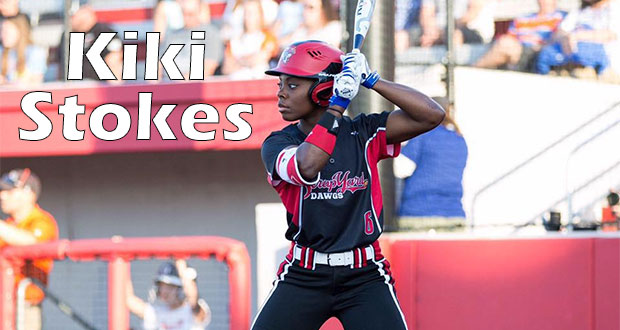 The National Pro Fastpitch League (NPF) takes place from when players report for practice in mid-May and go through the Championship Series at the end of August. When looking at the season as a whole, it's roughly three months of actual games, and it sure goes by fast. So what do the players of the NPF do the other eight and a half to nine months out of the year? The "Where are They Now?" Column covered by Fastpitch News will focus on several NPF Players a month, providing fans with updates and insights on what their favorite Pro Athletes are up to in the lengthy and quiet off-season months. Up Next: Kiki Stokes, Outfielder for the Scrap Yard Dawgs.
Kiki Stokes recently completed her rookie season in the NPF with the league's newest franchise, the Scrap Yard Dawgs. Stokes was the 6th overall pick in the 2016 National Pro Fastpitch Draft. Stokes played four years of college ball for Nebraska, where she was a two-time All-American Outfielder.
Shortly after the 2016 NPF season concluded, Stokes underwent surgery to repair a torn rotator cuff, labrum and bicep tendon. She has spent most of her off-season months rehabbing and recovering from surgery, as well as preparing for the 2017 Pro season.
FPN: Where are you spending your off-season months?
KS: I am spending my offseason in Lincoln Nebraska.
FPN: What is your employment commitment in the off-season?
KS: I am currently working as an undergrad assistant with Nebraska, as well rehabbing my shoulder and preparing for my NPF season.
FPN: You recently underwent surgery. Can you go into more detail?
KS: Towards the beginning of the 2016 NPF season we had a home series against the pride and during the second game I dove for a ball in center field and when I came down from catching the ball, I landed on my shoulder in kind of a weird unnatural way. At first, I didn't notice anything because my adrenaline was going but the next day my neck and shoulder were really stiff and every time I went to throw there would be a painful throbbing sensation going throughout my arm. About three weeks went by and every time I would throw, I would get a tingly numb sensation and I lost a lot of power behind my throw. Finally, I got it checked out about halfway through our season because it wasn't getting any better. The doctor found that I had a torn labrum, however, once it was time to get the surgery after the season when the doctor went in he found that I had torn my rotator cuff, labrum, and my biceps tendon which were all going to need to be fixed. The surgery was really important for me to have because I would not have made it through another season in the NPF and it would have fallen apart within weeks.
FPN: What sort of rehab schedule have you been on since the surgery?
KS: Since surgery, I have been doing rehab every weekday and taking things very slowly so that everything heals right. Recently, I have started to throw and swing which is so exciting but also taking that very slowly as I want to be more than ready when the season rolls around!
FPN: How does giving lesson and clinic work help better you as a player?
KS: It helps to keep my memory fresh about the little things and the fundamentals of the game. I love teaching this game! It is so rewarding to be able to give back to the game that has helped me become the person I am. When I do lessons and clinics it always takes me back to my old self just wanting to learn and absorb whatever is being taught.
FPN: How was your rookie experience in the NPF with the Scrap Yard Dawgs?
KS: I absolutely loved It, being on an inaugural team with the majority of the team being rookies was really special because we all brought different things to the table and we got along so well. I think that it was an experience that I will always remember because every game I was getting to go up against the best of the best, people I once looked up to and the game was just so much faster. I also loved being able to travel and not have to worry about school, but just having fun and playing!
FPN: What were some similarities and differences you noticed in the NPF versus college?
KS: Some similarities I noticed about playing in the NPF and college was that you get to play with girls who love the game and appreciate it while also forming friendships. One of the differences I noticed was that you're not being babied by a coach and your success is based on you. NPF is a little more individually based, and you make your own decisions and find ways to better yourself. Also, the speed of the game is a lot quicker in the NPF and you are facing good competition every single game. You'll also never play a team in the NPF where you are guessing their athleticism or how good they are because every team is good and more than capable of winning.
FPN: How did playing college ball at Nebraska help prepare you for the Pro level?
KS: I think playing college ball helped prepare me for the NPF because I was constantly playing good teams, and was always held to a high standard.
FPN: The NPF has many B1G players that you played against in college. Talk about that experience and matchups.
KS: I think that it is so cool that the NPF has so many B1G players because sometimes the B1G gets overlooked and you hear more about SEC or Pac 12 schools. To see B1G schools have so many girls representing for them is really fun to see because it just shows we can also compete at the highest level. You instantly form a bond with other B1G players because you feel like you both are representing where you came from and are proud of it.
FPN: What are you most looking forward to when thinking about the 2017 NPF season?
KS: I'm most looking forward to chasing an NPF Championship with my team again and forming even closer bonds with girls not just on my team but other teams as well.