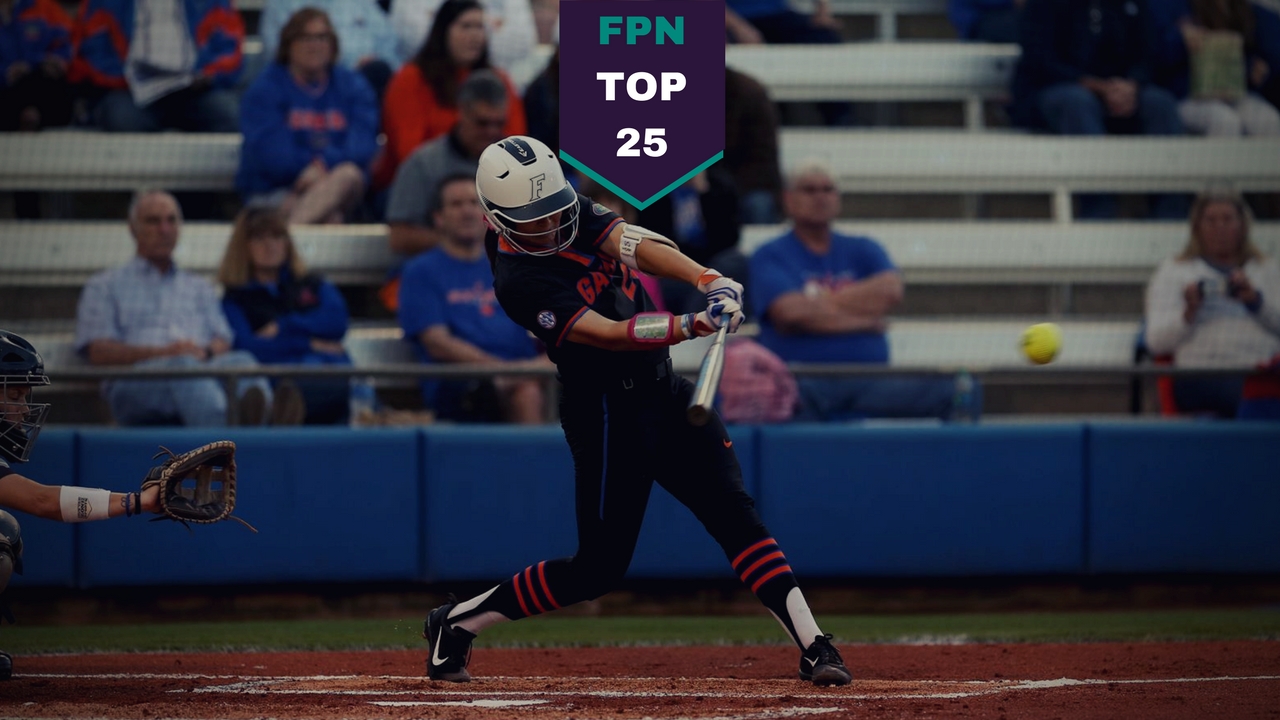 Fastpitch News (FPN) has released its February 20, 2018, NCAA Division I Softball Rankings. If you have any questions please contact our staff at the email listed below.
If information regarding records, contact rankings@fastpitchnews.com.
There was significant movement this week, which our poll tends to have. Keep an eye out for our new feature "Behind the Rankings" coming out this week. It will offer some insight as to where teams landed.
| RANK | NAME | CONF | W-L | Streak | Previous |
| --- | --- | --- | --- | --- | --- |
| 1 | Florida | Southeastern | 8-1 | 1L | 2 |
| 2 | Oregon | Pac-12 | 9-1 | 1L | 3 |
| 3 | Florida State | Atlantic Coast | 8-1 | 4W | 4 |
| 4 | Baylor | Big 12 | 7-0 | 7W | 14 |
| 5 | LSU | Southeastern | 10-0 | 10W | 11 |
| 6 | UCLA | Pac-12 | 9-0 | 9W | 9 |
| 7 | Washington | Pac-12 | 10-0 | 10W | 8 |
| 8 | Oklahoma | Big 12 | 6-1 | 1W | 1 |
| 9 | Texas A&M | Southeastern | 9-0 | 9W | 7 |
| 10 | Tennessee | Southeastern | 10-1 | 2W | 6 |
| 11 | Auburn | Southeastern | 13-0 | 13W | 13 |
| 12 | Alabama | Southeastern | 6-1 | 1L | 10 |
| 13 | Louisiana | Sun Belt | 7-2 | 5W | 21 |
| 14 | Georgia | Southeastern | 9-1 | 8W | 15 |
| 15 | Arizona | Pac-12 | 8-1 | 7W | 12 |
| 16 | Oregon State | Pac-12 | 7-4 | 2L | 16 |
| 17 | Oklahoma State | Big 12 | 8-2 | 4W | 17 |
| 18 | Arizona State | Pac-12 | 9-1 | 9W | 18 |
| 19 | Ole Miss | Southeastern | 6-2 | 2W | 19 |
| 20 | Notre Dame | ACC | 6-3 | 3W | UR |
| 21 | Michigan | Big Ten | 5-4 | 1W | UR |
| 22 | Minnesota | Big Ten | 5-4 | 4L | 5 |
| 23 | California | Pac-12 | 9-0 | 9W | UR |
| 24 | USC Upstate | A-Sun | 7-0 | 7W | UR |
| 25 | Nebraska | Big 10 | 8-2 | 1L | 22 |