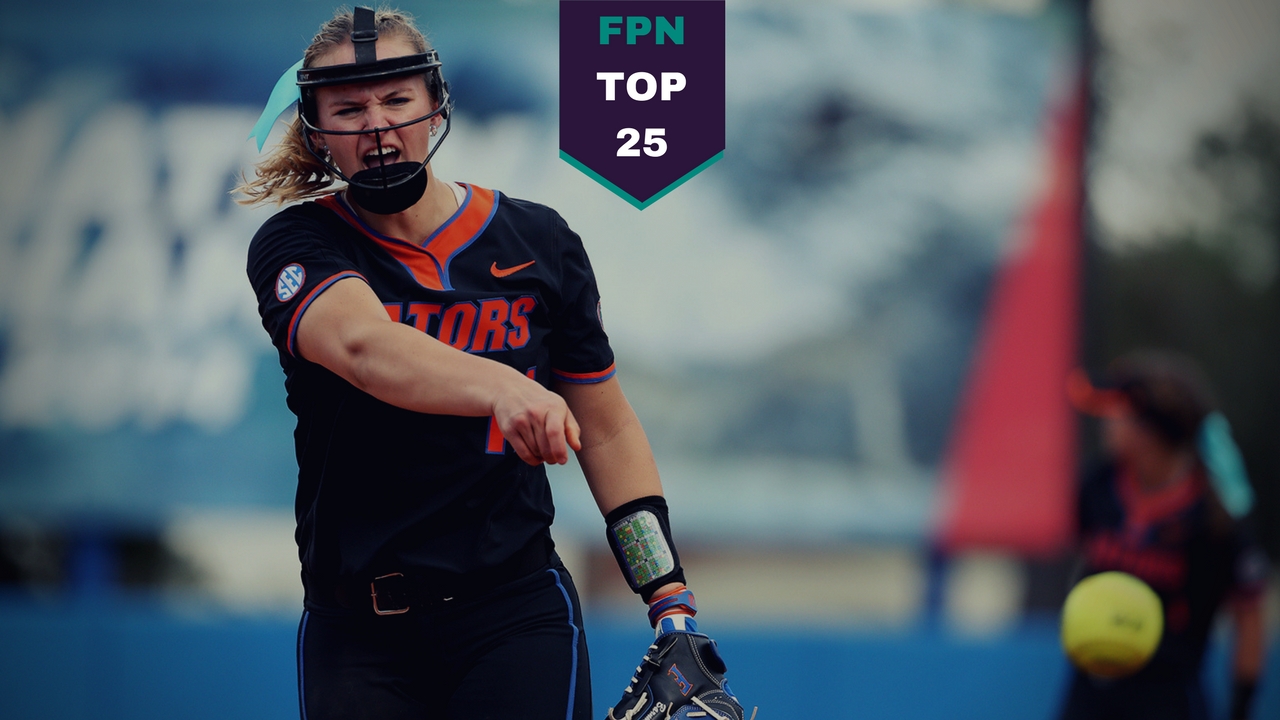 Fastpitch News (FPN) has released its February 27, 2018, NCAA Division I Softball Rankings. If you have any questions please contact our staff at the email listed below.
If information regarding records, contact rankings@fastpitchnews.com.
Another week with movement among the top 10. Below you will find the rankings, watch for "Behind the Rankings" coming out soon.
| RANK | NAME | CONF | W-L | Streak | Previous |
| --- | --- | --- | --- | --- | --- |
| 1 | Florida | Southeastern | 16-1 | 8W | 1 |
| 2 | Washington | Pac-12 | 18-0 | 18W | 7 |
| 3 | Baylor | Big 12 | 9-0 | 9W | 4 |
| 4 | UCLA | Pac-12 | 15-0 | 15W | 6 |
| 5 | Tennessee | Southeastern | 16-1 | 8W | 10 |
| 6 | Texas A&M | Southeastern | 12-2 | 1L | 9 |
| 7 | Oregon | Pac-12 | 12-3 | 2W | 2 |
| 8 | Alabama | Southeastern | 9-2 | 1L | 12 |
| 9 | Arizona | Pac-12 | 13-1 | 12W | 15 |
| 10 | LSU | Southeastern | 14-2 | 2L | 5 |
| 11 | Oklahoma | Big 12 | 9-2 | 1L | 8 |
| 12 | Florida State | Atlantic Coast | 12-4 | 2W | 3 |
| 13 | Georgia | Southeastern | 13-1 | 12W | 14 |
| 14 | Arizona State | Pac-12 | 13-2 | 3W | 18 |
| 15 | California | Pac-12 | 15-1 | 3W | 23 |
| 16 | Auburn | Southeastern | 17-2 | 1L | 11 |
| 17 | Louisiana | Sun Belt | 11-3 | 2W | 13 |
| 18 | McNeese State | Southland | 13-3 | 1W | UR |
| 19 | Ole Miss | Southeastern | 9-2 | 5W | 19 |
| 20 | Minnesota | Big Ten | 10-4 | 5W | 22 |
| 21 | Oregon State | Pac-12 | 10-6 | 1W | 16 |
| 22 | USC Upstate | A-Sun | 12-0 | 12W | 24 |
| 23 | Oklahoma State | Big 12 | 9-6 | 4L | 17 |
| 24 | South Carolina | Southeastern | 15-1 | 12W | UR |
| 25 | Florida Gulf Coast | A-Sun | 13-0 | 13W | UR |