FPN Events
Ansley Whitley talks AthPro360 and Virginia Tech.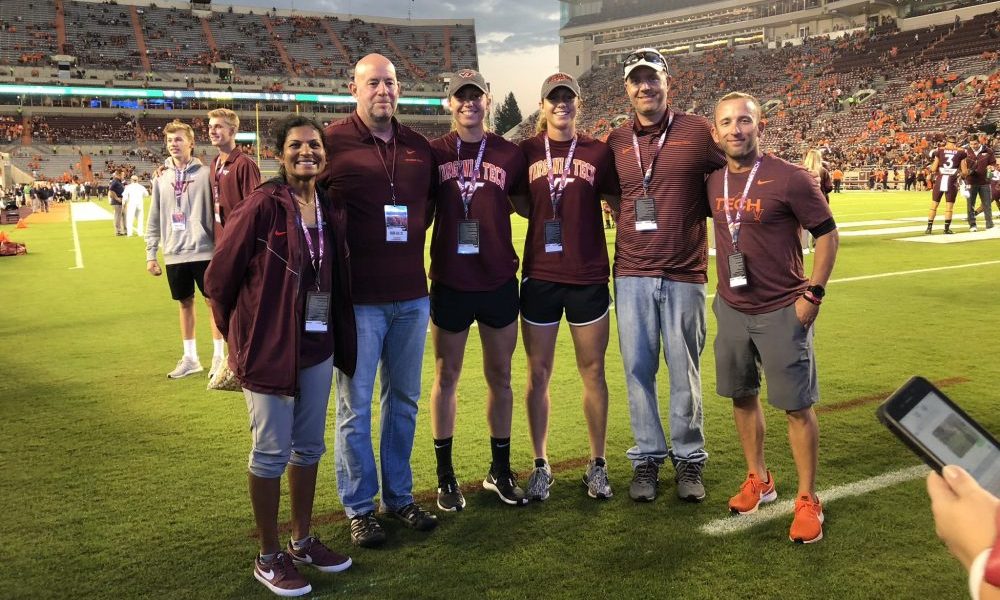 When Ansley Whitley showed up to test with AthPro360 at a tournament in Valdosta, GA. she had no idea she was about to become the highest performing athlete in AthPro360 history.

"I didn't know I was ranked so high," said Whitley. "My coach had text me and said just so you know, you've been ranked number one."

Whitley, a 2019 graduate who will be attending Virginia Tech next year with her twin sister Ashley, posted an Athletic Index of 107.44. It was Whitley's amazing power hitting numbers that propelled her to the top of the database.

"I liked it because it makes you feel like you're at the NFL combine," said Whitley. "It was really cool because it really felt like you were official. Like you were going pro."

Following the testing event, Whitley remembers staying behind to continue competing against her sister to see who could reach a higher overhand velocity.

"We [Ashley and Ansley] stayed back to keep throwing because [Ashley] kept trying to beat me … and we also talked to Bob [Surane] and we talked about my bat velocity and he said I must be a power hitter and I must hit a of home runs?"
He nailed it on the head.

Surane's goal during AthPro360 events and testing is to help athletes and coaches understand their metrics and this, as well as his understanding of her abilities without having seen her play, was impressive to Whitley.

"They made it clear what your score meant. When you got it, you knew if it meant you threw hard or if you didn't, etc."

While her 40 yard dash, Flying 20, and agility shuttle numbers were all in the top 90th percentile or higher, it was her power numbers that impressed the most. Whitley registered an 80 mph pre-impact speed and a 76 mph exit speed. These numbers rival some of the best hitters in the collegiate game.

When asked if she enjoyed her experience with AthPro360 and if she would do it again Whitley replied, "Oh yes! "I like to know my maxes. Not to see how strong I am but to see if I'm improving. If you don't know what you're trying to beat, you may think you're going good but you could actually be running two seconds slower."

And her sister? Well, she posted an impressive Athletic Index of 93.74 which places her in the top 98th percentile of all athletes tested.

"To me, it's more of me and my sister competing," said Whitley. "If someone else beats me I'm not as mad but if she beats me, it's the end of the world!"
Finding Their Home at Virginia Tech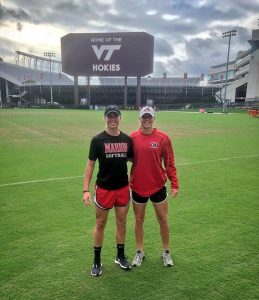 The Whitley sisters are from the small town of Buena Vista, Georgia – population a hair over 2,000.
Whitley talked about how growing up her and her sister never thought they were good enough for "big schools".
"We're big fish in a smaller pond here," she said laughing. "And we tell people that! People are like ya'll should be going pro and things like that. But we tell them, go to travel ball tournaments and you'll see we're not as big as ya'll think we are. We have confidence in ourselves but we know there are great people out there."
Because they came from a smaller town they did not know much about the recruiting process early on. Whitley remembers when Pete D'Amour started to show interested in her and her sister.
"It was our sophomore year and we didn't know you had to go to camps for coaches to talk to you! So, for a whole year we were like 'nah we're good we don't need to go all the way to Atlanta. And we were only sophomores.'"
Whitley's coach continued to encourage the sisters to attend a Kennesaw State camp and they finally did. D'Amour and the Whitley's hit it off right away. D'Amour was impressed with the twin sisters' abilities and the Whitley's felt a strong connection to him as well, especially since he had invested so much time in watching them compete.
"We're really country people so he always used to make jokes like 'if you hit a home run I'll buy you a duck call,'" Whitley shares fondly.
When D'Amour took the head coaching job at Virginia Tech, Whitley was concerned that her and her sister would have to restart their recruiting search again, but D'Amour had other plans.
He called Whitley to talk to her about the change and offered the twins a spot on the Hokies roster, and as they say, the rest is history. The Whitley's have been on campus for visits and have fallen in love with their future home.
"It is crazy! I'm from such a small town, I've never seen castles like that!" She's talking about the beautiful Hokie Stone buildings that cover campus.
"It's just so beautiful."
This dynamic duo will be a huge addition to the Virginia Tech lineup. Not only are they talented individually, they are better together.
"We love playing the field. We love making diving plays. If she's at short and I'm at second we love turning two together. If I'm at third and she's short we just love diving. Making those outstanding plays that no one else makes, we love those chances to make them."
For now, Whitley and her sister are in the middle of their high school basketball season, followed by track, capped off next summer playing for their Firecrackers-Rubio team while they prepare to head to college next fall. The duo are also working hard in the weight room.
"A lot of people don't really like the weight room, especially in high school. But me and my sister, we compete against each other [especially in the weight room] and I think it's the main reason we're so successful."
Thinking back, Whitley still can't fully believe she'll be playing Division I softball next fall. "No one ever told us 'hey you've gotta hit the weight room', 'you've gotta email coaches' so it kind of caught us off guard. We're still in shock going DI. That was our dream and we're going! It's crazy, we never thought it'd [happen] like this."
And by the way, when asked about the two playing on separate teams, Whitley quickly responded with a light-hearted, "we can't split up. We're sticking together."