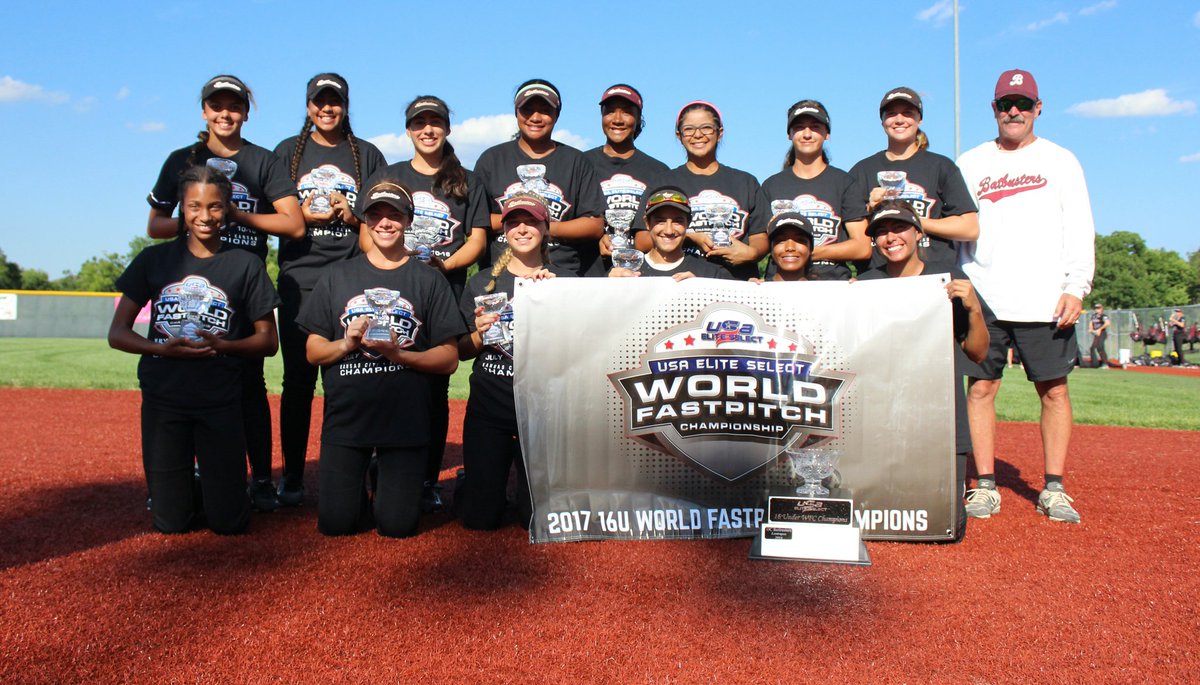 This event continues to not only grow but it seems to become more competitive each year. In the 16 and 18U divisions, it is expected that 140 total teams from 26 different states will compete for the 2018 USA Elite World Fastpitch Championship title in Kansas City, Kansas. The World Fastpitch Championship allows athletes to showcase their best level of softball while giving them a central location to get noticed and connect with colleges. To qualify for this Elite Select Championship, teams had to first go through a National Qualifying tournament to be eligible.
2017 USAES World Fastpitch Champions
18U – OC Batbusters Stith
16U – OC Batbusters Campbell
14U – Impact Gold National Mata
12U – Diamond Sports Hotshots
16U
Last year the OC Batbusters – Campbell (CA) captured the 16U title over the Georgia Impact – Barfield with a 7-4 win. The Batbuster squad returns to defend their title. The Batbusters who are just a second year 14U team are a talented bunch led by Micaela "Lala" Macario, Jocey Erickson and Reagan Walsh. Keep an eye on pitcher Olivia Gigante, as well. By all indications, the Batbusters are poised to make another run.
One team that could push them might be the Diamond Sports Hotshots out of The Woodlands, TX. This team finished second last year in the 14U division. They have a top pitcher in Hailey Hudson who is currently committed to Texas. Their other pitcher is South Alabama Commit Olivia Lackie. Abbey Smith is another Hotshot to keep an eye on.
From the east coast, you have to consider the Tampa Mustangs-TJ as a serious contender heading into the tournament. This team is loaded with talent across the board. They have one of the top players in the country in Avery Goelz, Head coach TJ's daughter. Outfielder and Florida commit Katie Kistler provides speed and range for the Mustangs. Another strong player in the Mustang line-up is Florida State commit catcher Kaia LoPreste. Coach Goelz has three pitchers all committed to DI programs in Claire Davidson (Auburn), Brooklyn Lucero (NC State) and Payton Kinney (UCONN).
Of course, at an event like this, there are numerous teams that can compete for the top spot. One such team is the Impact Gold-Jazz. The team has an abundance of talent that can beat you with speed or power. They also have depth in the circle. All in all, this is a deep field that should provide plenty of great action. Keep a close eye on things as we head into bracket play later in the week.
Other Players to Watch
Turiya Coleman (Impact Gold – Jazz): 2021 C/IF (Oklahoma)
Madelyn Hull (NW Batbusters – Seeley): 2020 3B (Oregon)
Rylee Holtorf (Mizuno Storm – Mathis): 2021 IF/OF (Washington)
Milaysia Ochoa (Batbusters – Lara): 2020 OF (Iowa State)
Ally Sockey (Tulsa Elite): 2021 IF (Arkansas)
Lexi Hutchins (Louisiana Bombers): 2019 P (South Alabama)
Katelynn Carwile (Gametime Stars 16U Gold – Smith): 2020 LHP/UT (Oklahoma State)
18U
The OC Batbusters – Stith return to defend their title. To say this team is loaded or that they have depth would be a gross understatement. Take a look at their roster and their commitments and you will get the idea. They are the favorite to repeat, but that is also why we play the games. A team that could push the Batbusters is the Texas Blaze 18U Gold. They also have a wealth of talent and solid pitching, which is a must for any team hoping to make a run at the top spot.
The Demarini Aces 18U should not be overlooked either. They have 13 future DI players on the roster and three talented arms in the circle. They could be the team that makes a quite run. looking at teams with a ton of future DI players we have to also consider the Oklahoma Athletics 18 Premier.  We saw them battle on ESPN back in Colorado and they showed they are a never give up kind of team.
There are a lot of good teams in the event, a few standouts on paper but upsets are sure to happen when you have this much talent in an event.
Players to Watch
Olivia Rains (OC Batbusters – Stith): 2018 P (Oklahoma)
Rylee Trlicek (Texas Blaze 18U Gold): 2019 P/IF (Florida)
Makenna Kliethermes (Demarini Aces 18U): 2019 P (Oregon)
Kinsey Koeltzow (Oklahoma Athletics 18 Premier): 2019 C/3B (Oklahoma)
Lainee Brown (Oklahoma Exclusive Gold – Davis): 2019 C/OF (Wichita State)
Morgan Overaitis (Indiana Magic Gold): 2018 SS (Michigan)
Laney Roos (Mizuno Impulse): 2020 UT (LSU)
Many more!