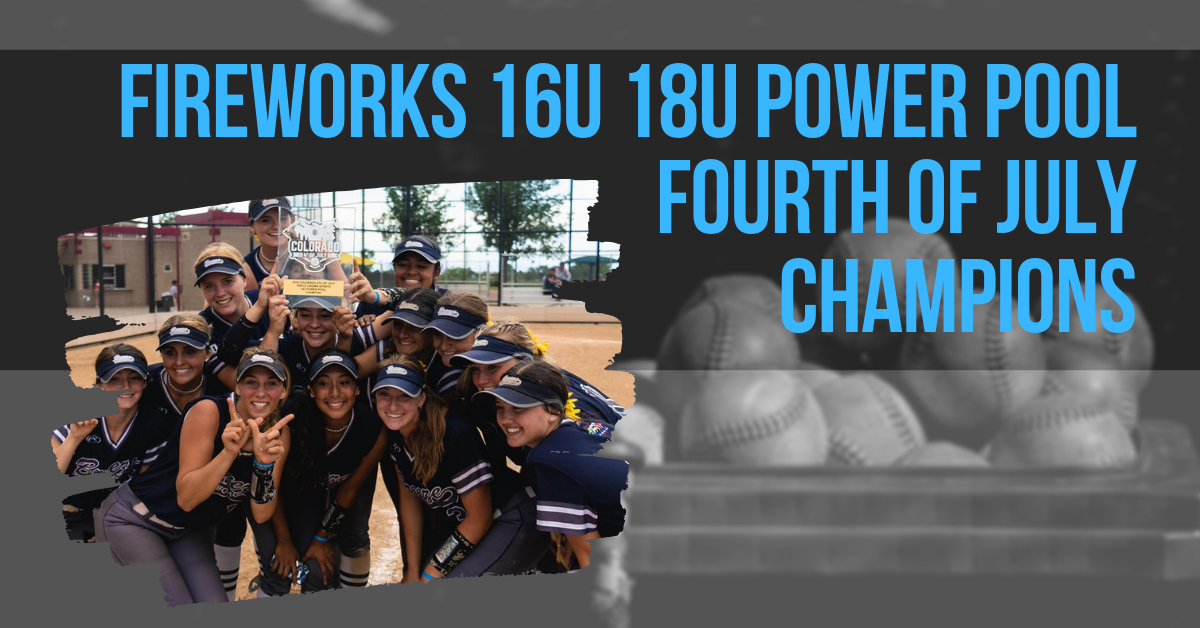 16U Power Pool Championship
Champions: CA Breeze Birch
Runner-Up: Hotshots Premier – Dumezich
Third/Fourth Place: Carolina Cardinals Nationals and Iowa Premier 16G

CA Breeze Birch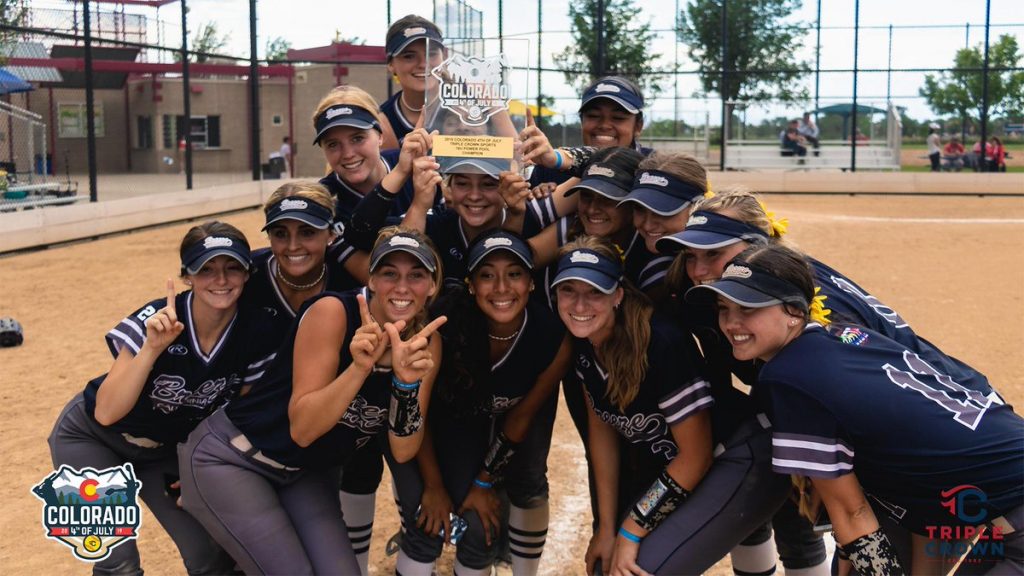 The 8-2 CA Breeze took down the talented Hotshots Premier – Dumezich's squad to claim the 16U Power Pool crown.

The Breeze dropped back-to-back contests to Impact Gold – Jazz and Firecrackers Brashear dropping their Pool Play record to 1-2-1 before coming together and going on a seven game tear to win it all. In an interview with Triple Crown Fastpitch head coach, Jenna Birch had this to say about the week, "We tried to keep it simple this week," said Birch. "We tell them to fight, compete and to never give up. That's what they did, and I'm so proud of them. We came back from two huge losses. We were down in the gutter but picked ourselves up and decided to fight."

And fight they did playing arguably one of the toughest schedules of any team, at any level competing in Colorado over the Fourth of July.

Birch's squad is a talented bunch of athletes mainly from the Class of 2021 with two players recruited to big programs: Jenna Birch (2022, Oregon State) and Jayla Castro (2021, UCLA). Keep a close eye on this bunch.
16U Elite Championship
Champions: Indiana Magic Gold Lamar
Runner-Up: Oklahoma Bombers 16U Aud
Third/Fourth Place: So Cal Athletics Jendro and Batbusters TH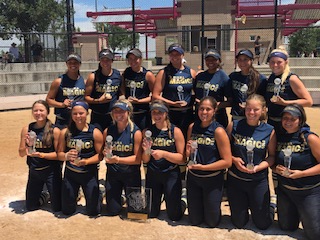 Indiana Magic Gold Lamar put on an offensive show during their time in the mountains posting multiple double digit scoring affairs including a 17-2 victory over an Athletics/Mercado squad; their largest margin of victory during Fireworks play. The Magic went 8-0 facing off against talented and top tier opponents including a strong Tennessee Mojo squad.

"We played against several very good teams. But, I would have to say the game that was the closest and most competitive was versus the Tennessee Mojo Lewis team," said head coach John Lamar. "The Mojo have several girls committed to Division I schools and are well coached. We were tied most of the game. We were able to score a few late to win. [It was a] very well played game by both teams."
"The tournament is a week long," said head coach, John Lamar. "We played one to two games a day. The weather played a role in the week too. It rained and/or hailed every day at one point or another. So one of the biggest obstacles to overcome is trying to stay focused each game and each day. Which I thought our players did a great job at staying hungry each day. I was very pleased with the effort and energy levels that they brought to each game."

As mentioned the Magic's bat were hot and all facets of the game were firing for Lamar's squad. "I was most pleased with our bats this week. We are very consistent with our pitching and defense. But, to see the bats come alive was very satisfying. We hit .450 as a team. We had an on base percentage of .500. We hit 16 home runs [with] 39 extra base hits and 94 RBIs."

Standouts during the week include:
– Heather Johnson (2021 LHP) hit .621 with four home runs.
– Jess Kincer (2021 C) hit .600.
– Olivia Calero (2021 OF) hit .588.
– Raigan LaMar (2022 OF) hit .538.
– Kali Heivilin (2021 INF) hit .467 with six home runs.
– Alex Barnaby (2021 INF) hit .462 with four home runs.
– Livi Colip (2021 INF) also hit .483 for the week.

In the circle, Coach Lamar called his staff "tremendous":
– Briana Bower (2021) pitched 29.1 innings, allowed eight earned runs, and struck out 46 batters. She posted a 6-1 record and won the championship game posting a 1.90 ERA.
– Ashley Martin (2021) pitched 10 innings, allowed only one earned run, struck out 15 batters and held an ERA of .70.
– Heather Johnson (2021) pitched 17.1 innings and allowed seven earned runs leaving Colorado with an ERA of 2.8.

The coolest moment of the week for Coach Lamar wasn't necessarily the championship win. "My favorite softball moment was after an hour long rain delay, we were waiting on field conditions to be evaluated," he shared. "The girls as a group with no suggestions from their coaches, were trying to get the field ready to play. They were using empty water bottles and ball buckets to drain the standing water at home plate and the pitchers circle. They poured the water into buckets and had an assembly line to walk the buckets of water away from the field. The fields at the complex were canceled that day. But, that told me that the girls really wanted to play. They were willing to work on the field to play. I knew that we were going to have a great showing."
We also asked Coach Lamar about the overall experience and what is on the horizon for the Indiana Magic. "The Colorado experience was great. The nice complexes and scenery make the tournament special. It is always a good thing to play teams from the West coast. Their style of play is a little bit different than the Midwest. As a coach, I want to see how we measure up to the best teams in the Nation. I think this week we proved to ourselves that we can compete with the top teams Nationwide. I am looking forward to competing in the PGF Nationals Premier division. We have an all first year 16U team.Our goal is to compete and play as many games as possible. To play the best of the best and see where we stack up. The experience will be very beneficial moving forward for this group."
18U Power Pool Championship
Champions: Oro Valley Suncats 18U Gold – Judge
Runner-Up: Tampa Mustangs – TJ
Third/Fourth Place: Athletics 18 Premier Madden and Atlanta Premier Gold
Oro Valley Suncats 18U Gold – Judge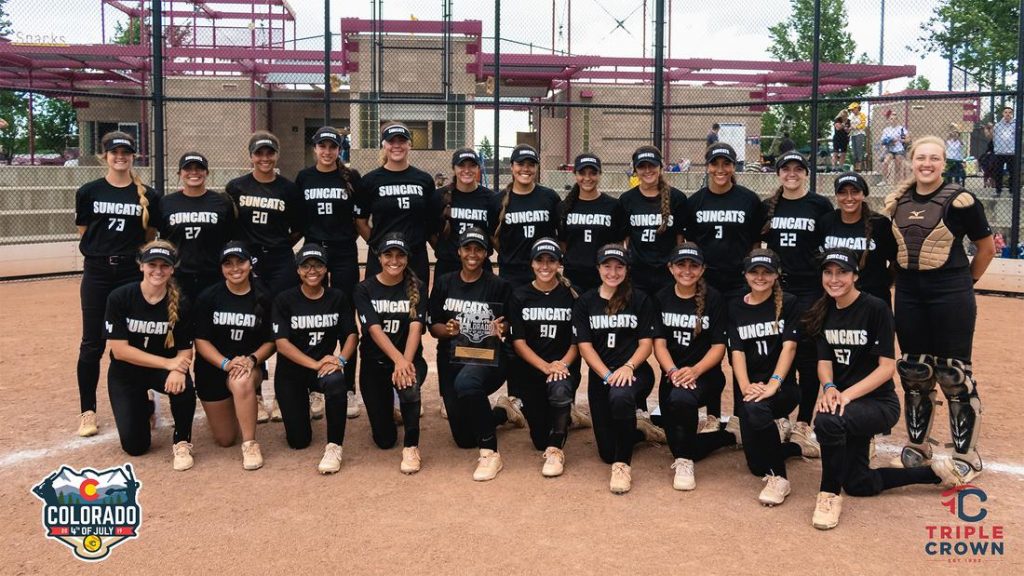 How good were the Oro Valley Suncats last week? Head coach Todd Judge's squad went 11-1-0, dominating and showing off their massive amount of collective talent. Coming out of Power Pool AE the Suncats posted a clean 4-0 record scoring 31 runs and holding their opponents to a mere eight runs.

In an interview with Triple Crown Fastpitch Coach Judge said, "I couldn't be happier for these girls. People don't know how much they work outside of tournaments and games; we weight train and run together and work real hard," said Judge. "I've had two or three teams a year, and this time I decided to take just one team and put all my efforts there. They have great chemistry."

Some of the opponents Judge's squad had to go through included Colorado Styxx, California Crusiers, Firecrackers, Hotshots, Scrap Yard, Tampa Mustangs, Texas Glory, and more. Wow! What a schedule.
18U Elite Championship
Champions: Texas Blaze 18 Elite
Runner-Up: Bandits 18U
Third/Fourth Place: Califorina Cruisers Gold Garcia and Firecrackers ELP

*Blaze write up coming shortly, check back soon!
————————————————————————