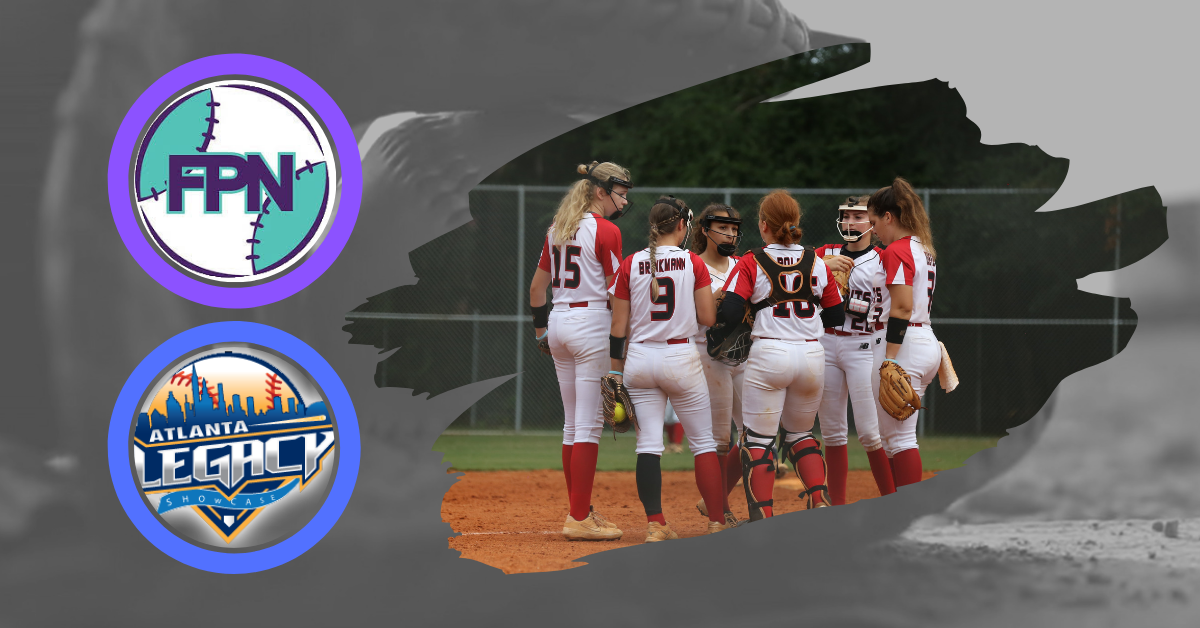 Last week, Fastpitch News was thrilled to be on site for the Atlanta Legacy event! This fantastic event showcased some of the country's best teams, hosted dozens of collegiate coaches, and set a standard for national events everywhere.
Every ball park was unique and beautiful, every member of the staff was first-class, and the event was all round a "cannot miss". Big thank you to everyone involved for having us!
Below are some of the teams and matchups that caught our eye at Hobgood, Sandy, an Shaw field. Find our write up from Lost Mountain and Al Bishop, here.
14U Finesse-May vs. Athletics Nielsen
Having some familiarity with both teams I was excited to see them face off. What first caught my eye was the Finesse's confidence to take aggressive hacks at the plate. This isn't a team who is going to cower offensively.

For the Athletics, McKayla Cotton (2022), handled the pitching duties. She sprinkled five hits over six innings and her up movement provide problematic for the Finesse.

At the plate, it took a bit for the Athletics to get going while the Finesse's Kiley King (2022) did a good job of keeping this offense at bay. King's junk and movement was nasty, if her velocity can increase while maintaining this movement – watch out! She's a "to contact" pitcher and her defense played very strongly behind her.

The Athletics started to make adjustments and were able to create some solid contact in order to push a few runs across en route to the 2-0 victory. Puakea Milbourne (2022) recorded an RBI double and Madison Rabe (2022) followed it up with an RBI double of her own.

But the player that most caught my attention was the Finesse's catcher, Ella Schneider (2022). This kid is a stud who plays the "right" way. She started the game by introducing herself to the umpire, saying hello, and continuing that relationship through the game. On top of that, Schneider is really athletic and smooth behind the plate. It was clear she has a number of high level instincts and a strong "softball IQ". There are some small adjustments and improvements that can be further developed but all and all, Schneider could be something really special.
18U Lady Gators Jackson versus NJ Gators
This was a fun game to watch as the pace of play was electric; while I was there three "true" double plays were completed alone. And outside of a few errors from the NJ Gators, the defensive play was fun to watch.

The Lady Gators got things started with Briana Clary (2019 – Stetson) who laid down the most beautiful bunt and blazed down the line to safely reach. Clary has elite speed and it was impressive to watch her on the basepaths.

For the NJ Gators, two athletes particularly stuck out to me: Jenna Gardner (2019) and Gabi Mills (2021). Gardner anchored the Gators at shortstop and made a handful of dazzling plays including a self-turned incredibly athletic double play. She was just fun to watch; smooth, athletic, and confident. Mills was talented at the plate and I believe she also handled the pitching duties and while working to contact, did enough to keep the strong offense of the Lady Gators at bay.

Unfortunately for the Lady Gators, a eight run sixth inning by the NJ Gators sealed their fault as NJ went on to win, 8-1.
18U KC Freedom-TN 01 Sanders versus South Florida Intensity Pascual
I'd like to see this Intensity team compete again as I feel like they are better than what they showed during this early morning contest against the KC Freedom. Offensively the Intensity started the game strong; working counts, exercising good pitch selection, and getting on base in a a number of different ways. Lala Pascual (2019 – Quinnipiac) helped her team to an early lead with an absolute dead center blast.

But once the KC Freedom escaped the first inning and their pitcher, DeAsia Lowther (2020), settled in they controlled the game the rest of the way.

I was immediately impressed with the way head coach Torey Sanders' squad responded following a tough first inning. Instead of throwing the towel in they looked calm and collected at the plate, confident in their abilities. Makayla Packer (2020 – Auburn) put her team on the scoreboard with one of the hardest hit balls I saw all weekend at Legacy, absolutely destroying a pitch.

Addie Keylon (2019 – Bryan College) also impressed with a strong stick and great speed, stretching what probably should have been a single into a double. Katelyn Howell (2020) did not go unnoticed either with her plate management and "p-rod" blast high and deep into the outfield wall. Not to be outdone, Cheyanne Sales (2019 – Kennesaw State) notched a nasty grand slam that was hit as high as it was far; a complete no-doubter off the bat. The home runs did not stop there as Kaylee Hughes (2019 – Piedmont College) collected one of her own with the final offensive player to turn my head being Kailey Brimm (2019 – Bryan College). Not only did she have a solid stick, there was this presence of calm, confidence, ownership, and dare I say "swag" that was hard not to notice or pay attention to.

In the circle, Lowther went the distance and her defense played strongly behind her. What impressed with Lowther was the fact that this game wasn't necessarily "easy". I'm not sure if it was an off game or if there are some control issues at times but regardless this kid battled. She kept her cool, battled through, and did enough to help her team to the victory. Her change up was nasty and I'd love to see her throw it more. When her movement was working, it was extremely hard for the Intensity to square anything up solidly.

My favorite player between these two squads had to be the Freedom's leftfielder, Katelyn Howell. This kid is another absolute stud. Defensively she made some of the best catches I saw all week in Atlanta. Howell moved well in all directions with strong first steps, great angles, and an overall "feel" for the game. She was spectacular.

Bright spots for the Intensity included Alexandra Simon (2020) and Destiny Falquez (2020). Simon blasted a late two-run home run to lift the Intensity's spirits and helped bring them back mentally into the game while Falquez was just fun to watch behind the plate. Falquez noticeably kept her emotions and any frustrations in check and stayed in the present moment of the game. She continued to talk to her pitcher and run her field from start to finish; that isn't always easy to do when things go downhill during a rough outing.
18U Frost Falcons '00 versus West Boynton Lady Bandits Showcase 16
In talking to people, the West Boynton Lady Bandits were playing "up" as they wanted to compete in the ATL Legacy showcase but the only way to get in was to play 18U, a challenge they accepted.

The Frost Falcons played well and are a well coached program. They made good adjustments at the plate, executed well, and pitched strongly. This is a talented team I had hoped to see play again but unfortunately the rain had other plans.

The "kudos" go out to the Lady Bandits though. Despite the odds they competed their tails off, not only that, they kept their attitudes and emotions in line. It was a tough week of play but impressively, the Lady Bandits just continued to compete! Their largest margin of defeat came at the hands of the Frost Falcons but other than that, this team hung in with nearly all the opponents they faced. They even won a match up and tied another.

Emma Brinkmann (2022) shouldered most of the pitching responsibilities and has some great tools, with continued development she could be a force in the older ranks. Offensively the Lady Bandits battled, they didn't simply lay down and die, they worked counts and took hacks. I was especially impressed with Christina Penney (2022) after she strung together a lengthy and deep at-bat.

But I really loved Lady Bandits' catcher, Mary Polak (2022). Remember the name and keep on the look out for her. She is so good and so much fun to watch in the catching position! I'd call her a "natural born catcher" with all the talent, skills, and mindset to be really successful behind the plate. She was not afraid to throw and had great "pop"; she was not afraid to command her field, team, and the game; she took control by calling time, bringing in her team, and getting them calmed down and in line. She is a complete package, had that extra "x-factor", and someone who I'm hoping only continues to get better.

All-and-all, Coaches Nikki Brinegar and Dylan Lee, have a strong group of athletes with a lot of talent. Ultimately, I was simply impressed with the Lady Bandits fight, presence on the field, and overall maturity. Hopefully they can continue to stick together and improve, they could make a lot of noise in seasons to come.
————————————————————————————-