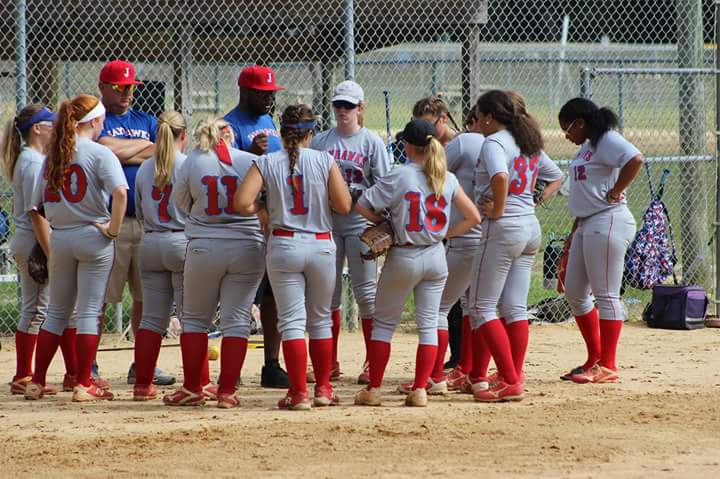 The Carolina Jayhawks Club program started in 2012 as a 14U team led by Jemel May. Now leading the way for the program's 18U team, Coach May, gave some background history on the program and how he got involved as a coach. "In 2011 the Marine Corps brought my family to Jacksonville North Carolina. Like a lot of dads, you find yourself coaching your kid's team. As my 12-year Marine Corps career was winding down I was asked to coach", May explained.
Admitting to knowing very little about softball at the time, May embraced the challenge and started recruiting players for the programs first 14u team. "This was extremely hard because soccer dominates our area. The closest metropolitan area to us is Raleigh, which is three hours away," said May. They managed to put a team together, two of its first members are two of the seniors that will be graduating in the spring and who will be going on to play in college.
Since the programs start in 2012, the Jayhawks organization has slowly turned into one of the top college showcase teams in eastern North Carolina. The organization has expanded and added a 14U team coached by Charles Phelps and a 16U team coached by Michael DeBlois. "This is something we have been trying to do for years, and we are excited for the growth of competitive softball in eastern North Carolina," remarked Coach May.
In just one year, the Jayhawks organization has committed and signed 11 student-athletes from their program. Five athletes have gone on to play Division I, three Division II, one Division III, one NAIA and one JUCO. "I believe playing regionally, encouraging players to attend college camps and having good video has been a huge part of our success. You can still accomplish the same objective as the big clubs without traveling all over the country. If you have committed players and parents that trust the process, the student-athlete will find the right fit," said May.
Last fall the Carolina Jayhawks 18U team led by Coach May had five athletes sign on the dotted line to continue their softball careers in college. This fall will be no different. May, along with assistant coach Vince Baker, again, has five current players who get to live out their dream and play at the next level. "This is a great time of the year to be a Jayhawk! These young ladies are talented on the field and in the classroom and will step in and make an immediate impact in their prospective programs," remarked a very proud and humbled Coach May.
Rachel Hardison, Tennessee State University (UTL)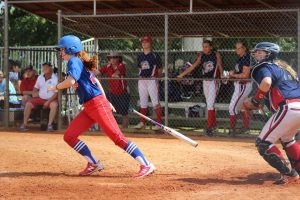 Rachel Hardison is from Williamson North Carolina where she attends Bear Grass Charter School. She was awarded All-Coastal Plains Conference and All-Area. Rachel also competed in the North Carolina Powerade State games for three years which is comprised of some of the top players in the state. She has also been awarded All-Area in volleyball and basketball. Rachel also competes in cross country.
"One of the first things I think about when I hear the name Rachel Hardison is "spark." Rachel is a spunky, hardworking softball player. She has the potential to have a huge bat, and her versatility will help Tennessee State all over the field. Her attitude and personality are contagious and something that will make her a great Tiger," stated coach May.
Alleigh Himes, University Of Maryland  Eastern Shore (C/3B)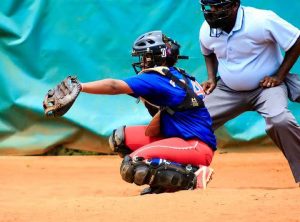 Alleigh Himes is from Leland, North Carolina, where she attends North Brunswick High School. She was awarded All-Mid-Eastern Conference Catcher her freshman year, All-Mid-Eastern Conference Catcher, All-Area her sophomore year, and All-Mideastern Conference Catcher, All-Area, All-State her junior year. Alleigh also played basketball, volleyball and track & field in high school.
"Alleigh Himes is an intense competitor. Alleigh is athletic and has great instincts for the game. Because of her athleticism and versatility, Alleigh will be able to compete for playing time in more than one position, including behind the plate", said coach May.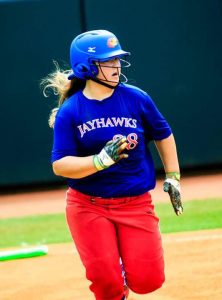 Victoria Baker, Geneva College (RHP)
Victoria Baker is from Havelock, North Carolina, where she attends Havelock High School. In her career, she was named All-Area and Havelock High School has reached the playoffs twice in her tenure.
Victoria is also a member of the National Honor Society, and Section Leader in her high school marching band.
"Right-handed pitcher Victoria Baker is going to spin the ball in the circle and be a great compliment to Geneva's pitching staff. Victoria understands what her strengths are as a pitcher giving her the potential to keep batters off balance. Her maturity in the circle will make the transition into the college level smooth," remarked coach May.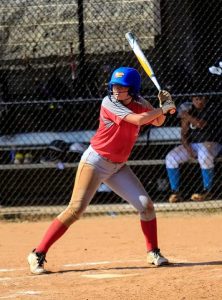 Kristen Cummings, Mars Hill University (OF/1B)
Kristen attends Lee County High School where she has lettered in varsity softball for two years and cross country for one year. In her three years of participation in softball, the Yellow Jackets have had a combined record of 69-9.
"Kristen is a true competitor. She swings a great stick from the left side and will provide Mars Hill with versatility and a strong arm in the outfield. Kristen has a high ceiling and will flourish if she continues to work hard on the field," stated coach May.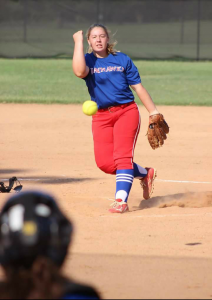 Taylor Nunn, Fayetteville State University (RHP)
Taylor Nunn is from Fayetteville North Carolina. In her high school career, she was named Mid-South 4A All-Conference, while lettering every year in academics. Nunn is a member of Beta Club, varsity tennis and a green belt in Karate.
"Taylor is a high-powered right-handed pitcher. She is committed, and her arm and bat have the potential to be a difference maker for the Broncos," said Coach May.