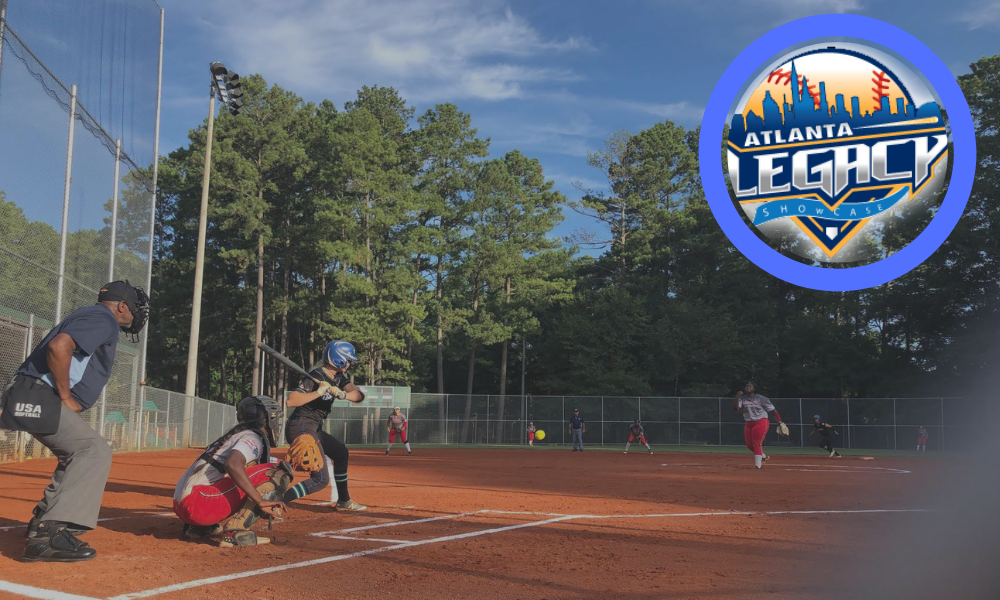 To wrap up our coverage of the 2019 Atlanta Legacy Showcase and Tournament we talked to Director of Events, Becky Massave, about everything that goes into making a huge event such as this a reality.

With so many teams, ball parks, and moving parts the planning and operation is vast and we wanted to give people a deeper look into what kind of work goes on behind the scenes.

You can also find all of our write ups from the event here: 18U Legacy; Hobgood, Sandy, Shaw; and Lost Mountain, Al Bishop.

Another big thank you goes to the Legacy staff for having us. The event was amazing, the facilities were beautiful, and the competition was strong. ATL Legacy is truly a can't miss event! You can find their website, here.

FPN: ATL Legacy is obviously a huge event and has to be quite the undertaking. Can you tell us a little bit more about what goes into making an event like this possible? How many people are involved, how much time does this all take, what is the planning like, etc.?
Becky Massve: In addition to myself, we have a full time Event Administrator. We employ college interns that typically come on board in early spring and work through the summer to assist the Event Administrator. The Tournament Director, Will Tomasello; IT Director, Norm Veamoi; and the Director of Softball Operations Director, Rick Jeffreys are actively part-time. They have full-time careers and when their full-time day ends, they are actively involved in the Legacy softball operations.
We originally relied on volunteers to assist with the running of our parks. However, we discovered that we couldn't always rely on their presence. Five years ago, we started an intern program where we source college students who are majoring in hospitality and/or sports management. These are paid interns that run each of our hospitality tents at each park. Our Legacy Park Directors are either current coaches from our partner clubs or former coaches that continue to support the event. During the Atlanta Legacy Showcase, we employ a little over 30 staff.
The event planning for each year starts immediately following after the close of the current event. We meet within a couple of days while the event is still fresh on our minds. We evaluate all aspects of the event to learn what worked, and what didn't.
There are nine parks that we use throughout north Atlanta for the Atlanta Legacy Showcase. We jokingly say, "we're basically setting up nine wedding receptions at nine different locations on the same five days". Prior to any event, any new staff is required to go through training with the myself, the Tournament Director and my Event Administrator. We provide womb to tomb training to ensure they know how to deliver the Legacy experience. We have strict protocols in place for weather and medical. We meet with all of our staff the night prior to the event. Each Park Director and Hospitality Director is given a binder that contains all information regarding the event. We call it their "Legacy Bible". In addition to inventory counts, meal counts, umpire score cards and medical incident report forms, there are pages dedicated to reviewing the Event. As we cannot be at every location all day, every day, it helps us when we meet to pull those from their binders and review what they experienced on-site to help us with planning the next year.
Although games do not begin until Wednesday afternoon, our staff starts with park preparation the Sunday prior. Each park is provided an inventory to assist the staff in setting up, running and breaking down at the end of the event. These include tents, hospitality coolers, dugout coolers, banners, stakes, extension cords, bungee cords, zip ties, tapes, etc. These containers are packed weeks in advance. We have to coordinate with the county parks to drop our supplies. Prior to the event, we rent storage containers for parks that don't have supply rooms to store golf carts, larger tents, tables and chairs from outside vendors. We purchase pallets of water and Gatorade which have to be broken up and disbursed to each park. We buy snacks and supplies and those are coordinated to be dropped at the parks. So logistically, it is an enormous undertaking. It takes us days to get everything in place before the first pitch is even thrown. During the event, we have a group message set up between our Hospitality Directors and a separate one for the Park Directors. We are in constant communication with each other. If one park is low on supplies, another may have an abundant so we run between parks picking up and dropping off.

Our goal is to ensure the college coaches have an experience like none other. If a college coach gets hungry, thirsty, hot, or their phone is dying, we potentially have lost them for the day. So when we setup hospitality for them, we think of every detail. We cater meals, provide cold beverages and snacks, charging stations, bug spray, sunscreen, and even Tylenol. We want them to stay on-site because we know if they get in their car and head to their hotel, that's a potential scholarship a player may have lost.
Will Tomasello, Tournament Director and Norm Veamoi, IT Director spend countless hours weeks before the tournament laying out the schedule. With 320 teams, it is an intensive process. Many times, teams will withdraw due to injuries or scheduling conflicts, so the schedule is changing literally up to the minute the first pitch is thrown. This is a behind the scenes piece of the showcase that many don't realize is constantly changing and updating. Especially if we have weather that may cause game delays or cancellations. Norm handles all of our communication with teams and coaches. Any changes is instantly communicated by email and text as well as blasted on our social media.

FPN: I know the Legacy Invitational is in its second year but how long has the showcase been happening? What have been the biggest changes or challenges you all have faced from year to year?
BM: The Showcase celebrated its 12th year this [season]. I think the biggest challenge is how do we keep the event fresh and relevant. There are an abundant of college recruiting showcases throughout the country that travel teams and college coaches can choose to attend. So we know, for our travel teams, we have to select quality teams and provide great competition. For our college coaches, we have to provide a unique experience for them that gives them the best conditions possible to recruit.
FPN: How do teams partake in the ATL Legacy Showcase? And when selecting teams to invite to the 18U Legacy, how is that done?
BM: We have an application that each team fills out when they register. For all teams, we evaluate run differentials from prior events, performances at National events, and recommendations from coaches. Early January, we put together a selection committee that includes a coach from each division from our partner clubs and Directors from other select Showcase events. A list of teams is sent to each of them in their respective divisions and based on whether or not they are a first or second year team. We ask each team be ranked based on representation of competitive strength. Results are compiled and evaluated for selection.
[For 18U Legacy] It is a similar selection process. Any 18U team that wants to participate in the Invitational can submit a request and be considered.
FPN: What is your favorite part of the event?
BM: Our favorite part of the event is that moment when a parent approaches you with tears in their eyes and says "my daughter just committed to play ball at the college level". Especially when they tell you there was no way they could afford to send her to college and she gets a scholarship. That moment is life changing for not only that young player but for that family. The stories we hear during the event about players committing and signing reminds us every day of why we do this.
FPN: Are there any changes or additions ATL Legacy is looking to include in the years to come?
BM: We are always looking at new possibilities. Losing one and a half days to weather at the end of the week was one of the biggest discussions in our meeting. We are considering going back to straight showcase. Once the rain/lightning came in Saturday afternoon and we cancelled for the remainder of the day, we realized that we couldn't finish the tournament because there wasn't enough fields, time and umpires to get the remaining brackets in. However, if we go to strictly showcase, then we could have picked up another round for teams on Sunday. So we'll talk to the clubs, we'll survey college coaches, and we'll examine all options so that again, we can make the event the best it can be year to year.
FPN: Is there anything that occurs in planning, set up, behind the scenes, during the event, or otherwise that teams and attendees may not know but you would like them to or think is important?
BM: The hardest decision that we have to make as an organization is when to cancel games and even the remainder of an event due to weather. There have been many years where we are up until all hours of the night or wake up in the early hours, driving park to park, examining fields with flash lights, talking to the county staff and even out in the fields raking or spreading quickdry trying to get the fields up and running for games. We know if we have to cancel rounds, or an event, that's potential lost scholarships. So canceling is our absolute last resort. We want all of our attendees to know that when they leave the park for the day, we are just getting started. We meet nightly to discuss the next day and often don't go to bed until the early hours and our phones start ringing before the sun comes up because our goal is to get them on the field to play.
—————————————————————–