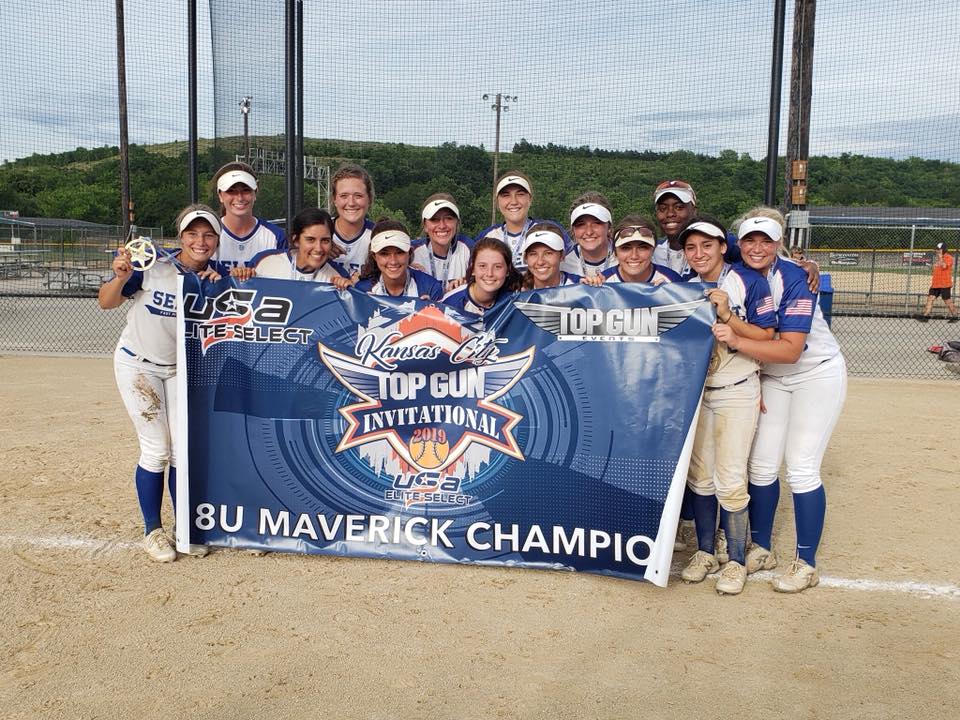 The last team we caught up following a successful weekend at Top Gun Invitational is Coach Eric Jones' 18U Select Fastpitch squad. This team, and organization as a whole, is loaded with talented; many of the Select teams put together great performances last weekend. We spoke with Coach Jones to learn more about his team, what impressed him the most in their performance, how they work together to manage a roster of mostly committed talent, and more!
——-
FPN: Please tell us a bit more about your team and organization. What makes you so successful and what is special about playing for the Select?
Coach Jones: I'm super pumped and blessed to have the team that I have this year. We've been able to develop athletes as well as bring in great additions after we celebrated our first graduating class last year. We have one of the top pitchers in the nation in Jordan Weber (Mizzou) as well as an up and comer in Lillie Walden who is a 2021 and should be a first year 16. We have 3 division 1 caliber catchers and 4 division 1 caliber middle infielders. But our strength this year is our offense. We lost speed last year but gained a ton of power, most of which are only 2020's. 17 home runs in the last two tournaments has helped pave the way to a great start to the summer. I think what makes It special to play for Select organization is our team chemistry and the amount of talented coaches that are in our organization. Not only do we have a lot of coaches with a ton of experience, but we have former Division 1 athletes and Men's Team USA players that are involved. We develop into each other's players which brings a multitude of ideas and attention.
FPN: A number of your teams had a really strong showing at the Top Gun Invite! Were you able to watch any of your younger teams play?
Coach Jones: Yes! I was able to catch several of the 14's, 15's and 16's. Didn't get to catch the 12's but that team is stacked with athletes.  Our 14's are half first year and half second year athletes which adds the impressiveness of what they did this weekend.  They have some amazing athletes and look forward to what they do the rest of the season.  Same thing with the 15's, as a first year team they've beaten some good teams in Tulsa Elite and looked really good this past weekend. The 16's have stellar pitching with a couple prospects that look to go to power 5 conference teams.
FPN: You have a loaded team of nearly all committed athletes. How do you jungle that as a coach and how do the players work with each other for the ultimate success of the team?
Coach Jones: We've gotten them to buy into the idea of the success we can have as a team and not an individual. But honestly they are all so talented that giving a couple of them a game off at a time is a relief in the grind and heat of summer. We preach the necessity to know several positions so when they get to college they can be plugged in anywhere. But mostly they are just great teammates. Again I'm really blessed! If I didn't have great role models and role players it would be harder. Breck Dickey pitcher committed to NW Missouri State is the first one that comes to mind. What a tremendous teammate, leader, and athlete to have. She might not get the headlines on Sunday, but what she did during bracket play set us up for success. She was able to have stellar performances in a loaded pool play which allowed Jordan Weber to not be overworked, and save her for bracket. She did it with a smile, and with intention of "Team first". That's the type of leadership we have and without Breck Dickey, we couldn't have done what we did.
FPN: What impressed you about your team's performance this weekend? And did any players particularly stand out?
Coach Jones: What impressed me was the consistency of our offense and then Jordan Weber's 59 strikeouts on 38 innings, most of which came on Sunday during our bracket run. She's one of the most overlooked pitchers in the Midwest.  Offensively we were led by Kelsee Mortimer (Mizzou), Jess Garcia (2020 uncommit that is a true double machine) Chantice Phillips (2020) and Lindy Milkowski.  They really lead the way and have been very consistent especially against better pitching.

FPN: What is on the horizon for the Select? Any big tournaments or games your squad is particularly excited about?
Coach Jones: We are super excited to participate in the 1st annual Oklahoma Athletics Invitational next week in Norman, Oklahoma. The opportunity to play some of the best competition in the Midwest on OU's field is exciting. We are set to got to Colorado for the Fireworks and PGF which we took 5th at last year.
FPN: Lastly, what is something people should keep in mind – or that you'd hope they see – when they watch or follow your Select team and/or the program as a whole?

Coach Jones: I hope they see our energy, passion and family style environment we have at Select. This isn't an every team for yourself organization, and it's not a dictatorship cookie cutter program. We rely on all of our coaches and athletes investment to make it what it is. So far it's working. We are only a few years old and have some great success on the field and recruiting. But I want us to be known for our character too. And if you got to spend time with any of my athletes I think you would see that. 
————————————————–