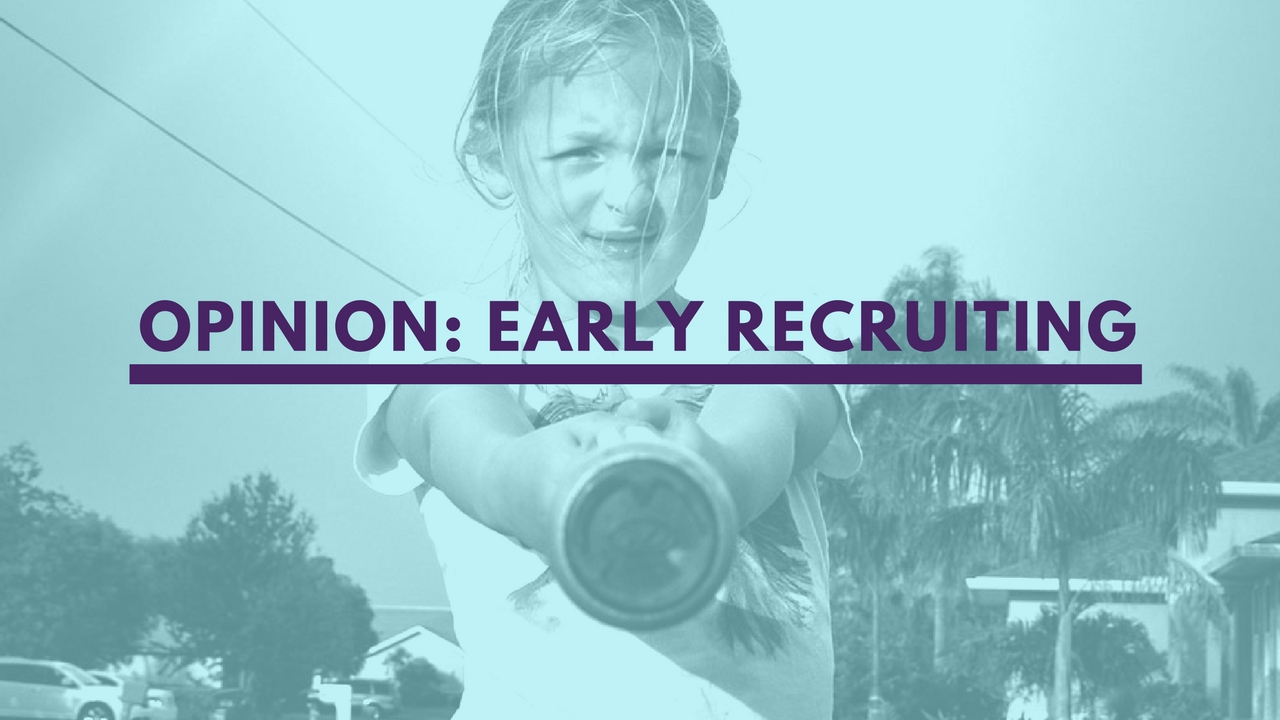 On February 1, 2018, Alexia Carrasquillo earned the distinction of being the youngest athlete ever making a verbal commitment to a university athletic program. Of course, the softball community wishes Alexia all the success in the world. However, this recent event will inevitably renew calls for the NCAA to amend recruiting legislation expeditiously before we see the first ever pre-birth verbal commitment. The NCAA will have an opportunity to do just that when the NCAA Division 1 Council meets in April of 2018.
Although experts can legitimately argue Alexia's physical talents and work ethic, they cannot predict her success at a major American University due to her lack of life experience. Collegiate Athletics is meant to supplement the overall college experience, not define it. A middle school aged child is ill-equipped to evaluate the educational qualities of a university and know how those decisions will affect their college and professional future. It is impossible for the parents of the same child to make these predictions either.
The transfer rate of student-athletes has swelled out of control in recent years for the very same reason. Because these young athletes are basing their decisions on the wrong criteria, they quickly realize the dream offer is not and was not a very good fit. Just because your on-field stats and prowess are appropriate for a major division I venue that does not necessarily mean your educational abilities are suitable for a 500 student lecture hall. You may thrive as the best overall player on your club/travel team; however, you may not excel in a top 10 program where everyone was the best overall player on their club/travel team. Only time and life experience can vet out these critical questions.
So why do the best programs in the country recruit so young? The answer is simple. Modern media has catapulted college softball popularity, which in turn has put tremendous pressure on the major programs to compete at even a higher level. The competition amongst coaches to recruit the best players available in the country intensifies on a daily basis. It reminds me of an interview given by Oklahoma University Head Coach Patty Gasso. Coach Gasso spoke of losing Sierra Romero to Michigan and how she immediately boarded a plane to California because she was not going to miss out on younger sister Sydney. The rest is history, and the outcome illustrates what is driving this competition. There is no risk to the university in recruiting young. There will always be elite players willing to jump in and take the place of anyone who can't hack it. The sad truth is most of us will not remember this recruiting story when and if Alexia Carrasquillo steps onto the University of Florida diamond in 2024.
And what now of the players who have not been recruited at 11 years old? Are they no longer worthy of a shot? Traditionally we see players realizing the realities of their dreams at 14 or 15 years old. It's no secret quality pitching is thin pickings in this age group. Think how quickly the quality of this sport will deteriorate if dreams are being shattered at ten years old.
I hope that the University of Florida saves all of the press clippings from this recruiting accomplishment. They will need them to refresh their memory of what Alexia Carrasquillo looks like when she arrives on campus in 2024.
Mark Peterson owns and operates Yellow Ball 101 and contributes to FPN