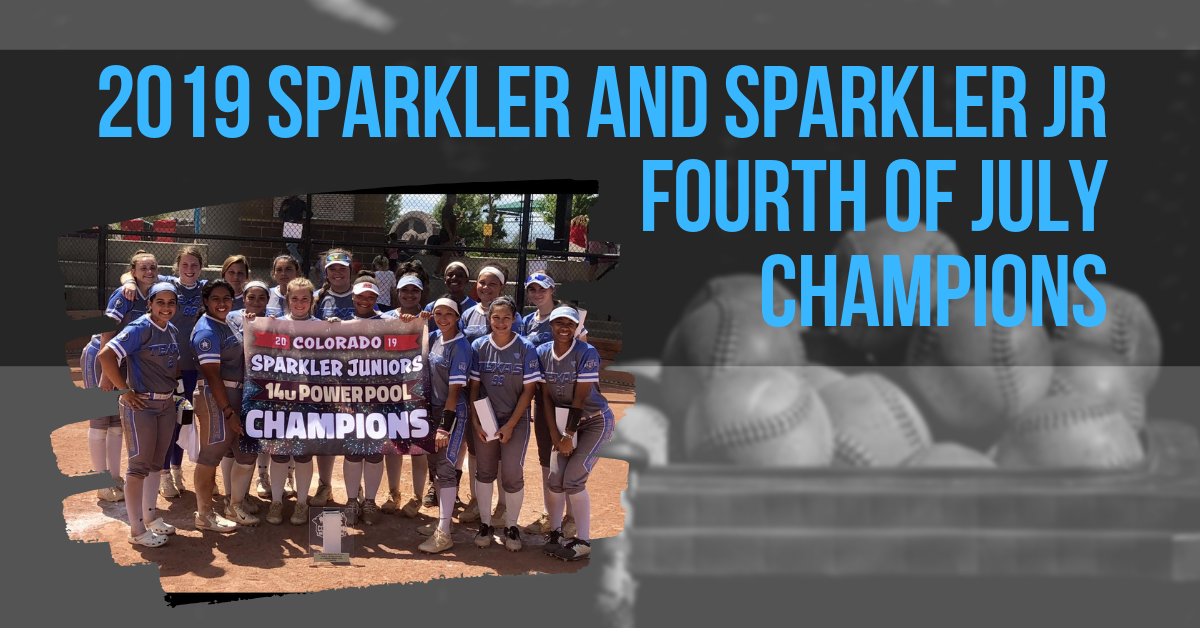 Sparkler Jr. 14U Power Pool
Champions: Texas Bombers Gold 14U HTX – Burgess
Runner-Up: OC Batbusters Flores
Third/Fourth Place: Tennessee Mojo 04 – Fisher and FC Brashear 2022
Texas Bombers Gold 14U HTX – Burgess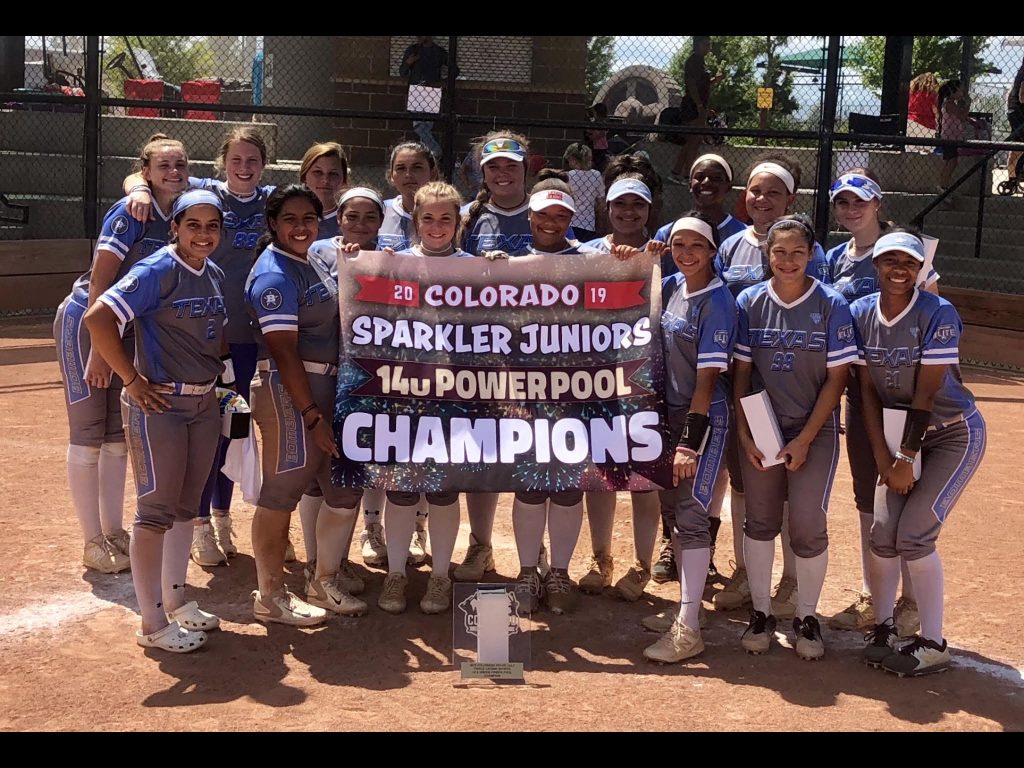 The Texas Bombers are a storied and strong program with a history of domination while producing highly recruited athletes. Few coaches are more well known than James Burgess.

Coach Burgess and his squad posted a 11-1-0 record at the 2019 Sparkler Jr. Power Pool tournament; claiming the championship title. Coming out of "Pool G", the Bombers went 3-0 scoring 26 runs over those matchups while holding their opponents to 12 runs of their own.

"Anytime you come to one of these week long tournaments you know it's going to be an absolute grind and that's exactly what it was," said Coach Burgess. "Our bats were hot from game one through the end of the tournament and we got multiple great pitching performances from Halie Pappion and Mimi Sandoval (2022)."

The road to the title was not easy as the Bombers played a number of tight, nail biting contests against tough opponents such as the EC Bullets, Firerackers Brashear, Miami Stingrays, the OC Batbusters, and more with their only loss of the week came at the hands of Birmingham Thunderbolts 04 (6-4).

"The two toughest opponents were the Birmingham Bolts and Miami Stingrays," said Burgess. "[The] Bolts are well coached and have great players 1-9. Their pitching staff is second to none. [As for the] Stingrays, we didn't know much about them, but they bring their hard hats to the field every game."

The Bombers were able to avenge their initial loss to the Bolts in the championship of game of "Power Pool Bracket C", 2-1, sending them to the final and coveted Power Pool Championship Bracket.

"Heading into the last day of the tournament there was a feeling on the team that we had a legitimate shot at winning the whole thing if we kept it loose, took care of business, and individually do your job<" added Burgess. "We are a close knit group and the core of our team has been together since they were 11 or 12. They've played on a lot of big stages and this was no exception. They were ready to deliver. Huge performances from Aiyana Coleman (2022), Kayden Henry (2023), Katie Lott (2022), Nike Martinez (2022), and Victoria Valdez (2022) laid the foundation for the championship run. I was happy that my team stayed loose all week. It's not uncommon for our girls to throw the frisbee around pre-game to keep things light and have fun. This is a game, but there is a business component to it and our ladies understand that."
Sparkler Jr. 14U Elite
Champions: Fury 2022
Runner-Up: Salinas Storm 14U Plascencia
Third/Fourth Place: Utah Fastpitch Club Korth and Diamond Fury Elite 05
Fury 2022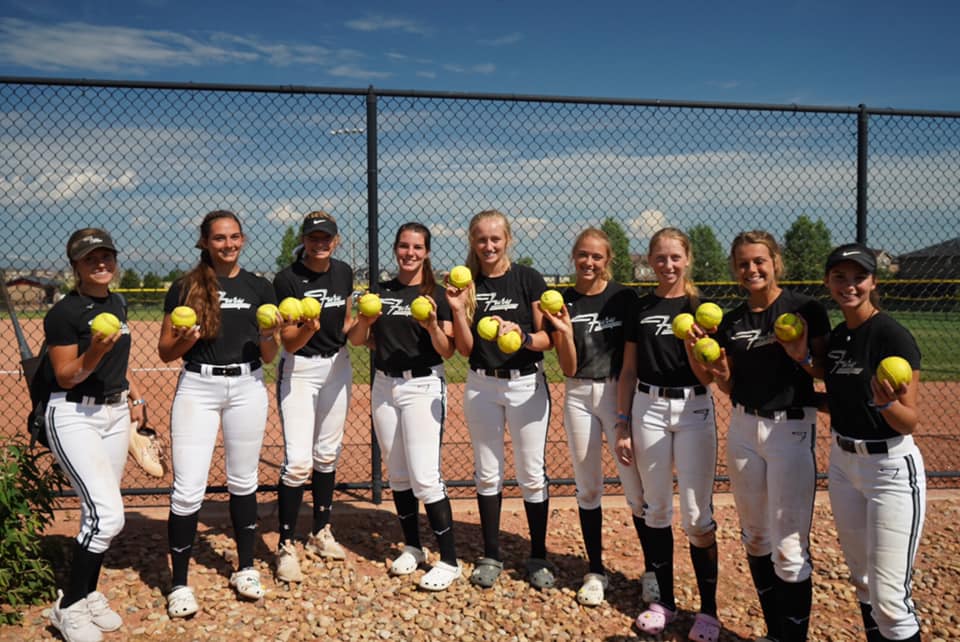 Fury 2022 was another team that brought their big bats to Colorado with them! They out slugged their opponents en route to a 8-1-1 record and a Sparkler Championship.

"Amazing is how I would describe the run we made among such a stout field of competition this year," said head coach Nathan Polk. "To go into the losers bracket after the first round of bracket play Friday morning, and fight through until championship Sunday is surreal. It truly shows the grit, tenacity, and talent our team has. As a coach, I am most proud of how we never gave up, and fought until we simply ran out of steam."

As Coach Polk said, coming through the losers bracket early to win it all is an incredible feat and not something that happened often. But again, the Fury bats were on fire.

"As a team, we hit sixteen home runs throughout the week, coupled with multiple extra base hits," added Coach Polk. "Addy Edgemon (UT Chattanooga commit) hit five triples, with three of the five coming in the lead off spot of different games. Addy's hitting was instrumental in setting the bar for our team each game."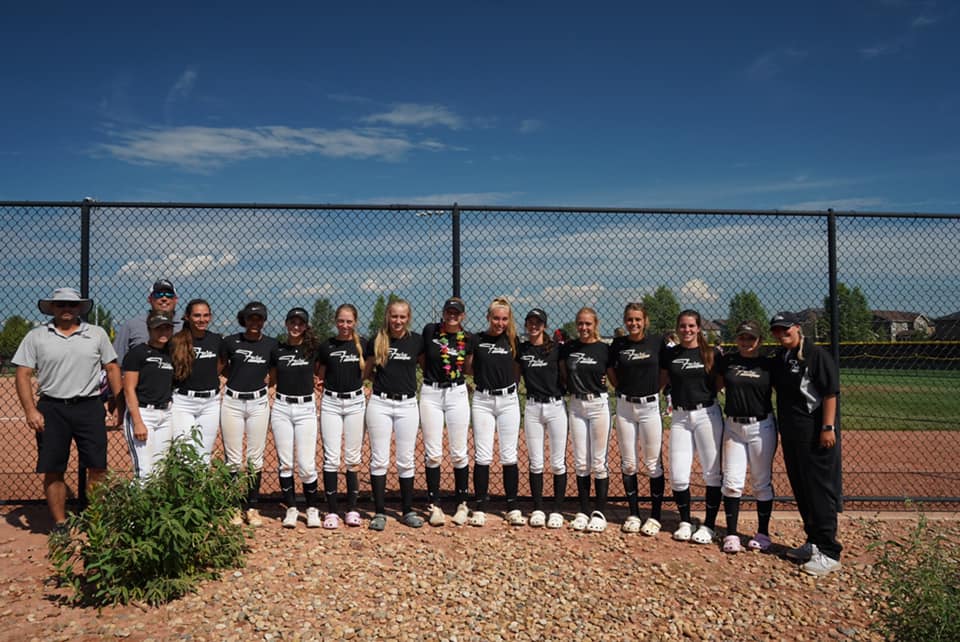 Against some of the best competition around include So Cal Choppers Ensey, Breakers Labs, EC Bullets, Corona Angels, and more a team can't just hit, they also have to pitch and play solid defense.
"As for pitching, Raven Jones and Emma Price put our team on their back and carried us at different times," said Coach Polk. "Their pitching, coupled with a stellar defensive performance, and hitting from top to bottom on offense kept us in every game. Our toughest two [contests] were the Oklahoma Hotshots and the Birmingham Thunderbolts. Both teams have great pitching, and are stacked with athletes. Beating the Oklahoma Hotshots 4-3 in walk off fashion with Cam Lookadoo's two run scoring double up the middle had to be our most exciting moment of the week."
Sparkler Jr. 14 Open
Gold Champion: All-Out 04
Silver Champion: KC Zephyrs- Brumley
Bronze Champion: New Mexico Atomic Blast
All-Out 04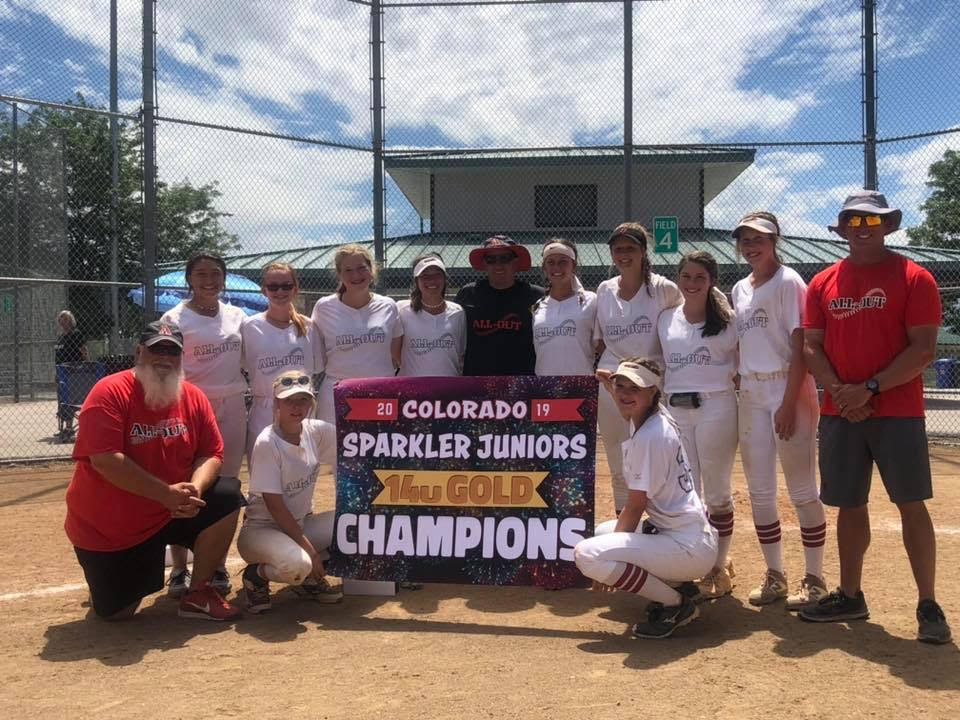 All-Out lived up to their name leaving Colorado with a 10-0 record and a 14 Gold Championship title.

All-Out was dominate and offensively lethal plate double digit run totals in seven of their games. In Pool Play they plated 49 runs while their opponents only scratched eight across.

"We had a great week going 10-0 in Gold bracket," said head coach Brett Smith. "To me going into this I was hoping for a top 25 showing. We played great team ball. Our pitching, hitting and defense was the best we had played all year. Our team batting average was .506 [and we] averaged 10 runs a game."

All-Out was just across the board through all facets of game. "We killed the ball," said Coach Smith, "with a team batting average of .506 but Trinity Wilkinson finished with a .714 average and hit five out. Kid really showed out. That's 20 for 28 in the Sparkler!"

Coach Smith's squad hails from Alabama making them only one of two squads from the "Roll Ride" state.

"It means everything for us to win this," he said in an interview with Triple Crown Fastpitch. "Coming here from Alabama and not really having any expectations against 138 teams and then to go undefeated. I am so proud of my girls."

He notes the moment he knew his team had a good shot at a deep run was when they defeated their stiffest competition of the tournament. "It was the southern Cal Athletics," he said. "[The] pitcher hit her spots and spun the ball great. Once we beat the 'Southern Cal team' I felt like we could make a good run."
When asked what the best part of the week and favorite experience Coach Smith had this to say, "the last out to finish it. It was great to see them celebrating and understanding they did something special. Also the excitement from my parents as well. They invest a lot of time and money into their kids. I've truly been blessed with some great parents. I think the sky is the limit and winning this should open some doors for our girls. We don't have the big name just big talent. Most of my girls have been together a while and it shows."

Sparkler 16U
Mt. Elbert Bracket Champion: Texas Blaze 16 Elite Robertson
Long's Peak Bracket Champion: San Jose Sting 16U Afanador
Pike's Peak Bracket Champion: American Freedom Gold 16U CO
Horsetooth Bracket Champion: MN Starters Smyth
*Blaze write up coming shortly, check back soon!
Sparkler 18U
Mt. Elbert Bracket Champion: Illusions Gold Villegas
Pike's Peak Bracket Champion: Colorado Angels – Hutton

Illusions Gold Villegas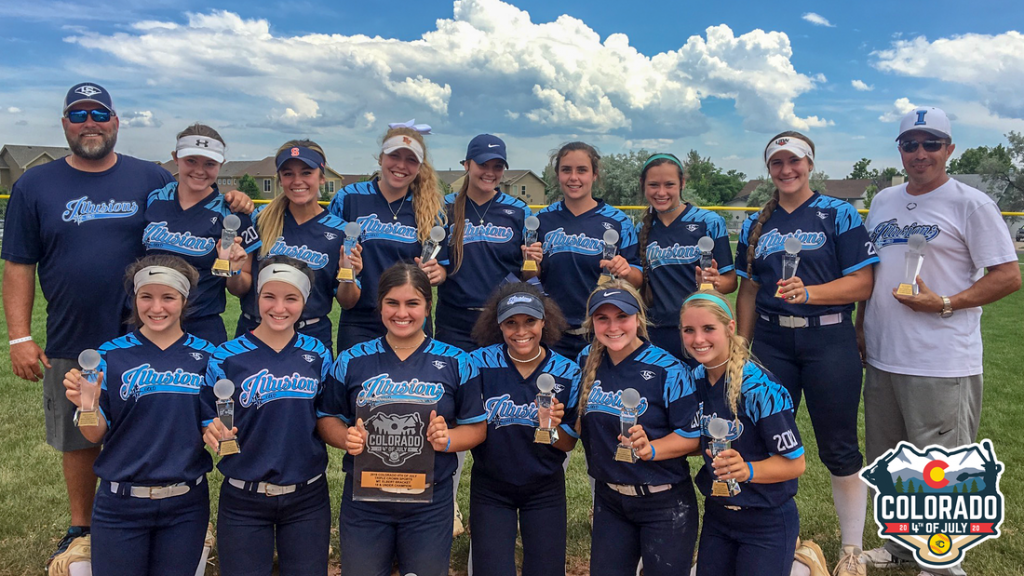 Illusions Gold out of Cedar Park, TX. posted and impressive 8-0 record to claim the Mt. Elbert Bracket at the 2019 18U Sparkler. The Illusions showed off their multiple strengths and won in a variety of different ways. From huge offensive explosions to coming up big in tight moments, this team did it all.

"First of all, I have to say the experience of taking great players and families out of state to compete in a national event is worth all the hard work these girls put in," head coach, George Villegas said. "We take great pride in bringing in the right type of families on this team."

A tight-knit group, the majority of these athletes are committed to play at the next level with only exceptions being Avalon Sanchez (2020), Kaylee McQuillan (2020), and Taylor Nuckolls (2022).

When asked about what his favorite moment or experience during the tournament was Coach Villages shared, "the ability to coach a team that has players that genuinely like each other and enjoy playing with each other. And when that combines with being able to compete, it makes all the sacrifices worth it. Just sit in our dugout and watching them have fun, as well as [when they] all hanging out together at hotels on the road. [It's] the same at home, hanging out together on weekends we are not playing."

"The best thing I will take from this experience this week will be the smiles on the faces of my three seniors – Maddie Boldt (Incarnate Word), Caleigh Robinson (Angelina College), Taryn Westbrook (Nicholls State) knowing that they get to end their select softball careers winning a tournament such as this. And what makes it more rewarding is that if I had to pick a MVP for the week, it would have been all three of these great players as they stepped up more than I could have asked for. Nice to see senior leadership take over and lead by example. Great to have been able to coach these girls for the past five years. The one thing I get to look forward to with this team is that we only have [those] three senior players leaving to college, so really looking forward to seeing this young team continue to grow and improve for next year."
—————————————————