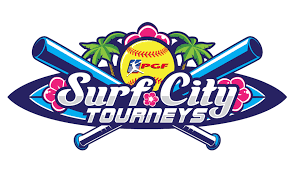 The 2018 Surf City Tournament is underway and we have our preview of the 18U, 16U, and 14U field! Per usual, this year's field is stacked with the country's top talent and teams. It will be an exciting true first look at the new makeup of some of the top programs for the 2018-2019 season. The 18U and 16U tournament boast 15 pools while the 14U tournament hosts eight.
From top to bottom every division and pool will be challenging, here are our top picks of pools and teams to watch!
18U
We are especially interested in Pool C which is comprised of a "murderers row" of talent teams with a long tradition of success.
POOL C:
Arizona Storm Mathis
Breakers Labs 18U Blue
Corona Angels (Tyson)
Explosion Jackson
So Cal Athletics Briggs 18U
WA Acers Gold Anderton
POOL H:
Athletics – Mercado/Quinn
Nor Cal Blast 18U
OC Batbusters – Bennett
Ohana Tigers Herrera
Sorcerer Gabales 18
Washington Majestics
POOL I:
18U Corona Angels Howard
Lady Wolfpack Gold-Alkire
NW Batbusters – Seek
Nemesis Elite 18U Gold
Strike Force Jensen
Suncats-Jimenez
16U
We'll be keeping a close eye on pool B, especially Athletics Mercado/Greg who ranked No. 15 on our most recent Super 60 14U rankings and have moved up. It will be interesting to see how they perform in an extremely strong 16U pool.
OC Batbusters Stith, So Cal Athletics, and So Cal Chopper teams are always fierce and always contenders. This may very well be the toughest pool across all three tournaments.
POOL B:
Athletics Mercado/Greg 16
California Breeze 16U Birch
LTG Lions -CARDA
OC Batbusters Stith – No. 10 Super 60 14U Ranking
So Cal Athletics McNee
So Cal Choppers 16U
POOL C:
16U Corona Angels Howard
Explosion Flores/Olmos 16U
Lady Sharks Burley
Ohana Tigers Herrera 16
So Cal Athletics Briggs 16U
WA Acers 16 Green
POOL O:
Breakers Labs 16U Black
Cal Nuggets Woods
Corona Angels Tyson – No. 4 Super 60 14U Ranking
Firecrackers AZ Erickson 16U
Lil Rebels RC
Washington Ladyhawks 16U Gold
14U
At first glance it appears that the 14U tournament has the most wide-spread distribution of talent across all eight pools. With teams and players moving up, newcomers from younger age divisions, and even some veteran teams we will be excited to see how everything shakes out. Of the three, this tournament may include more surprising outcomes and "upsets" which makes for an exciting weekend of softball. Due to the spread of talent it's more difficult to choose top pools to watch as they are all intriguing but here are our top three.
We are especially keeping our eyes on Utah Fastpitch Club Korth. With the recent success of the University of Utah's program it will be interesting to see how the interest and talent has developed.
POOL A:
Arizona Storm Mathis/Appel
Athletics Mercado/Greg 14 – Previous team: No. 15 Super 60 14U Ranking. It will be great to see the new faces of Mercado/Greg.
California Cruisers Caouette
Central Cal Dirtdogs-Pickering
Grapettes Gann/Kapp 14U
So Cal Choppers 14U
POOL B:
Breakers Labs 14U Black
Corona Angels Perez '05
M80 Firecrackers 14U
So Cal Mavericks
Suncats-Jimenez/Noriegga
Utah Fastpitch Club Korth
POOL C:
AZ Bombers Williams
Corona Angels Felton Tyson Slye – No. 4 Super 60 14U Ranking
Dirtdogs – Vazquez
Explosion – Hilliard 2023
Panthers Gold
Sorcerer 14U Schroll – No. 13 Super 60 14U Ranking