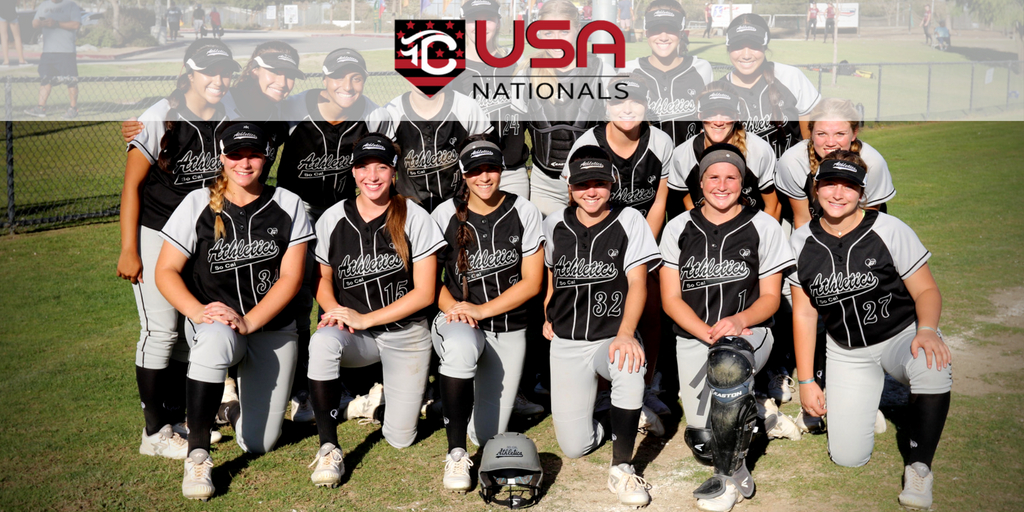 Triple Crown Nationals on ESPN 3
July 9-12 Atlanta, GA
Since 2012, the TC/USA Nationals have had teams from all over come to showcase their talent. Starting at 60 teams, Triple Crown Nationals have increased their numbers, expecting to host many more teams this year with 144 registered. Many of the nation's best fastpitch clubs gather along with coaches to compete with the best of the best.
14U Open
2017 Champions
No. 1: Firecrackers TJ – Cerritos, CA (8-0)
No. 2: Texas Dirt Divas – Liberty, TX (5-3)
16U Open
2017 Champions
No. 1: Beverly Bandits – Demarini EK- Canton, MI (9-0)
No. 2: Glory Adkins Gold 16U – Flower Mound, TX (7-1)
The tournament does not have a shortage of talented teams entered although we can not break down every single team, here are some you can keep an eye on. The Vision Gold squad will look to bounce back from a tough week out in Colorado and the TCS Fireworks where they went 2-5 on the week. They will have to get past last years runner-up Texas Glory Adkins. The Glory team is talented and are led by Missouri commit Vanessa Hollingsworth. Hollingsworth was named the District 15-5A freshman of the year in 2018. The Texas Bombers 16U Gold Future team brings depth and talent to the tournament. The Bombers bring solid bats and a ton of speed to the table. The Atlanta Vipers – Holbrook just won their tournament in Colorado with an impressive 15-0 win in the championship. Another team to keep an eye on is the Tampa Mustangs – Walford. The Mustangs are on the younger side but talent is not an issue for this team. They are also very deep which should benefit them once we reach bracket play. If you can watch the Jacksonville Storm – Davis team, we suggest you do. This team is one of the deeper teams talent wise and should be pushing for a top finish this week. Finally, keep an eye on the Georgia Impact – Newland squad. They have a lot of talent on this team and scoring runs should not be much of an issue. Who comes out on top is yet to be seen, one thing is for sure, it will be a great tournament to watch. Which you can do on ESPN 3 if you have access online.
Top Players (Note these are just a few, many top players are in attendance)
Vanessa Hollingsworth (Texas Glory Adkins): 2021 IF (Missouri)
Jordan McClain (Texas Bombers 16U Gold Future): 2020 IF/OF (Baylor)
Morgan Kendrick (Tampa Mustangs – Walford): 2021 P (Florida State)
Riley Blampied (Georgia Impact – Newland): 2020 IF/OF (Alabama)
Josie Willingham (Fury Platinum 19/20): 2019 (Tennessee)
AJ Militello (Turnin2 – Pezzoni-Irwin): 2019 C (Kent State)
Hannah Vargas (Arizona Hotshots- Davis): 2019 MIF (Missouri)
Jessie Fontes (So Cal Choppers – Ziese): 2020 P (Arizona)
Alicia Estrada (Aces – Ashley): 2020 P (Utah)
Baylee Goddard (Jacksonville Storm – Davis): 2019 IF (Florida)
Alex Salter (Panthers – Stevens): 2020 P (Alabama)
18 Open
2017 Champions
No. 1: So Cal Athletics – Richardson – Upland, CA (9-0)
No. 2: Gold coast Hurricanes 18 Gold – Cooper – Plantation, FL (6-4)
The So Cal Athletics return to defend their title, and they are the favorite to win again this year. They have won six different national titles as a group. They are experienced and have great balance on both sides. The pool is deep once again and leading the pack of contenders is The East Cobb Bullets – Schnute. The Bullets should give just about anyone they face all they can handle; they have 19 plus players committed to play at the DI level, many of which are top 25 programs. The Birmingham Thunderbolts are well balanced and have the depth to do well in big tournaments.  The Aces Express – McCorkle has speed and power in their line-up which is balanced by a deep pitching staff. Although there are a ton of good teams playing this week, we wrap up with the Texas Bombers Gold – Smith team. This is a talented bunch and may end up proving to be the biggest threat to the Athletics. Finding a weakness in Coach Smith's line-up is hard.
Top Players 
Kelli Goden (So Cal Athletics – Richardson): 2018 OF/IF (UCLA)
Brianna Enter (Gold Coast Hurricanes – Cooper): 2019 SS (Florida State)
Lexi Kilfoyl (East Cobb Bullets – Schnute): 2019 Pitcher (Alabama)
Autumn Oehlstrom (Birmingham Thunderbolts 18 Premier): 2019 1B/OF (Kentucky)
Kelly Maxwell (Aces Express – McCorkle): 2018 P (Oklahoma State)
Makinzy Herzog (Texas Bombers Gold – Smith): 2018 OF/P (Florida State)