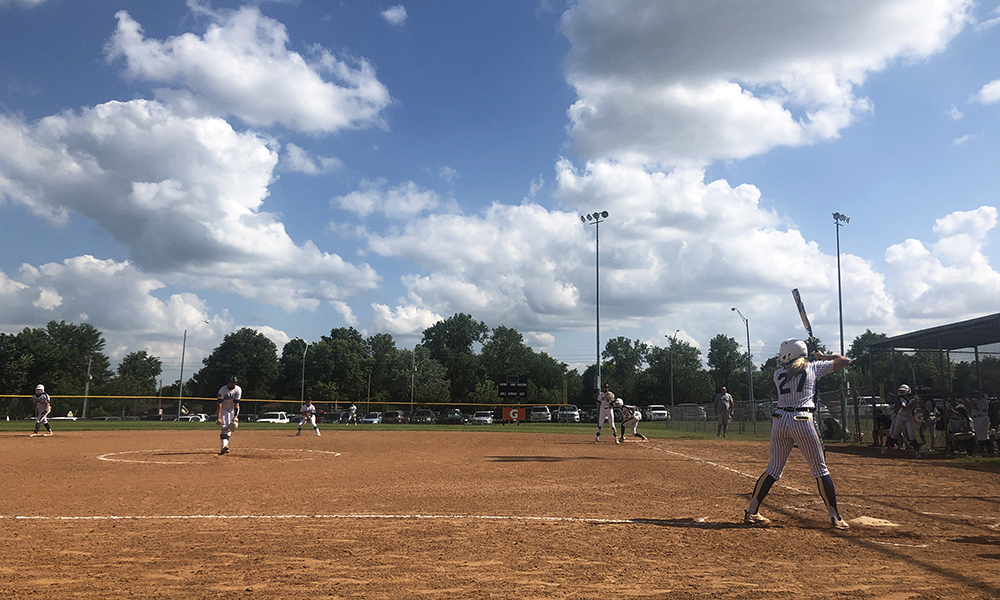 Despite Mother Nature who didn't always cooperate during the Tulsa Elite Invitational, teams made the most of their weekend and there was some great competition that took place! We did our best to get around to as many games and teams as possible and if we missed you we hope to see you compete later this summer!

A big thank you goes to Jeff Filali and the Tulsa Elite Organization! "First-class" all the way and put on a great event, even with the weather. Special "kuddos" go to the grounds crew over the weekend, it is amazing what they were able to do in saving the fields so games could be played. They are a very talented group and I was so impressed.
Enjoy other pieces of our coverage from the event as well!
Thursday's Standouts
16U Standouts
Photos!
Use coupon code "tulsaelite19" for a 30% discount on your subscription!
Texas Blaze 14U United versus Tulsa Elite 14U OKC 23 Watson
I would love to see this Tulsa Elite Watson team compete again as I feel like there is some good talent on that young 14U team, they just ran into the buzz saw that is Texas Blaze 14U United.

They are coached by Tammie Davis who is intense and clearly brings the best out of her players. As I watched this game, the Blaze huddled in between innings and I overheard Coach Davis encourage her team to "showcase" themselves as this is a showcase tournament and that is what they are there to do. One of my favorite pieces of coaching was when she said, "if you're a big swinger, swing big!" I loved it and I could see how her players responded and the high level of play she brings out of them.

Skye Sharp anchored the Blaze in the circle, and wow, this 2023 is talented. Sharp mixed well especially high to low in the zone, had some great velocity complimented by a good off speed. She also fielded her position well and was accurate overhand with a lot of zip on her throw. She was fun to watch and I hope I can see her compete again before the summer is over.

Behind the plate was Arwin Callaway (2022) she commanded the diamond and ran her field very well. She had great pop behind the plate and wasn't afraid to throw, especially to hold runners at first. There was an impressive confidence and strength to her game play.
As a team, the Blaze owned the box well. They attacked early in the count and were not afraid to swing while managing the zone well. There was a lot of maturity to this squad that especially showed offensively.
2022 Macy Hamilton also stood out. I've heard about her before and have seen her across social media; needless to say it was great to watch her compete in person. In the one at-bat I got to see she leveled up a pitch nicely to punch (I believe) a double into left center. I know there has been a bunch of interest in Hamilton before the new recruiting rules went into place and I only expect to see more of her …and she her in the collegiate ranks when the time comes.
Texas Bombers 14U Torres versus Tulsa Elite 316 14U 22 Esterly
Another Tulsa Elite team I'd like to see take the field again who ran into one of the, if not the, most complete 14U team I saw during this event. Texas Bombers Torres is the real deal.

Coach Torres, a talented and accomplished coach, has another impressive squad under his tutelage and they are a real threat to win the biggest tournaments this season. You name it, the Bombers had it: speed, power, talent in the circle, high softball IQ, execution, and strong defense. They were really fun to watch.

What impressed me most was the Bombers' steady pressure, consistent energy, and ability to capitalize on opportunities; they did not let up and for a 14U squad they played well above their age grouping.
Impact Gold 14U National Saenz versus Tulsa Elite NMA 14U 23 Lacina
This matchup between Impact Gold Saenz and Tulsa Elite Lacina was a tight, defensively strong battle between both programs.

For Tulsa, Ella Beeman (2023) held a talented offensive lineup at bay. She had a good change and – what looked like – an effective screw ball complimented by a rise. She gave Impact Gold some trouble until they were able to make adjustments and began to hit her.

Adyson Roberts (2023) put together an impressive at-bat against that stood out. She had an impressive level of control in the box and ability to foul off pitch after pitch until she got what she was looking for.

In the field, Tulsa's shortstop (who unfortunately is not listed in the book of information and rosters, or wore a different number) impressed with a strong arm and really quick release. She can improve on her first steps and angles to the ball but right now, she got it done and that arm strength more than made up for it. Looking forward to her development and if she can better those initial movements.

For the Impact, Coach Saenz's squad is just fun to watch. They play with a lot of joy and you can tell they love being around each other. Alaina Schaefer, 2023, commanded the circle. Schaefer utilized a good mix of pitches and was able to get the Tulsa hitters to chase balls out of the zone. What is really impressive, especially as a 2023, was how little seemed to phase her. Even when counts and at-bats got long, her demeanor never changed, she just kept working.

Schaefer forced a number of ground balls and fly outs and the Impact defense was strong behind her which will serve them well going forward.

Catcher Bella Perez really caught my eye. She is a 2023 that is ahead of the "curve" behind the plate. Her consistent chatter and control of her pitcher and defense was impressive. Her presence behind the dish and at the plate was also noticeable. There is a calmness and confidence to her I loved watching and I look forward to keeping tabs on her going forward.

Offensively I was most impressed by Impact's ability to make adjustments the second time through the lineup and really drive the ball. According to the team, hitting has been a bit off as of late but there was not sign of that during this contest. After the lineup turned over, the Impact started squaring up balls and driving them hard. As a denoted "national team" I am excited to follow their progress through the summer.
14U Oklahoma A's Premier versus OKC Impact Sydney
I happened to walk up on this game and was instantly drawn in as there was a lot of talent on this field. Both of these programs are known for their successful and strong teams and it was exciting to see them square off.

The game was tight for awhile but then the OKC Impact got hot and pulled away; and wow, was their offensive power on display, it was impressive. Cassie Passwaters (2022) put the cherry on top of the scoring blasting a shot to dead center. Kirby Van Haren (2022) followed the home run up with big time double to center as well. The offense was just impressive; they adjusted well, fouled off pitches, and controlled the zone.

The Impact was also strong defensively and shortstop Kalie Amos (2022) caught my eye. Not only was she strong in the field she was very smooth and moved well in all directions. She managed to rob an A's batter of a bloop hit, laying out for a ball that was in a tough spot in the swallow 5-6 hole. All and all, the chatter and energy from the Impact was contagious and helped carry them through the game

Hallie Miles (2023) threw for the Impact and controlled the A's bats well. She worked fast and low in the zone and looked to have a nasty curve. She induced a solid mix of ground and fly ball outs.

For the A's, I was impressed by catcher Kam Komardley (2023). She had great command of her position both the "normal" duties and the intangibles. Komardley control and ran her field well.

First baseman Tara Hoehner (2023) and center fielder Taylor Cronic (2023) also played well defensively. Hoehner had great hands at first and showed off an impressive split stretch; she has some strong skills and talent at first.

Cronic and the A's nearly turned a triple play due to an Impact miscue. Cronic made a fantastic play coming in hard from center to collect a bloop hit and was able to double off the runner at second when the A's then tried to triple off (?) the runner at first. I'm not sure if the Impact lost the number of outs or read the ball down but they were very close to being tripled off. It was a fun play to watch unfold!


——————————-