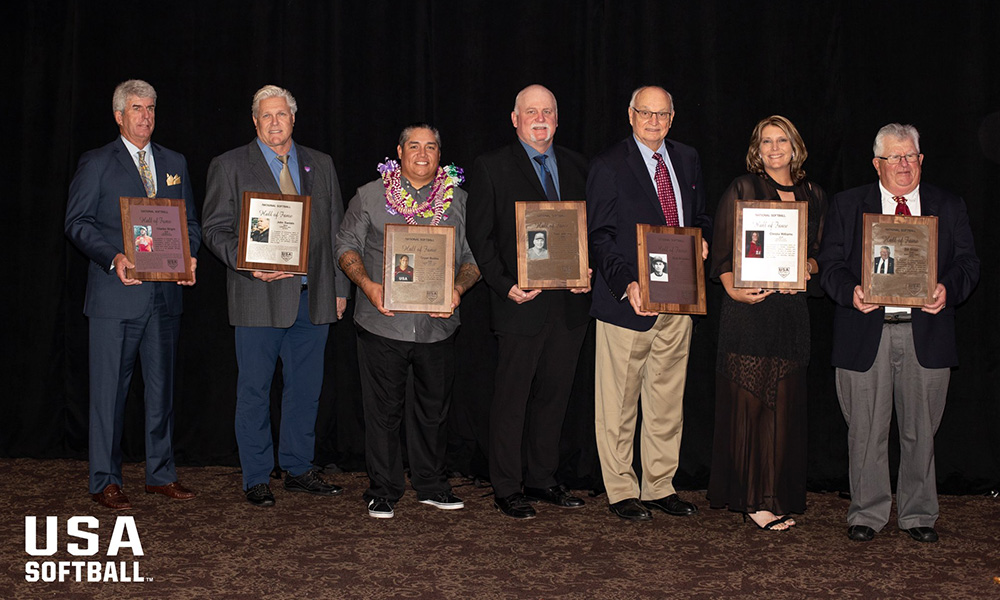 Crystl Bustos was among eight members to be inducted into the National Softball Hall of Fame Saturday night in Oklahoma City.
Bustos joined Dick Brubaker (Fast Pitch Player), John Daniels (Sponsor), Ricky Huggins (Slow Pitch Player), Todd Joerling (Slow Pitch Player), Bill Silves (Umpire), Christa Williams (Fast Pitch Player), and Charles Wright (Slow Pitch Player).
https://twitter.com/USASoftball/status/1056380714747342848
Bustos was of the most feared hitters to ever step to the plate.  Between 1999-2008, Bustos helped Team USA win two Olympic Gold Medals, an Olympic Silver Medal, three Pan American Championship Gold Medals, and a WBSC World Championship Gold Medal. In her rookie season with the Women's National Team at the 1999 Pan American Games in Winnipeg, Canada, she made an immediate impact leading the team with 18 hits, three home runs, and 15 RBI.
Bustos would continue to be a valuable asset to the American offense, compiling an Olympic-career stat line of 26 runs scored, 14 home runs, 24 RBI, and a .372 (30-for-85) batting average. A rugged slugger, Bustos also holds the distinction of owning two individual Olympic records: most RBI (10) and most home runs (5), and she, along with her 2004 Olympic teammates, were inducted into the U.S. Olympic Hall of Fame for their outstanding performance at the 2004 Olympic Games in Athens, Greece.
https://twitter.com/USASoftball/status/1056183742539202560
The other women's softball fast-pitch inductee was Christa Williams, who was a two-time Olympic Gold Medalist and two-time World Champion. Williams is one of the best pitchers to ever come out of the Houston area. Having already pitched the United States to a WBSC Junior Women's World Championship in 1995, Williams was the youngest member of the inaugural U.S. Olympic Softball team in 1996 when the sport debuted in the Atlanta Olympic Games.
https://twitter.com/USASoftball/status/1056259240397029381
Williams hurled a perfect 2-0 game in the circle, allowing no earned runs while striking out 15 batters in her Olympic debut. Williams followed with another 2-0 showing for the United States at the 2000 Olympic Games in Sydney, Australia as the United States claimed their second Olympic Gold Medal.