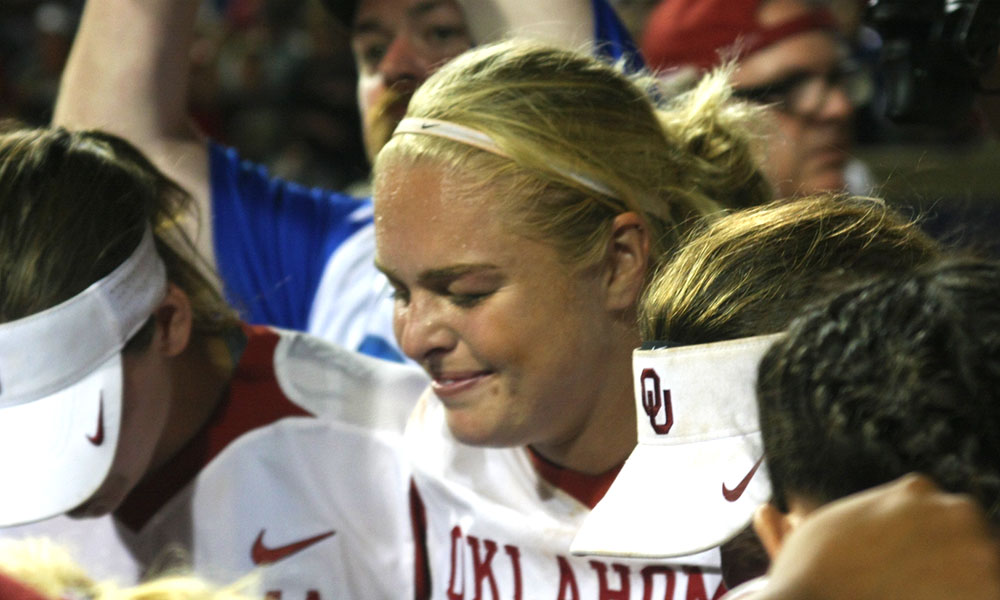 Oklahoma Sooners pitcher Paige Lowary was the number one overall pick at NPF Draft on Monday night. The Chicago Bandits selected Lowary.
Lowary becomes the second Oklahoma Sooner to be drafted number one overall in NPF Draft, joining Lauren Chamberlain who was selected by USSSA Pride at 2014 NPF Draft.
Lowary was one of three Sooners drafted joining Paige Parker who was selected No. 6 by the USSSA Pride and Nicole Pendley who was also selected by the USSSA Pride in the second round.
2018 NPF Draft Results
| RD 1 | PLAYER NAME | POSITION | SCHOOL | TEAM |
| --- | --- | --- | --- | --- |
| 1 | Paige Lowary | Pitcher | University of Oklahoma | Chicago Bandits (Trade with Aussie Spirit on 1/29/2018) |
| 2 | Allie Walljasper | Pitcher | LSU | Beijing Eagles |
| 3 | Gwen Svekis | Catcher | Oregon | Chicago Bandits |
| 4 | Randi Rupp | Pitcher | Texas State | Cleveland Comets |
| 5 | Kylee Hanson | Pitcher | FSU | Cleveland Comets (Trade with Chicago Bandits on 3/8/18) |
| 6 | Paige Parker | Pitcher | University of Oklahoma | USSSA Pride |
| RD 2 | PLAYER NAME | POSITION | SCHOOL | TEAM |
| 1 | Jessie Warren | IF | Florida State | USSSA Pride (Trade with Aussie Spirit 4/10/2018) |
| 2 | Emily Watson | Pitcher | Tulsa | Beijing Eagles |
| 3 | Carley Hoover | Pitcher | LSU | Cleveland Comets (Trade with USSSA Pride on 4/13/2018) |
| 4 | Aleshia Ocasio | Pitcher + UTL | Florida | Chicago Bandits |
| 5 | Vanessa Shippy | UTL | Oklahoma State | Cleveland Comets |
| 6 | Nicole Pendley | Outfielder | Oklahoma | USSSA Pride |
| RD 3 | PLAYER NAME | POSITION | SCHOOL | TEAM |
| 1 | Kaylee Carlson | Pitcher | Auburn | Aussie Spirit |
| 2 | Brittany Gray | Pitcher | Georgia | Beijing Eagles |
| 3 | Jessie Scroggins | OF | Baylor | Chicago Bandits |
| 4 | Alexis Osorio | Pitcher | Alabama | Cleveland Comets |
| 5 | Nicole DeWitt | IF | Florida | USSSA Pride |
| RD 4 | PLAYER NAME | POSITION | SCHOOL | TEAM |
| 1 | Kaitlin Lee | Pitcher | Ole Miss | Aussie Spirit |
| 2 | Victoria Draper | OF | Auburn | Beijing Eagles |
| 3 | Devin Brown | Pitcher | South Alabama | Cleveland Comets (Trade with Chicago Bandits on 3/8/18) |
| 4 | DJ Sanders | IF | OREGON | Chicago Bandits |
| 5 | Jenna Lilley | IF | OREGON | Cleveland Comets |
| 6 | Cortni Emanuel | OF | Georgia | USSSA Pride |