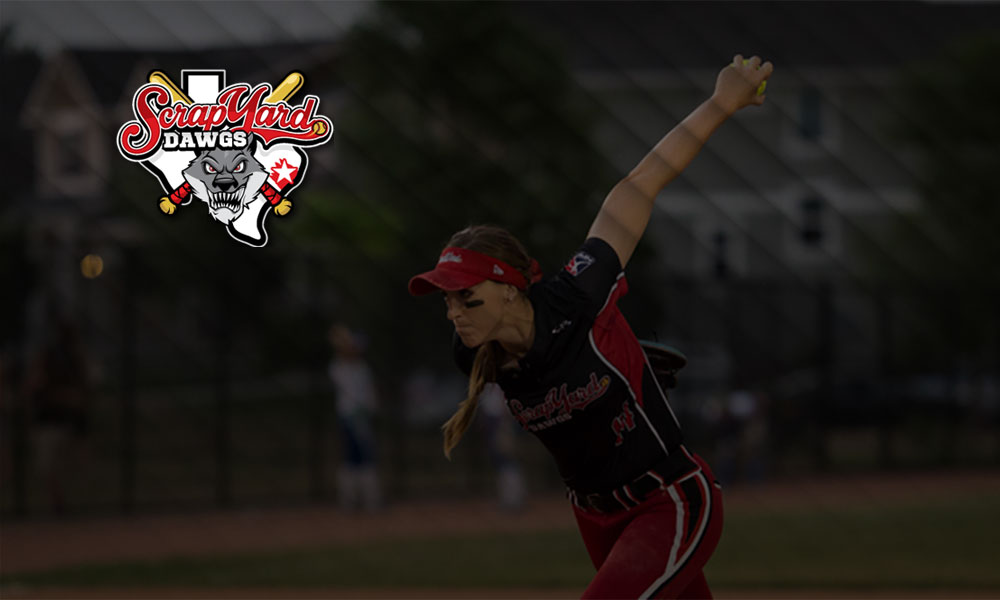 AKRON, OH – The Scrap Yard Dawgs jumped out to an early lead and fended off a furious comeback attempt by the Beijing Shougang Eagles on Sunday evening at Firestone Stadium, defeating the Eagles 10-7.
The Dawgs picked up three runs apiece in the second and third innings to take control of the game with a 6-0 lead.  In the top of the second frame, right fielder M.J. Knighten put the Dawgs on the scoreboard with a base hit down the left field line that scored Olivia Watkins, in the start of a busy day for Knighten.  The rookie from Nebraska went 2-for-3 with two runs scored and two RBI.  Outfielders Kayla Winkfield and Allexis Bennett both followed with RBI hits, scoring Knighten and Christian Stokes, respectively, to round out the inning.  In the third inning, the Dawgs took advantage of four Beijing errors to score three more runs.
The Eagles began to answer in the bottom of the third inning when Zhang Jing drove home right fielder Yuan Huai Ning and first baseman Lu Ying with a two-run single to right field.
The score would remain 6-2 until the Dawgs offense began to heat up again in the top of the fifth inning.  Following a single by Knighten and a double by Katiyana Mauga, Nerissa Myers added onto her team-leading RBI total with her 13th of the year, plating Knighten.  Bennett followed Myers by launching a 2-2 pitch over the wall in right-center field for her first home run, a three-run blast that pushed the Dawgs lead to 10-2.  Bennett earned the Vaultz® Lock It Up!® Player of the Game, going 2-for-3 with a run scored and four RBI.
Beijing put a serious dent into the Dawgs advantage in the bottom of the sixth inning.  Shortstop Liu Li Li and Jing led off the inning with bunt singles.  Wang Bei drove Li Li home with a base hit to right field, advancing to second on the throw.  After an error and a wild pitch cut the score to 10-5, Ying laced a single to centerfield to bring home Xi Kai Lin.  Cao Ying picked up a two-out pinch-hit single to score Xu Qian Wen for the fifth run of the inning to cap the scoring.  The rally would end there as relief pitcher Morgan Foley would set down the Eagles in order in the bottom of the seventh to end the game.
Beijing and the Dawgs will be back in action Monday night at Firestone Stadium, facing each other in the first game of a doubleheader starting at 5:05 p.m ET.  Following the first game the Dawgs will take on the host Akron Racers in the second game of the evening.  For more information or to purchase tickets, call the Racers box office at 330-376-8188.
Quick Facts:
 Attendance: 156
Game Time: 1:51
Vaultz Lock It Up Player of the Game: Allexis Bennett
Courtesy of the National Pro Fastpitch League