International & NPF
Shocking Blockbuster NPF Trade between Chicago Bandits and Cleveland Comets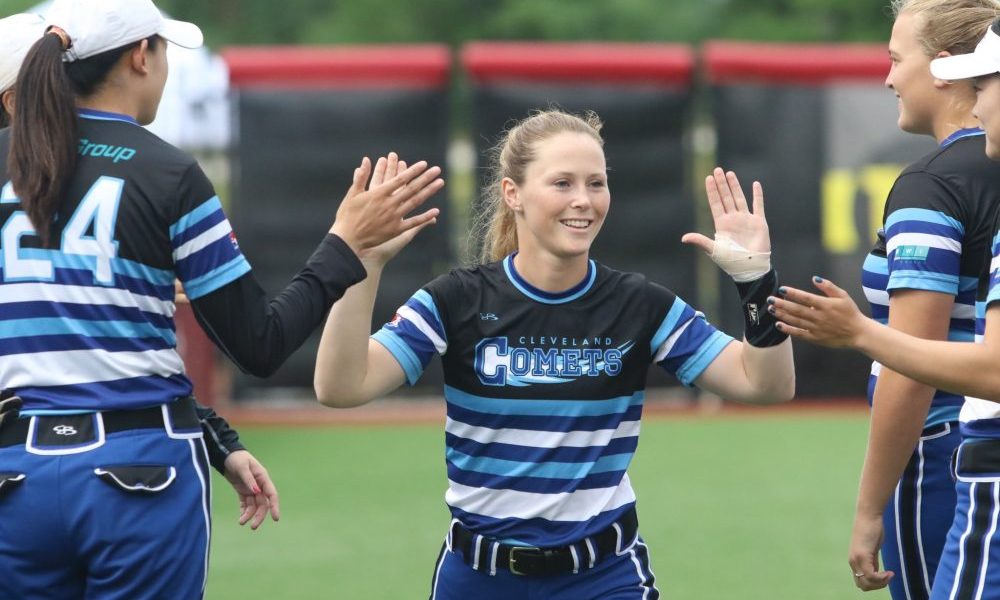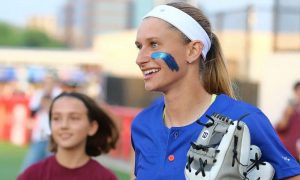 One of the more shocking and stunning trades in recent NPF history happened this past weekend when a trade between the Cleveland Comets and Chicago Bandits was announced.
In the deal, the Bandits trade three All-NPF performers from the 2018 season in outfielder Sammy Marshall, second basemen Emily Carosone, and pitcher Shelby Turnier to Cleveland for Jenna Lilley and the Comets No. 1 overall draft pick in the upcoming 2019 NPF Draft.
Marshall is arguably the face of the Bandits franchise and a fan favorite since being drafted as the 18th overall pick by the Bandits in the 2015 NPF Draft. Marshall is coming off the best season of her career resulting in an All-NPF team nod hitting .388, 30 runs scored, 26 RBIs, and 15 stolen bases.
Turnier is also a popular figure in Rosemont drafted 11th overall by the Bandits in 2016. Also coming off her best season in the NPF, Turnier recorded a 1.12 ERA only allowing eight earned runs over 50 innings pitched. Turnier finished the season with a 5-0 record and three saves, while striking out 46 batters. She also only allowed 7 walks in the 50 innings of work. Turnier earned her first All-NPF honors in 2018.
Carosone was among the NPF leaders in 2018, tied for most home runs in the league with 12, hitting .323, recording 31 RBIs, and a .750 Slugging Percentage. Carosone was an All-NPF performer in 2017 and 2018.
Carosone, Marshall, and Turnier all helped the Bandits win the 2016 NPF Championship as they upset Monica Abbott's led Scrap Yard Dawgs and then knocked off rival USSSA Pride to take home the title.
Lilley was drafted 22nd overall by the Cleveland Comets in 2018. In her first season in the NPF, Lilley batted .275 across 19 games during the 2018 season with a pair of doubles and two RBIs. It was a homecoming for Lilley who is a Ohio native. In her days at North Canton Hoover High School Lilley led the program to four straight Ohio High School Athletic Association state championships from 2010-2014.
With the Bandits, Lilley will reunite with former Oregon Ducks teammate Gven Svekis, as well as former Duck D.J. Sanders who played for the Oregon in 2018 after transferring from Louisiana-Lafayette.
But there are many questions and unrest surrounding this monster trade with Lilley, Marshall, Turnier, and Carosone.
1. What is Jenna Lilley status for 2019 season?
Lilley just underwent hip surgery last week. How long will recovery take and will she be ready for 2019 season for Bandits?
https://twitter.com/jenna_kate00/status/1072958077182377989
Lilley tweeted out her reaction to the trade on Monday night.
https://twitter.com/jenna_kate00/status/1074845349242683392
2. Who are the Bandits targeting with the No. 1 overall pick in 2019 NPF Draft (assuming they keep the pick)?
The Bandits will be on the clock first when the 2019 NPF Draft takes place unless they trade it away. But the question is who are they targeting and is that player as good as any of the players they just traded away?
It is hard to tell who will be overall No. 1 in NPF draft considering it is unknown which players will be in the draft until a much later date as these athletes decided between playing internationally, their interest in the NPF, etc.. But early projections would suggest that the clear cut No.1 is still up in the air. Kelly Barnhill (Florida), Taren Alvelo (Washington), Meghan King (Florida State), and Megan Kleist (Louisiana) will be players that could "go number one" with hitters like Georgia's Allysa DiCarlo, Florida's Amanda Lorenz, and Oklahoma's Sydney Romero also in contention for that first draft spot. Even a two way player like James Madison's, Megan Good, who returns to the field in 2019 after missing all of 2018 due to an injury could be an option at No. 1 if Good proves to be fully recovered in her senior season.
3. Is this move motivated by finances?
That remains to be seen but you have to wonder with the history of franchises in the NPF if the city of Rosemont (who owns the Bandits) is making this move for financial reasons as at this time the deal has angered many Bandits fans and has people wondering what is going on after trading away three key pieces to the Bandits organization. The Bandits released a statement on Saturday attempting to address some of the fans concerns about this controversial trade. Emily Allard, a former Bandit player, was openly critical of the trade.
No disrespect to Jenna Lilley, but this is absolutely absurd. Three die-hard Bandits the fans loved, their teammates loved and who made a huge impact on the field in winning championships. No business decision trades away their long-time, fan-favorite, & still-thriving assets. https://t.co/pe2ZzR4z13

— Emily Allard (@EAllard24) December 16, 2018
The Bandits released a statement on Saturday night addressing some of the concerns and critics of the controversial trade.
— Chicago Bandits (@Chicago_Bandits) December 16, 2018
Something to keep in mind moving forward. Marshall and Carosone are under contract,. Turnier is not.
-Carosone inked a two-year extension with the Bandits which carries her through the 2019 season.
Carsosone tweeted on Monday her reaction to the trade and her intentions to play for the Comets.
I will play for Cleveland, I will give it my all, & I will enjoy the new culture & friends that I get to meet. Though not my decision, it's a new opportunity for me and I am excited, as well as open minded to it all. I know I will be taken care of, as a person and an athlete. https://t.co/5WqP6VdTNw

— Emily Carosone (@Emily5Car) December 17, 2018
As for Marshall, She had agreed to terms with the Bandits in a three-year contract extension on May 1st, 2018.
Turnier is eligible to become a free agent as she was on a one year deal with Bandits in 2018.
Marshall and Turnier will be coaching at NAIA's Judson University this upcoming season. Marshall was hired as new Head Coach on October 30th.
Softball: Judson Hires Chicago Bandits Star Sammy Marshall as Head Softball Coach
– https://t.co/rICICQRs4J pic.twitter.com/G3fsCGmSrC

— Judson Athletics (@JUAthletics) October 30, 2018
Marshall then hired Turnier to be her assistant coach. Judson University is located in Elgin, Illinois which is roughly 28 minutes away from Rosemont, home to the Bandits. Marshall reacted to the trade via twitter on Saturday.
By no means was this what we wanted. Told this was a business decision but having a hard time seeing the business side of this one. Thank you fans and teammates for the last 4 years you made my time with the Bandits special https://t.co/PPvxkqCLUQ

— Sammy Marshall (@sammymarshall10) December 15, 2018
Another question that can be asked is, "does this trade make Marshall and or Turnier rethink their future playing career and move on to focus on their coaching careers instead?"  Who knows. Only time will tell what the results of this trade for both franchises will be and what it means for the future of all the players involved. But one has to wonder if this marks the end of the Chicago Bandits as we knew them.