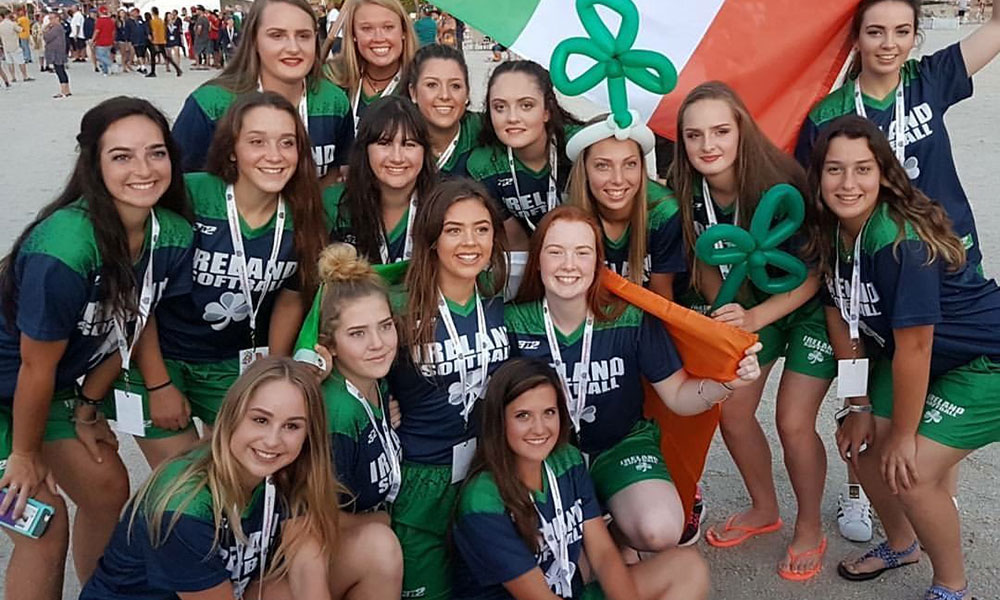 From the four provinces of Ireland and beyond, 17 athletes stood tall on the base line, shoulder to shoulder in Clearwater to answer Ireland's Call.
It is no secret that the Irish are proud of their country and their heritage, but the sight on the field before Ireland faced Korea in the final game of the WBSC Jr. World Championship was monumental. It was the end of the first chapter of Ireland's young softball history and the beginning of the next. No matter the outcome, Ireland would have its highest world ranking yet.
"There's probably about 22 or 23 girls in Ireland who have played fastpitch," said Colum Lavery, President of Softball Ireland. "The National Team was our focus because we thought that is how we get publicity, that is how we get funding. It is an Olympic sport, the Olympic dream. We do not have many women's team sports, and we want to provide an alternative."
The first chapter began in August 2014, when Lavery found out that the 2015 WBSC World Championship was an open tournament. Along with Melanie, his wife who is also the head coach of the program and starting shortstop, the Lavery's set out to form the country's first women's fastpitch softball team.
"In August 2014, we had no fastpitch program," said Lavery. "We went back to Dublin and held the first trial. We had five or six girls come to it and then we got to 11 or 12. We got to April 2015, and we still had no pitcher."
Without a pitcher and the thought of Melanie having to pitch because she knew how the team played in a co-ed slow pitch tournament to get reps and practice defense. They made it to the final but walking through the park that day was the answer to their prayers.
"A girl called Shawn Walsh was walking through the park," said Lavery. "She told me she used to play fastpitch softball in America and she was a pitcher. We all went jokingly, 'Next, you are going to tell us you have an Irish passport.'"
The answer was yes, and the first Irish women's national softball team was born. With that came the national registry for softball players, which means when an athlete is presented with her Irish jersey, she is designated with a number. For example, Melanie is the No. 1 softball player in Ireland.
"We are now up to 42 people who have represented Ireland in international softball," said Lavery. "We do a jersey presentation and each player who has not played for Ireland and then they initial beside their name and forevermore they will be known as player No. 1 or No. 42 for Softball Ireland."
Each year sees progress for the Irish. In 2015, they finished 19th out of 20 in the European Championship. In the 2016 World Championship, they got two wins and finished 25th out of 30. They went into this year's European Championship ranked 23rd and finished 15th. As a first time junior program this summer, they finished 18th.
"We brought seven girls from Ireland to a World Championship who their first formal game of fastpitch softball in their life was a warm-up game in an Ireland jersey," said Lavery. "Everyone of the girls stated that they learned so much and they cannot wait to go back to Ireland."
Waiting back in Ireland is a school with 50 girls who cannot wait to try softball for the first time. Hopefully, those girls can write the next chapters as Ireland continues to write its softball history book.