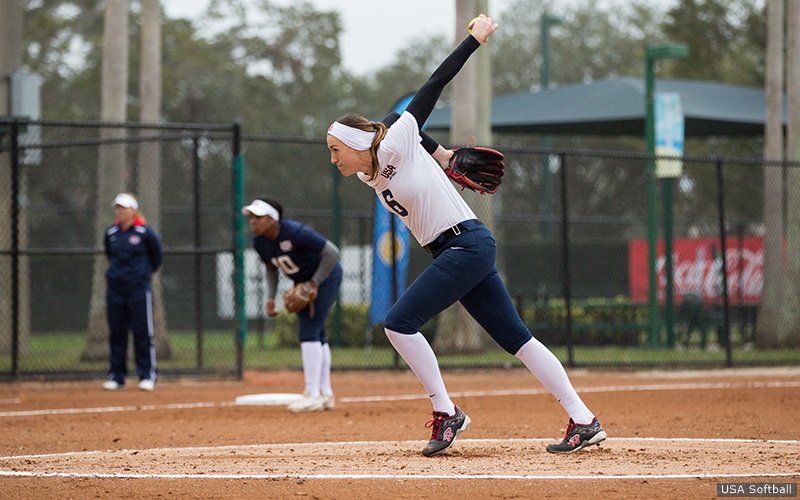 Following the USA selection camp that ran from January first thru the fifth in Clearwater, Florida, USA Softball announced the 34 players who will represent them in 2018.
USA Softball previously announced that they would sponsor a pair of teams to compete in 2018 to give more players the opportunity to play for Team USA and garner more experience in international competition in preparation for the 2020 Olympics.
Below is a list of players that will represent Team USA at the Women's World Championship from August 2-12 in Chiba, Japan.
Ali Aguilar
Val Arioto
Kasey Cooper
Haylie McCleney
Michelle Moultrie
Aubree Munro
Danielle O'Toole
Janie Takeda Reed
Kelsey Stewart
Monica Abbott
USSSA Pride's Keilani Ricketts, who went through a very public fallout with Team USA in 2013, also will compete at the World Championships. Ricketts along with Florida's Kelly Barnhill; Scrap Yard Dawgs catcher and Nebraska alum Taylor Edwards; UCLA breakout youngster Rachel Garcia; Chicago Bandits catcher Sahvanna Jaquish; former Florida outfielder Kirsti Merritt, and former UCLA infield great Delaney Spaulding will also be on the roster.
The 17 players that will represent Team USA at the Japan All-Star Series include Ally Carda, Amanda Chidester, Hannah Flippen, Jenna Lilley, and Jessica Moore. Chidester, along with Moultrie and Arioto, had been among the senior and longest-tenured members of the USA squad under the previous single-roster format.
Four players who participated in the open tryout in December made the team which were Washington infielder Sis Bates; Ole Miss outfielder Kylan Becker; LSU pitcher Carley Hoover; and Washington alum and recently-signed Chicago Bandit Courtney Gano each had to buy-in to participate in the open tryout, and were among nine players that were selected from more than 100 to continue on and participate in the selection camp.
Another former Olympic great that will be at the World Cup and Japan All-Star Series is reigning NPF MVP Kelly Kretschman. Kretschman was a part of the 2004 and 2008 medal-winning US Olympic squads and took home a gold medal in Athens in 2004.
Playing with Kretschman is Delanie Gourley; Cal outfielder Jazmyn Jackson; Oregon pitcher Megan Kleist; former Arizona and USSSA Pride infielder Mo Mercado; Arizona catcher Dejah Mulipola; former Oregon infielder Nikki Udria and UCLA utility player Madilyn "Bubba" Nickles who was the MVP at Jr World Championship this past summer leading the United States to gold.
"I am pleased with the Selection Committee's choices in determining the 34 players that will represent the United States on the softball field this summer." said U.S.A Head Coach Ken Eriksen in USA Softball press release.
Eriksen will coach the U.S. Team that will play at World Championships while Oregon State's Head Coach Laura Berg will coach U.S. Team that will play at Japan All-Stars. Berg was Head Coach of U.S. Junior National team that won the gold medal this past summer in Clearwater and is a former four-time Olympian player.
Coaching the U.S. Team at World Cup in Oklahoma City will be Oklahoma's Patty Gasso.
Among the names that did not make the rosters include NPF standouts Emily Carosone, Brittany Cervantes, Bailey Landry, and Megan Wiggins; reigning SEC Player of the Year Meghan Gregg; a trio of Oklahoma Sooner standouts in Shay Knighten, Paige Lowary, and Nicole Mendes; sisters Sierra and Sydney Romero; and Team USA veteran and Marshall grad Morgan Zerkle.