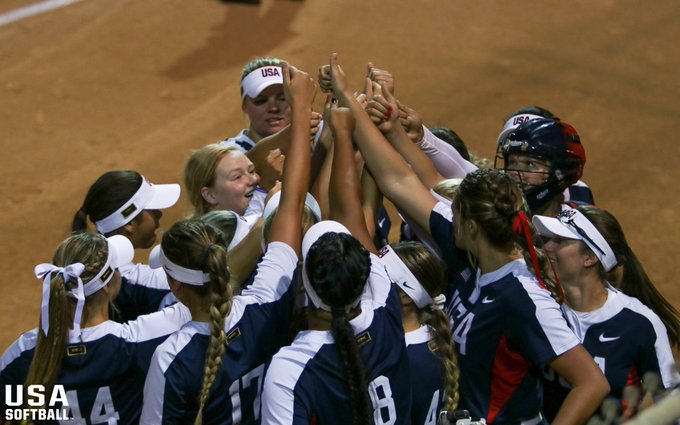 Photo and Image from USA Softball
IRVINE, California – The U-19 Women's National Team (WNT) defeated No. 4 Puerto Rico 6-0 at the World Baseball Softball Confederation (WBSC) U-19 Women's Softball World Cup. The win marks the fifth shutout of the World Cup for Team USA as they are a perfect 5-0 through five days of competition.
Click here for box scores and results from the 2019 WBSC U-19 Women's Softball World Cup
Montana Fouts (Grayson, Ky.) got her second start of the World Cup for the Red, White and Blue tossing 11 strikeouts and giving up just one hit in six innings of work. Rylee Trlicek (Hallettsville, Texas) finished off the final three batters in order for the U.S. with one strikeout.
Puerto Rico was able to secure the first hit allowed by Team USA in five games in the first inning but that was the only baserunner to make it on all night as the defense was perfect for the U.S..
Team USA jumped on the board in the bottom of the first inning when Charla Echols (Newnan, Ga.) hit a deep fly ball to center field to score Skylar Wallace (Woodstock, Ga.) from second. The U.S. didn't score in the second inning, but the duo would strike again in the third, this time on a ground ball from Echols to center field to score Wallace. Echols went 2-for-4 at the plate with a single, triple and three RBIs to tie for the lead in the tournament with 10 total RBIs.
"I am just trying to come through for the team," Echols said. "I know that runs are hard to come by in this tournament and I know that we need to score every opportunity that we get so I am just trying to stay within myself and get runs for the team."
Team USA pushed another run across in the fourth with a single from Macy Simmons (Chandler, Ariz.) followed by a double to center field by Kelley Lynch (Newnan, Ga.) to score pinch runner Jadelyn, Allchin (Fountain Valley, Calif.) and give the Eagles a 3-0 lead. Another run would cross in the fifth on a ground ball by Bailey Dowling (St. Joseph, Ill.).
Echols would strike again in the sixth, this time for a triple down the right field line to score Wallace who was pinch running for Simmons who was 2-for-2 at the plate today. Jasmine Sievers (Laguna Niguel, Calif.) was 2-for-3 and scored the final run on a double to center field to make it a 6-0 lead for the Red, White and Blue.
"The team did a really good job of sticking with each other and finally breaking it open a little bit more in the last inning," said U-19 WNT Head Coach Heather Tarr (Redmond, Wash./Head Coach at Washington). "We scored in all but one inning and that shows a lot about our team's ability to stick with it and go play great defense and then come back again."
Team USA will face both No. 6 Chinese Taipei and No. 2 Japan on August 15 at 3 p.m. PT / 5 p.m. CT and 8 p.m. PT / 10 p.m. CT respectively. Both the U.S. and Japan will enter the day as the final two undefeated teams remaining at the World Cup.
Free live streaming of all games and live stats will be available throughout the WBSC U-19 World Cup and fans at home can follow along with recaps and more at USASoftball.com.
About USA Softball
USA Softball (USAS) is a 501(c)(3) not-for profit organization headquartered in Oklahoma City, Okla., and is designated as the National Governing Body (NGB) of Softball in the United States and a member of the United States Olympic & Paralympic Committee. One of the nation's largest sports organizations, USAS sanctions competition through a network of Local Associations, which includes all 50 states and select metro associations. USAS is dedicated to providing people of all ages the opportunity to play the game they love at a variety of levels by offering recreational, league, tournament and competitive play for fast pitch, slow pitch and modified pitch. USAS annually conducts thousands of tournaments throughout the country including over 100 National Championships. The USAS umpire program is among the nation's largest and are widely known as the best trained umpires in the game.

As the NGB for the sport of softball, USAS is responsible for training, equipping and promoting the six USA Softball National Teams that compete in events such as the Olympics, Pan American Games, World Championships and other international and domestic events. For more information on USAS, including its founding and history as the Amateur Softball Association of America (ASA), please visit, www.USASoftball.com