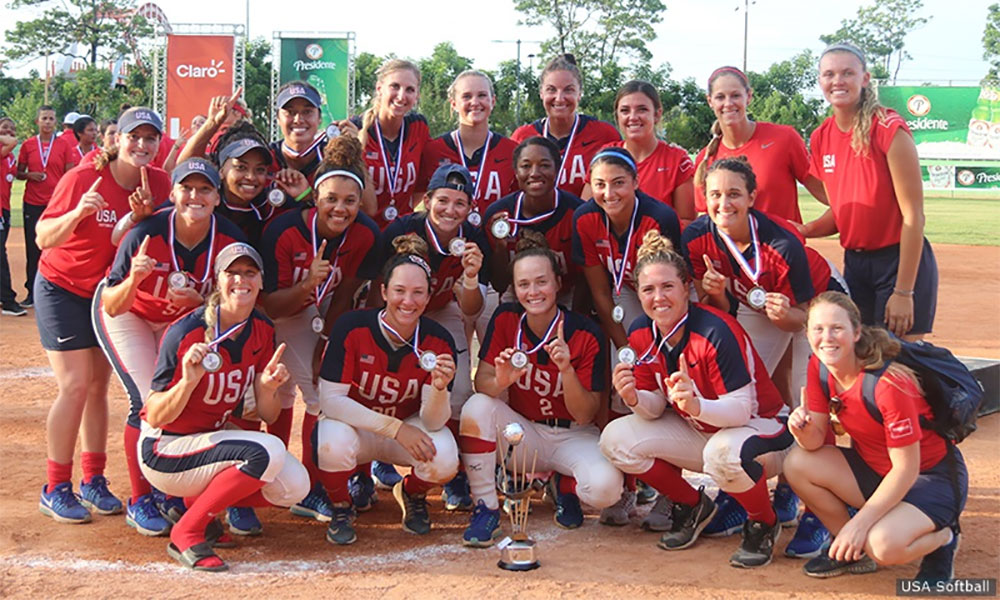 Behind an explosive offense and dominant pitching from Kelly Barnhill, The United States knock off Mexico 9-0 in 5 innings to win the Gold Medal at the Pan American Games held in Santo Domingo, Dominican Republic on Sunday.
The American offense exploded for nine runs in the bottom of the second inning aided by three home runs. Ali Aguilar got things started by hitting a home run to centerfield with a runner on to give the U.S. a 2-0 lead. Later in the inning with two runners on, Janie Takeda clobbered the second homer of the game for the U.S. to provide them with a 5-0 lead. The home run knocked Mexico ace Dallas Escobedo out of the game.  Escobedo had beaten the United States earlier in the tournament forcing Team USA to play three elimination games just to get to the Gold medal game.
Amanda Chidester kept the rally going by driving in the sixth run with a single, and then Valerie Arioto hit the team's third home run of the inning with two runners on to make it 9-0 which would be more than enough for Barnhill.
Barnhill would throw a five-inning no-hitter striking out ten batters to add Pan American Gold Medal to her incredible year that included winning College Softball player of the year and leading the Florida Gators to SEC regular season championship and a Women's College World Series Championship series appearance.
At the start of the day, it did not look like Barnhill would get an opportunity to pitch for gold as the United States fell behind Canada in the bronze medal game 3-0 in the first inning. Team USA came back to tie it in the third and took the lead with a three-run fourth inning en route to an 11-3 victory to advance to the gold-medal game.
For the first time at the Pan American Games, The U.S. had to play elimination games before the medal game as a result of losing to Mexico 7-2 in eight innings on Friday. The United States responded with a pair of victories on Saturday in must-win games shutting out Puerto Rico 4-0, behind a one-hit performance by Danielle O'Toole while an 8-2 win over Venezuela in their second game of the day pushed Team USA into the Bronze Medal Game.
The U.S. qualified for the 2018 World Baseball Softball Confederation (WBSC) Women's World Championship, to be held in Chiba, Japan, which was significant in staying on track to qualify for the upcoming Summer Olympics in Tokyo in 2020. The U.S also qualified for the 2019 Pan American Games, to be held in Lima, Peru.
Joining the United States in qualifying for World Championships and Pan American Games are Mexico who ended an incredible run with a silver medal, Canada who takes home the bronze medal and Venezuela which took fourth place.