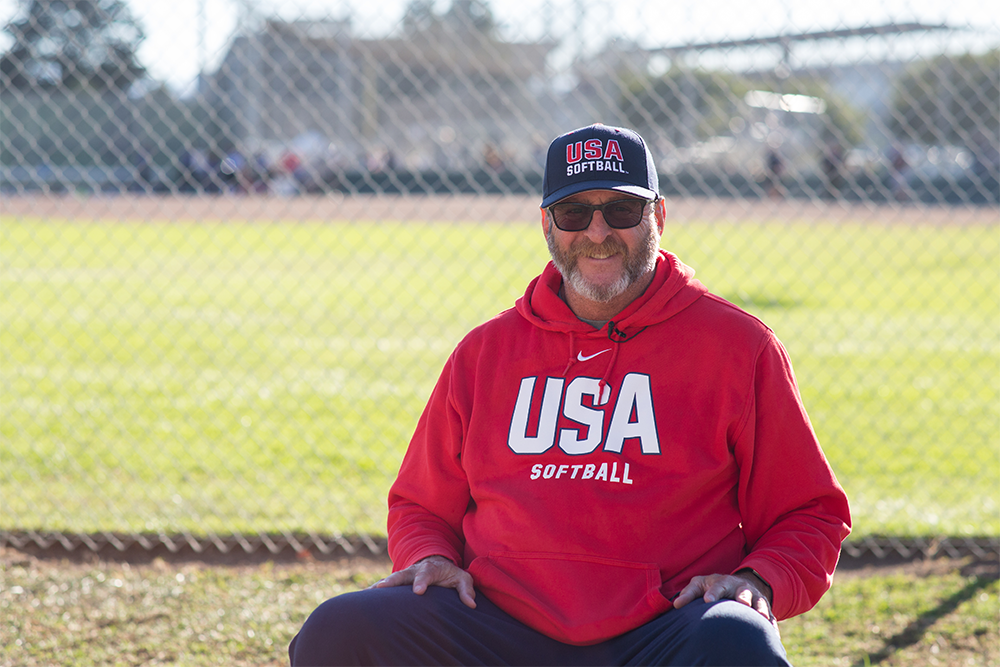 For the eighth- consecutive season, Ken Eriksen will lead USA Softball into International Competition in 2018 as announced by members of the USA Softball Women's National Team Selection Committee.
Among the tournaments, Eriksen will coach the U.S. National team in 2018 includes the Women's World Championship (WWC) August 2-12, 2018 in Chiba, Japan as the United States looks to qualify for the 2020 Summer Olympics which will be held in Tokyo, Japan.
"Once again, it's an honor to be thought of as someone who has been entrusted with progressing this program to be successful at the 2018 World Championship," said Eriksen in USA Softball press release. "That is what our focus will be on as we pick the team in January and train in the early part of the summer."
Eriksen took over Mike Candrea as U.S. Softball Head Coach has led the United States to a Gold Medal at the 2011 Pan Am Games in Guadalajara, Mexico as well as two WBSC World Championships Silver Medals before reclaiming the Gold at the 2016 WBSC World Championship in Surrey, B.C., Canada. Eriksen has led the U.S. to four World Cup of Softball titles and a Silver Medal from the 2015 Pan American Games in Toronto, Ontario, Canada and the 2017 Pan American Games Gold Medal this summer.
Before being Head Coach, Eriksen was an assistant coach under Mike Candrea for the U.S being part of 2003 Pan Am Games which won Gold and going on to coach at the 2004 Olympic Games in Athens where the U.S. Olympic Softball Team won the gold medal. Eriksen also was part of the 2010 WBSC Championship Gold Medal effort as an assistant coach..
Eriksen has been the Head Coach at the University of South Florida since 1996 and has 12 NCAA postseason appearances, two NCAA Super Regionals, a College World Series berth, five conference titles (in three conferences: C-USA, BIG EAST, and The American), and has produced over 850 wins.
The U.S will hold roster tryouts in Clearwater, FL from January first thru the sixth. A total of 61 players were invited which included the following players.
Monica Abbott
Ali Aguilar
Valerie Arioto
Nicole Mendes
Kelly Barnhill
Bianka Bell
Ally Carda
Lindsey Cargill
Emily Carosone
Brittany Cervantes
* Lauren Chamberlain
Amanda Chidester
Caleigh Clifton
Kasey Cooper
* Nicole DeWitt
Taylor Gadbois
Rachel Garcia
* Chelsea Goodacre
Delanie Gourley
Meghan Gregg
Paige Halstead
Jazmyn Jackson
Sahvanna Jaquish
Megan Kleist
Shay Knighten
Kelly Kretschman
Bailey Landry
Jenna Lilley
Kendyl Lindaman
Amanda Lorenz
Paige Lowary
Haylie McCleney
Nicole Mendes
Mo Mercado
Kirsti Merritt
Jessica Moore
Michelle Moultrie
Dejah Mulipola
Nerissa Myers
Aubree Munro
Nerissa Myers
Bubba Nickles
Alexis Osorio
Danielle O'Toole
* Paige Parker
Shelby Pendley
Kylee Perez
Keilani Ricketts
Sierra Romero
Sydney Romero
Delaney Spaulding
Kelsey Stewart
Gwen Svekis
Janie Takeda
Nadia Taylor
Nikki Udria
* Karley Wester
Megan Wiggins
Hallie Wilson
Morgan Zerkle
* indicates athletes who have declined invitation