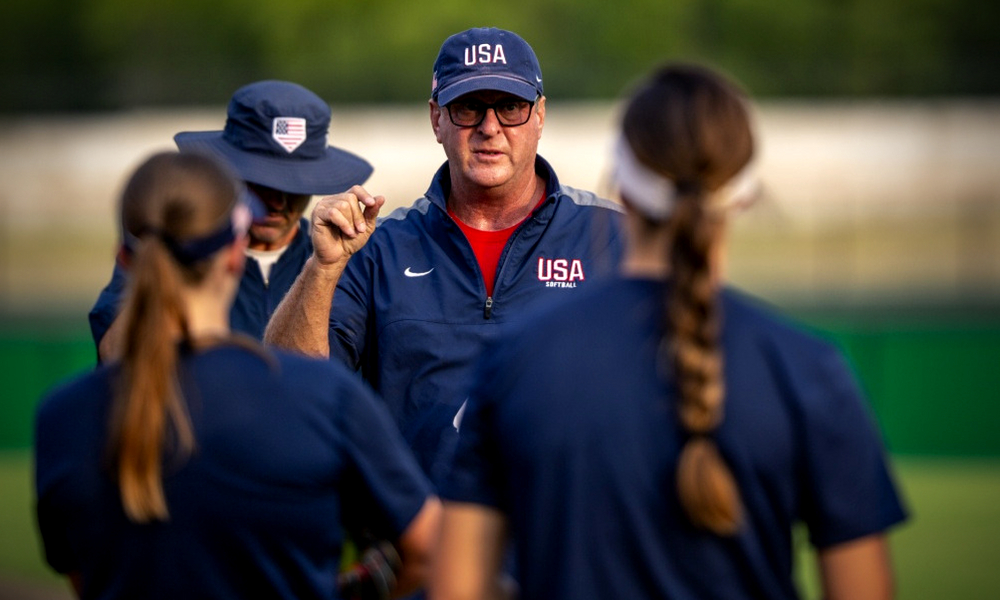 2018 will go down as one of the more memorable years of coach Ken Eriksen's career as the head coach he led Team USA once again to the top of the sport by winning the Gold at the 2018 World Championships in Japan and also qualify for the 2020 Summer Olympics.
Eriksen's year started in the spring by leading South Florida back to the NCAA Tournament for the 13th time and winning a second AAC regular-season title in four seasons. Eriksen also became the 52nd head coach to win over 900 games in a career.
But this summer will be one Eriksen, and the United States national team will never forget. For the first time since the 2006 World Championships, birth to the Summer Olympics would be at stake. The United States accomplished the two goals it wanted; win the Gold Medal World Championships in dramatic fashion and qualify for the 2020 Summer Olympics in Tokyo.
17 days later, Eriksen who has been the Head Coach of the national team since 2011, Reflected on the World Championships with me in this exclusive one-on-one interview.
Here is my exclusive one-on-one interview with Ken Eriksen.
Eric Lopez: What are your thoughts on the World Championships and your team coming out on top as well as qualifying for the summer Olympics?
Ken Eriksen: Well to say it was exciting only scratches the surface. At some point in not only the final three games (Australia and then Japan twice) but throughout the entire tournament, someone else stepped up and either made a big play defensively, got a key hit, or pitched us out of a jam. The thrill and emotion that I saw on the faces of our women when they clinched the berth to the 2020 Games were only matched by the raw emotion of winning the Gold Medal in the tenth inning. The greatest game is also the fairest game. The bat and ball game gives everyone an equal opportunity to win. The team that had the lead can't "freeze the ball" like in basketball and football. We were fortunate to have a plan in that tenth inning and execute it well. It took the entire team in that one inning for the equation to spit out a USA "W."
ELO: Describe this team and how they seemed always to answer the bell when it faced adversity coming from behind in the bottom of the tenth in a game that went back and forth?
Eriksen: If you have followed this program over the last five years you can see that this is not something that just happened. We came back a few times in the 2016 World Championships to capture Gold there also. Most recently we did it in the Gold Medal game in the International Cup in July too. It just seems that the pitchers take pride in picking up there "family" just as the hitters take pride in picking up the pitchers. It's a "pride" factor that comes with wearing USA on your uniform, and it's instilled from day one.
We have players that have been with this program since 2010. You have to have a core group of players that have experience and have experience winning with each other. Those long-term experiences tend to lead to winning. People are like real estate, the longer you have them, the more valuable they become. It's really neat to see a player like Valerie Arioto look at a Michelle Moultrie without saying a word, and they both know exactly what to do. It's fascinating to watch what could be the best middle infield ever to play USA Softball, Aguilar and Spaulding, work simultaneously on cuts, relays and double-plays. To watch McCleney work with Takeda-Reed, to see Stewart work with Munro, and to listen to Cooper and Edwards and Abbott talk about the game, I am like a kid in a candy store. It was incredible to hear our players when they weren't necessarily in the line-up get behind the hitters and pitchers. Jaquish, Barnhill, O'Toole were so ready every time they were called upon. Ricketts worked so hard, along with Garcia, to get squared away to face some excellent hitters and it paid off. Kirsti Merritt was like our "sixth man" in basketball. She made things happen constantly. This team had a tremendous softball IQ and had an attitude that basically said, "we don't care who gets the credit as long as will benefit at the end," and that surely happened.
ELO: There is so much talk about who is on the rosters. But your not building an all-star team. You are building a team. How critical is building a team that has chemistry on and off the field?
Eriksen: Well I think you hit the nail on the head. There is always going to be critiques of USA softball because quite frankly there are a lot of softball fans out there that are passionate about the game. We have a proven formula that teams that "learn each other" and are willing to buy into the USA softball philosophy of "us" and not self-promote through social media but truly bleed red, white, blue, will have a better chance to win GOLD.
The longer that you can retain good people who play a high level of softball, and are great role models, the more you can accomplish. Not everyone can perform with USA on their uniform as we have seen in the past. I think it's critical to differentiate between levels of softball also. College is a great minor league for the pro-leagues. If a college baseball player makes a great defensive play in the College World Series or hits two home runs in the College World Series, he is not going to the NY Yankees the next day. I think we have to be realistic in softball also. We play against some of the best women in the world who are anywhere between 24-34 years old. So for us to have an all-star team from college is unrealistic in winning a GOLD medal. I believe the pro-leagues gives our American players the opportunity to continue to develop professional skills like traveling all summer and not being catered to as the colleges cater to their players. They have a chance to grow-up, mature and figure it out.
We are lucky right now in the United States that there are organizations that are out there that are willing to do that. It also helps us in deciphering who fits into our program. However, I do believe that if we put together a team of 19-year-olds, we would beat anyone else's 19-year-old teams. Our 16-year-olds would beat other countries 16-year-olds. But our game is each countries best players against each other and experience has a tremendous advantage.
ELO: Describe the moment when you found out officially that you had qualified for the Summer Olympics. What went through your mind then and even after coming back to states?
Eriksen: We had just finished our team meeting where we go over our opponents. We had played Japan the night before, so we combed through Canada's line-up. During the meeting, Canada was playing Japan for the right to get to the Gold Medal Game. If Canada wins, then the winner of USA-Canada would get the bid. If Japan won, we would secure the bid because Japan was in the 2020 Games already because they were hosting. When the meeting had finished, I went to my hotel room to get ready to leave. I had all my charts and clothes in my bag, but I just wanted to check the score. I sat down on my bed, and the computer showed that it was the last inning two outs and two strikes on the Canadian batter with Japan holding a three-run lead. It was the first thought I had of the 2016 announcement of both baseball and softball getting re-instated for the Games. I started trembling a bit because of the work we had done to keep the program alive at the level we were at with all new players in 2011. It was like the longest pause I can remember waiting for a result of the next pitch…….then it flashed, and I got emotional.
You have to remember that we didn't make two "cuts" to get the sport back in 2011 and 2012. We were dead in the water until the IOC changed leadership. Then the 2016 announcement. Then the pressure to secure the bid. Then we lost in the opening round of the World Championship Qualifier in the 2017 playoffs. One more loss and there would be no World Championships. Then we did what no other team in International ball had ever done; we won four straight to win the Qualifier and head to Tokyo for the 2018 Worlds. All of it hit me at once. Wow. I remember getting onto the bus and looking at our team, they knew what just happened but they were so focused on what they came to do, and that was to win GOLD that night. When it was all over, and we came back to the states, you are just so out of it because of a 13 hour time difference that it takes a few days to decompress and go over the entire tournament. The weirdest part is not being around each other. The best part was looking through all the pictures and just knowing that all that mattered were the people you just got to share it with.
ELO: Describe the experience and time you and the team spent in Chiba for those that are not aware of how big Softball is in Japan.
Eriksen: The Japanese people love softball and team Japan. No matter who they are playing. They also enjoy watching good softball, and as they may not like the outcome, they appreciate all the teams and respect the game. They are very educated about the game. The most enjoyable part is that there isn't any hostility towards opponents or adversaries on the field or off the field. The Japanese do not use social media to complain or attack. It's refreshing and gives our young people great hope that there are more fans like that across the world.
ELO: Describe how the International game has grown and changed since you got involved with the Women's National team in the early 2000's.
Eriksen: It's very similar to the college game in respect of the teams competing. That back in the early part of the 1990's there was UCLA-Arizona and everyone else. At one time in the late 1990's, it was Australia, China, Japan, and the USA. Now on any given day Australia, Canada, the Netherlands, Venezuela, Puerto Rico, Italy, Mexico, China, Chinese Taipei, and Japan can beat anyone. We have done such a great job of promoting the game by sending out former USA Coaches to teach coaches how to coach since 1992 that it has paid off. So to compare what you have to do now to what we used to have to do is not fair. The WORLD is exponentially better as was evidenced in 2008 by Japan winning the Olympic Gold Medal against an outstanding USA Team.
ELO: What is it about Team USA that you always wanted to be part of as a player, assistant coach and head coach even when the Olympics were not an option and be willing to balance your schedule with your responsibilities as head coach at South Florida?
Eriksen: I'm an alum of the program as both a coach and as a player. There is nothing like wearing those three letters. I had listened to the National Anthem as part of the first USA team in any sport to play in Cuba since 1958 in front of Fidel Castro back in 1988 when it was Russian occupied and under communist rule. I have listened to the national anthem in front of Hugo Chavez, the Venezuelan dictator, in 2010 and have listened to the national anthem as our flag was hoisted for the Gold Medal in 2004 in Athens, Greece. There is nothing like it.
So, when I was offered the job in January of 2011 by, the National Team Director at the time, Ronnie Isham, I was informed of two things. The first was that all the current players for Team USA had retired three weeks earlier and were going to play in the pro league, and second, he was told by the commissioner of that league that the USA would never win again without those players.
My New York came out and I asked him to pass a message along. So obviously it was a challenge, and it was even tougher to try and get help from coaches across the country because it was a non-paying job. So the plan was to start asking our "family" members to transition into USA coaches. Tairia Flowers and Laura Berg were the first two, and they are still in the coaching program. Natasha Watley is also with us. I also asked people that I felt were loyal to help coach all the while selling them on the "no-pay" aspect. I had a 25% return. Since softball was reinstated in 2016, it seems everyone is now coming out of the woodwork to volunteer to help. I can understand that, and I'm glad to see a reinvigoration of interest. However its different. The women are different than college. You can't over-coach like in college. These are professional people that are independent thinkers. They have to be allowed to be creative. Our catchers call their own game. Our middles call their own defensive sets. Our players are "allowed" to play and have a hand in decision making. They are grown-ups. So if coaches want to elevate, then they need to "apprentice" in the pro-leagues for a while or get involved as assistant coaches and learn a higher level game."
ELO: Now that Team USA is in the Summer Olympics. What is the next step in the process of getting ready for the 2020 Games?
Eriksen: Training, training, and more training. Our current National Team Director Chris Sebren and Executive Director of USA Softball Craig Cress are beating the bushes every-day for funding. Canada gets government funding. Japan receives corporate sponsorships and government funding. We rely on the general public and private donations. We fundraise and it is an effort to ask our players to sacrifice more of their time to do this. They have been incredible. They get what this is all about. We don't stay at luxurious hotels, but USA Softball provides us with a very high level of taking care of what we need to be comfortable. Our team is a bunch of "blue-collar" workers. They train hard to represent all the girls that inspire to be them. They aren't household names because they understand that there can be only one focus, work. I truly hope that the people of the great world of softball in the United States realize that you truly hope that your daughters grow up to be like these women. They are inspiring.