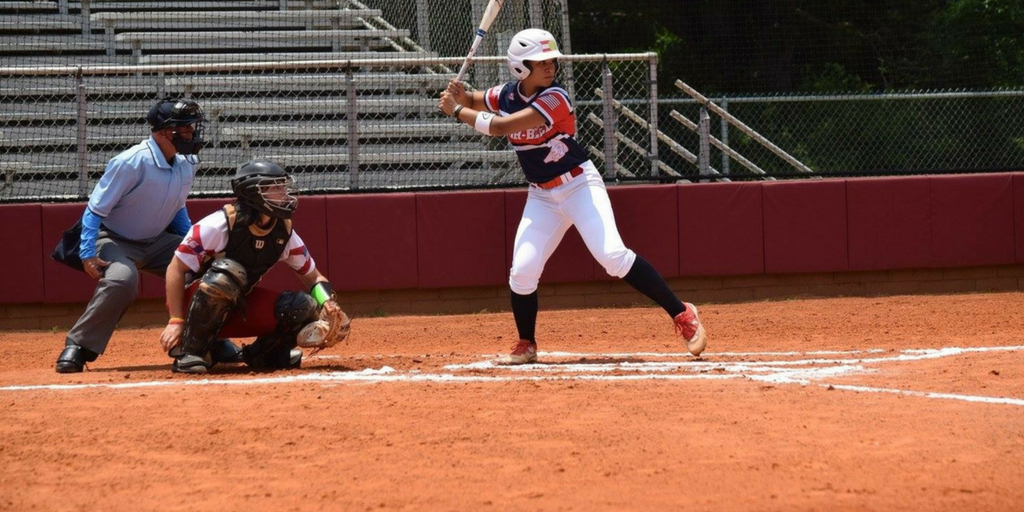 Savannah Horvath has had a memorable 2018. First,  Horvath capped off her college career at CSUN with her best season hitting 16 Home runs (T-31 in the NCAA) with 41 RBI's while slugging .781 on the season which ranked 22nd in the NCAA. She also had 132 total bases which ranked 27th. Horvath scored 60 runs averaging 1.02 runs per game which ranked her 17th and she won the Big West Player of the Year and third team NFCA All West-Region.
Horvath was selected with the 17th overall pick in the inaugural American Softball Association (ASBA) Draft. She has had a tremendous first season playing for Moh-Beel!  She made the league's inaugural All-Star game, which was played on July 21 and was named the MVP of the game.
Horvath goes " 7 Innings" with me now.
Eric Lopez (ELO): Congrats on winning the ASBA All-Star Game MVP,  Describe what it has been like to play in a new league this season?
Savannah Horvath: "Thank you, it was an honor being able to have the opportunity to be able to play in the iinauguralASBA All-Star Game! Also, then to have my fellow teammates and coaches think that I was deserving of the MVP honor, out of so many talented young women in this league is truly a blessing. Playing in this new league has been one of the most memorable times I've had in my softball career. I have been blessed with a  great team, a great coach, and some new lifelong friends that I couldn't be happier that have walked into my life. This experience has given me the chance to continue my love and dream of playing and growing this sport!"
ELO:  How did you find out about the league and what was your reaction when you were selected 17th overall in the League's first ever draft?
Horvath: "I found out about this league when I was approached by my coach, and she was saying that she had gotten an email saying that they would like for me to register for the draft in the new league. I was super excited but also at the same time I was also very nervous because I was also chosen to go on a school trip to Costa Rica for a Habitat for Humanity trip, which this would be causing me to be a few days late to join in the league. I was very nervous thinking that because I was going to be late, and that games would already be started it would prevent me from being drafted. But thankfully, I was blessed with a great coach who allowed me to attend my journey and still join the league! As far as the draft goes, my roommates and I were watching it on facebook live, and I remember my roommate was about to leave for an errand, but I had a feeling that once it came to Moh-BEEL USA! and the 17th pick, I just had a feeling, so I told her to stay real fast, and sure enough, I was able to watch that pick with some of the closest people in my life. I still have the video of our reactions, it was so surreal… I was finally going to live my dream of being a professional athlete."
ELO:  2018 Has been really good to you! You were the 2018 Big West Player of the Year.  What was it about your senior year that the entire game seems to click for you?
Horvath: "To say that my senior season was amazing would be an understatement. I don't think that there is just one word that I can use to describe my senior year and career at CSUN. I knew that when I signed my NLI for CSUN, I told myself that once I step foot on this campus, I want to be the kind of athlete and player that leaves her legacy behind. I want to be the player that makes a difference in a program, and I want to make a name for not only myself, but I want to get my school on the maps. Each year, I got better and better, but that also came with lots of hard work and sacrifices. I think the slight difference for me in my senior year, was the fact that I had a teammate who was, and is so incredibly talented in this sport of ours, and she had been through the ringer when it comes to injuries. Carissa Sherman would have graduated in 2017 with the Dirty Dozen but suffered an injury which prevented her to. But that also blessed me beyond words, because I had one more senior to ride this journey instead of being alone. Unfortunately, when she suffered another injury, which took her away from this sport completely, I made sure that I was playing for the both of us. My senior season was for me in a way… but it was more for us than me."
ELO: You were the third player of the year award winner in the last four years from CSUN. What is it about CSUN producing Player of the Year award winners and what did you learn from past winners Taylor Glover and  Katie Hooper?
Horvath:– " Coach Flowers has a way of picking some amazing talent. That isn't just limited to POY accolades, we have talent from top to bottom in our lineup, and everyone is so important in their own ways. A team is an entire roster, and a team will need EVERYONE in order to win. Coach isn't just a coach to us, she's a mentor and a role model, she encourages us to learn and provides us with the opportunity to get better. As far as my time being teammates with Katie Hooper and Taylor Glover, I feel like my time was so short. Although I had 3 years of being able to play side-by-side with them, I wish I would have been gifted with more! They were the seniors that I strived to be my senior year, they made it easy for me to become comfortable with not only myself but with the new environment with being away from home. They were the people I looked too when in need, and they never steered me wrong. And for that, to my coaching staff, and my teammates, I will forever be thankful."
ELO: Have you reflected on your career at CSUN?  What will you remember the most?  The 2015 Big West Championship and NCAA Tournament appearance in Los Angeles?
Horvath: "I look back on my time at CSUN frequently. I often find myself wanting and wishing that I wasn't quite done yet. There is just so much to be grateful for, but I think some of the best memories that I've made in my 4-year tenure were the times that people doubted us as a team and the times where we proved them wrong. When people said "we won't win against them" or "they have no shot", and we did, those were the times I enjoyed. Yes, winning conference my freshman year definitely has a special place in my heart, but I enjoyed most being able to fight with the people who will go to battle with me any day!"
ELO:– You are from Vegas, I noticed that you are a big Golden Knights fan. Have you always liked Hockey or did you just jump on Golden Knights this season? Who is your favorite pro athlete?
Horvath: "I am born and raised in Las Vegas, and I couldn't be more proud to say that I am Vegas Strong and Vegas Born! Yes, I have previously watched hockey, but I wasn't per say so overtaken by it. I wouldn't mind watching it and kinda keeping track here and there of a few teams, but never did I ever think I would fall in love with a team so much. I wouldn't say I "jumped" on the Golden Knights train, people are quick to judge and say the term bandwagon, but little do they know what the Golden Misfits (Golden Knights) have done to heal our city after the tragedy of 1 October 2017. This team is more than just hockey to the people of Las Vegas, they are our hometown heroes. My all-time favorite athlete will forever be Crstyl Bustos. I loved watching her play and just was mesmerized by every at-bat that she had, and the way she played the game. She was just a stud, and that's what I wanted to be!"
ELO: What is your goal on the field the rest of the of the way and plans after your softball career ends?
Horvath: "My plan is to be able to grow the game of softball while I can continue my career as a professional. I want to be able to be the next person that some little girl looks up too. I want to be able to inspire, and lead. I am currently still finishing my fifth year for my undergradute degree in Kinesiology with an emphasis in Exercise Science. With my degree I want to go into Athletic Training, I will most likely like to get an ATC job, but I would also like to coach the sport that has given me everything."
ELO: Who and or what inspired you to Play Softball?
Horvath: "I was always active growing up as a child. I've played multiple sports like soccer, tennis, I am a first-degree black belt in Tae-Kwon-Do, I have done gymnastics, and some other sports here and there. But I first started playing softball at the age of 4, and when I started playing, I wanted to try and find something that was a little different than the normal sports. The second I stepped on the first ever field I played on, I knew that this would be what I would devote my time too, and I knew that I was going to be a DI college softball player, and I knew that I would be a professional someday. Like I said before, my favorite athlete is Crystl Bustos, and ever since I started watching her play, and I went to a camp where she was one of the instructors, I knew I was hooked, and I was completely okay with that. But also, my inspiration was and forever will be my family. Without them putting in their time and money to support my addiction to a sport they never would have guessed would be my kryptonite, will never go unnoticed. To my three biggest fans; my mother Kim, my grandmother Margie, and my uncle Paul, without your love and support, I would not be able to have lived my dreams thus far… this is only the beginning, and I am so excited to have you as my biggest fans along side me for the ride!"
ELO:  Two of your favorite TV shows are Big Brother and Survivor. What is it about Big Brother and Survivor that you like and do you have a favorite all-time character from either Big Brother and Survivor?
Horvath: "I have been watching Big Brother for as long as I can remember. I remember being on summer break as a young girl, and Big Brother was a show that we all watched as a family. It was either Big Brother or Survivor! But both of these shows were so intriguing to me because I was interested in the way that people would compete, and how people would manipulate and achieve success. Looking back at it now, I kind of compare it to sports a little bit, in almost every sport, you are running a play or throwing a certain pitch, to gain an upper hand against your opponents, and being a competitor, this was always something that I found so interesting. Plus, it got me and my family to unwind and take some time to ourselves away from the ballpark! Wow, there are so many players in the history of both Big Brother and Survivor that I loved to watch. But for Big Brother, I was would my favorite houseguest was Paul Abrahamian, and for Survivor, it would be Ozzy Lusth."