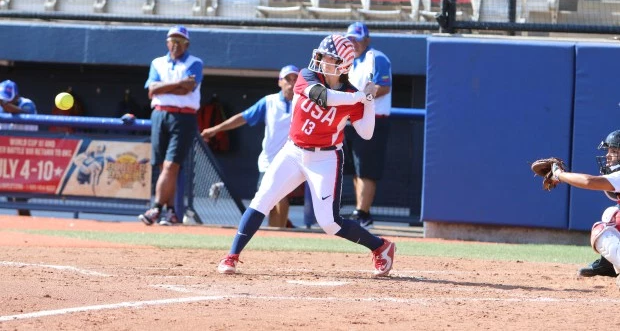 USA Softball announced the 20 athletes who were selected to the 2017 USA Softball Women's National Team on January 6, 2017.
"It is very obvious that the future talent pool of USA Softball players is very deep," Head Coach Ken Eriksen told USA Softball (Tampa, Fla./Head Coach at South Florida).  "The high level of play and skill assessment displayed at the 2017 National Team trials, not only by the former players but also by the first time trial attendees, was fantastic."
After the four-day process in Clearwater, Florida, 16 athletes will be returning from the 2016 team that won the Gold Medal at the World Baseball Softball Confederation Women's World Championship in Surrey, B.C., Canada. Four rookies will join the squad; three have previously worn the Stars and Stripes either as part of the Junior Women's National Team or USA Softball Women's Elite Team.
"After coming off the 2016 WBSC World Championship Gold Medal success, it is important for our program to keep moving forward," Eriksen continued to USA Softball.  "The 'prize fight' mentality of all the players came out in the competition with the roster spots filled by those that excelled through the trials with their skill sets, their productive play at this event, their productive play through past history, and lastly by character assessment.  These factors make up a winning unit.  We will continue to assess those that were here that did not make the team.  For those who made the roster, the evidence of how close it was should be a motivating factor to continue to strive to be better physically and mentally as we race towards the Tokyo 2020 Olympic Games."
The team will compete at the World Cup of Softball XII this July in Oklahoma City, Oklahoma, and at a Pan American Games/WBSC World Championship Qualifier.
The University of Florida has the most representatives with five, UCLA and Oregon both have three.
The roster is as follows:
Ali Aguilar, Washington – Sr. INF
Valerie Arioto, California – 2012 INF
Kelly Barnhill, Florida – Soph. P
Ally Carda, UCLA – 2015 P/INF
Amanda Chidester, Michigan – 2012 C
Kasey Cooper, Auburn – Sr. INF
Hannah Flippen, Utah – Sr. INF
Delanie Gourley, Florida – Sr. P
Paige Halstead, UCLA – Soph. C
Jazmyn Jackson, California – Jr. OF
Jenna Lilley, Oregon – Jr. INF
Haylie McCleney, Alabama – 2016 OF
Jessica Moore, Oregon – 2013 P
Michelle Moultrie, Florida – 2012 OF
Aubree Munro, Florida – 2016 C
Danielle O'Toole, Arizona – Sr. P
Delaney Spaulding, UCLA – Sr. INF
Kelsey Stewart, Florida – 2016 IF/OF
Janie Takeda, Oregon – 2015 OF
Morgan Zerkle, Marshall – Sr. OF