Media
New Mexico State: 2/7-2/10/19
"Enjoy the ups and downs. It's the color of your life," Kathy Rodolph.
I chose to open the 2019 NCAA DI Softball season in Las Cruces, NM with the NMSU Aggies. On top of having family in the area, I had the pleasure of meeting head coach Kathy Rodolph and associate head coach Cat Heifner last year. These two coaches are the kind of people you meet and instantly know they are so special. Both have been coaching for over 20 years and have compiled quite impressive resumes during that time.

But even more important than their on field success is what they, their program, and their student-athletes have accomplished behind the scenes and off the dirt. The stories of and obstacles some of these athletes – both past and present – have faced are inspiring and while you may never hear about them publicly, they are there and they are very real.

It may be one of the most impressive things about the New Mexico State program and these two coaches.

From guiding first generation college students to supporting their athletes through life's scariest moments, Rodolph and Heifner have been there to mentor, lead, and provide a shoulder to lean on when needed. They've done it with strength, unwavering leadership, by example, through a culture of accountability, and most importantly love.

And if you ever need a pump up or to get your head screwed on straight, head to Coach Rodolph for the most amazing motivational speeches or "kick in the pants" you're ever going to find!

During my time in Las Cruces and was able to spend a large portion of it around the team getting a feel for what their day-to-day looked like. You'll hear me say it often, I really love mid-major programs. There's something about doing a whole lot with a whole lot less and still being successful that I really relate to, appreciate, and admire. The Aggies program is no different and it is always all hands on deck. Everyone pitches in rather its front tossing to each other on drills, racking the field, pulling up bases following a game, pulling down "Berta" (their hitting cage), and literally anything else needed. You'll often find NMSU's graduate manager, Camilla Carrera, on the tractor grooming the field or assistant coach, Pam Stone, preparing equipment and jerseys. Again, there's just something about doing more with less to put a chip on your shoulder and make you just a little bit gritter.

Below are photographs and a video from my time with the Aggies during practice and their opening weekend game against big time rival, New Mexico. Enjoy!

Special thanks to the NMSU program including Coach Rodolph, Coach Heifner, SID Christina Anderson, and all Aggie student-athletes for welcoming me and making me feel like part of your program!

For any usage please contact Michael Kyllo-Kittleson at support@fastpitchnews.com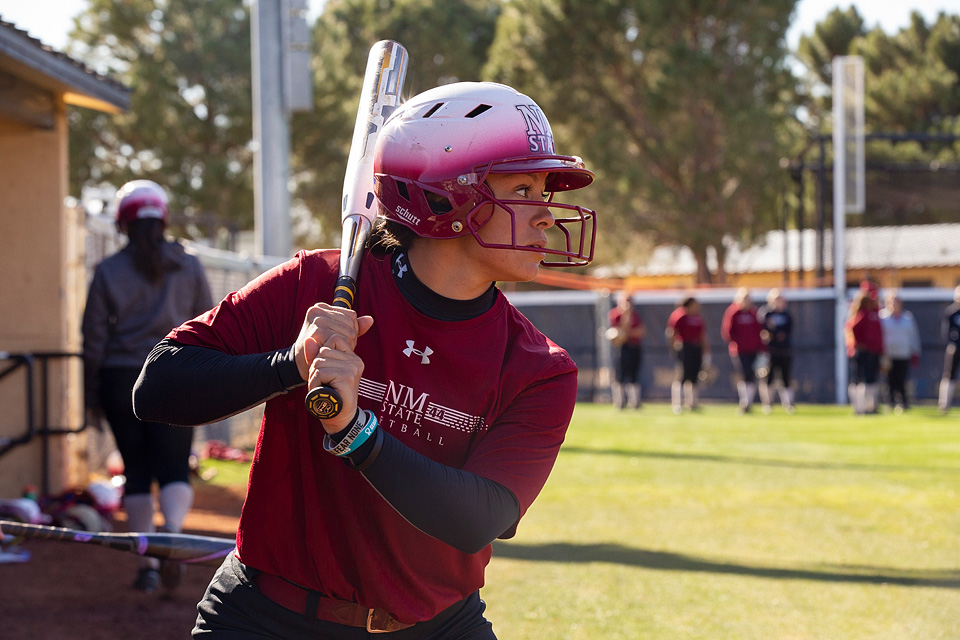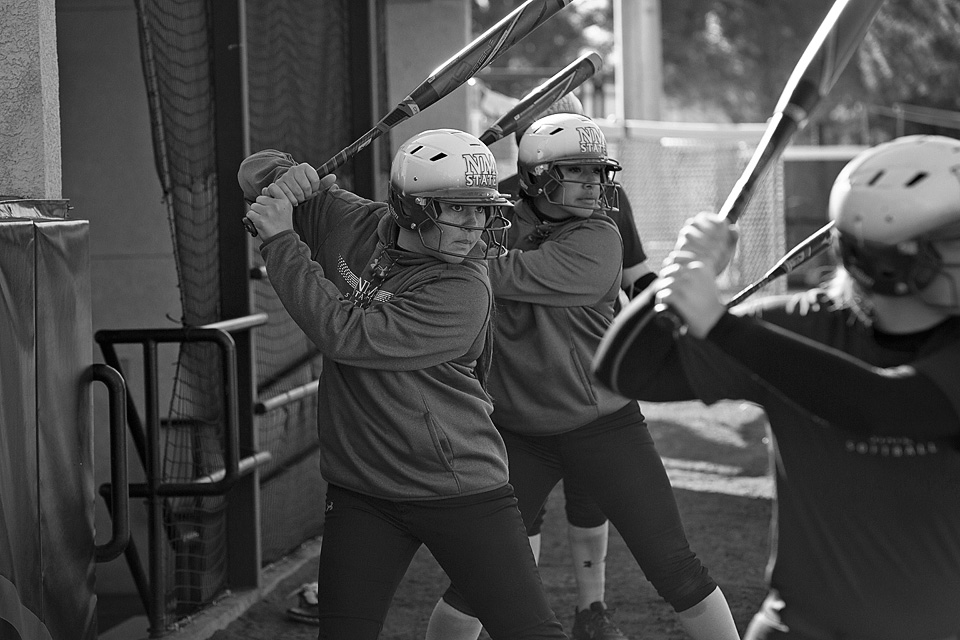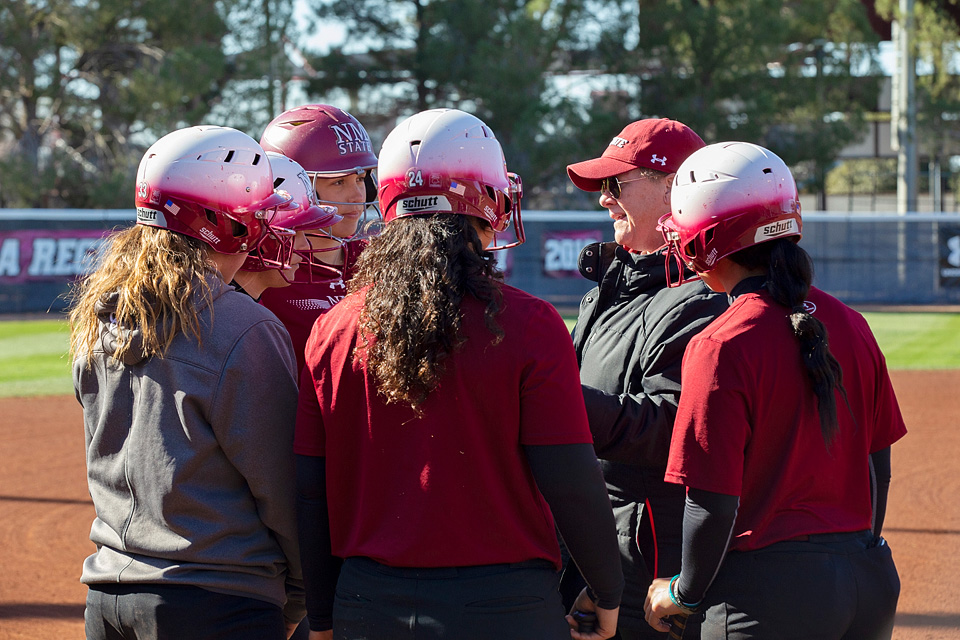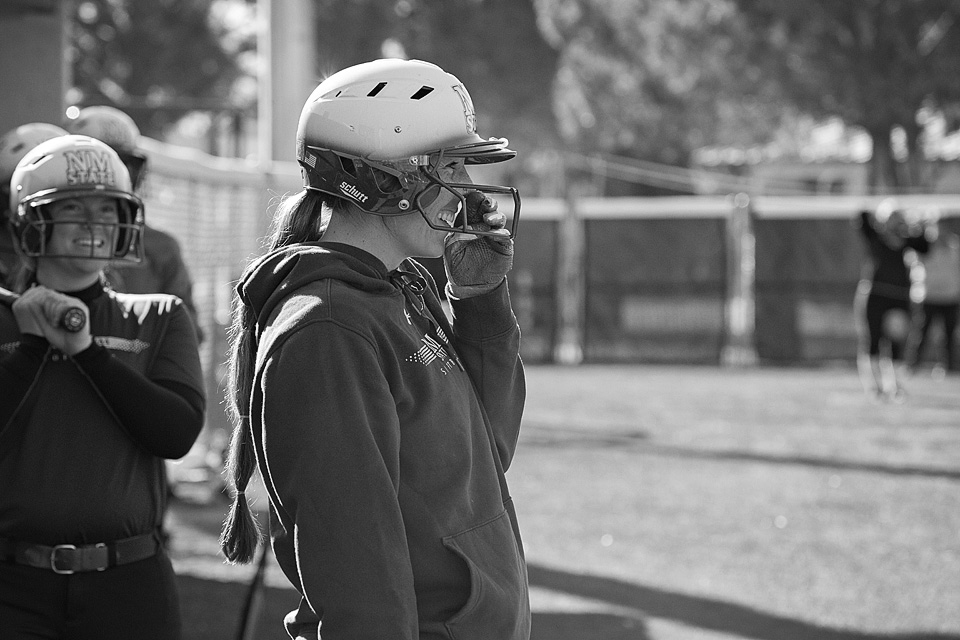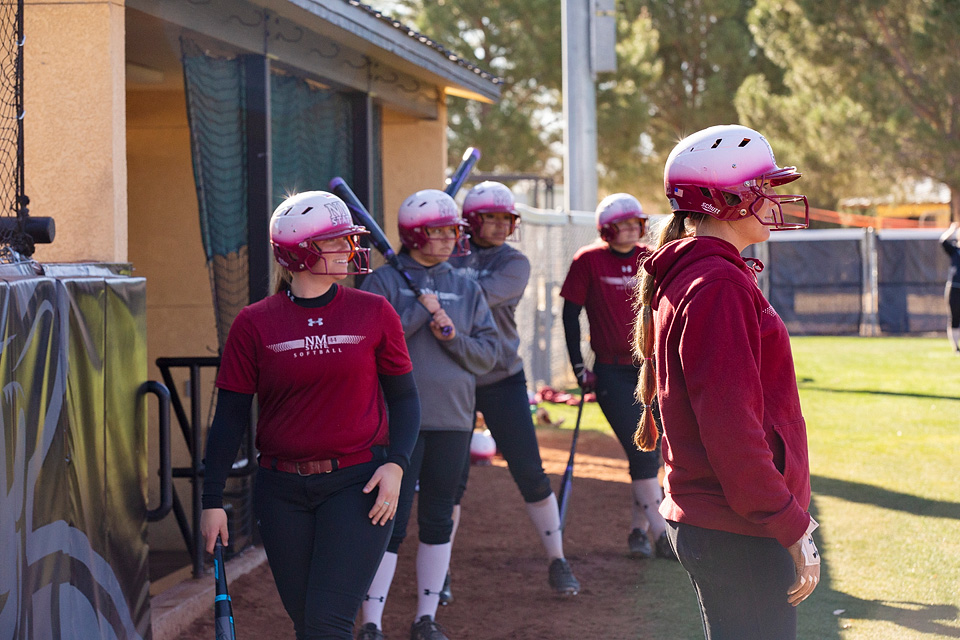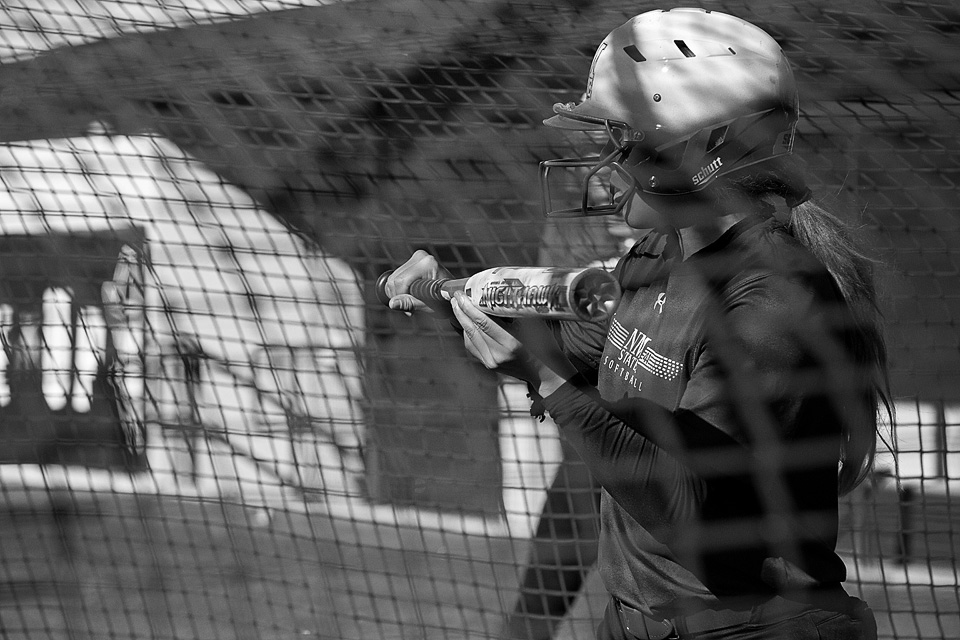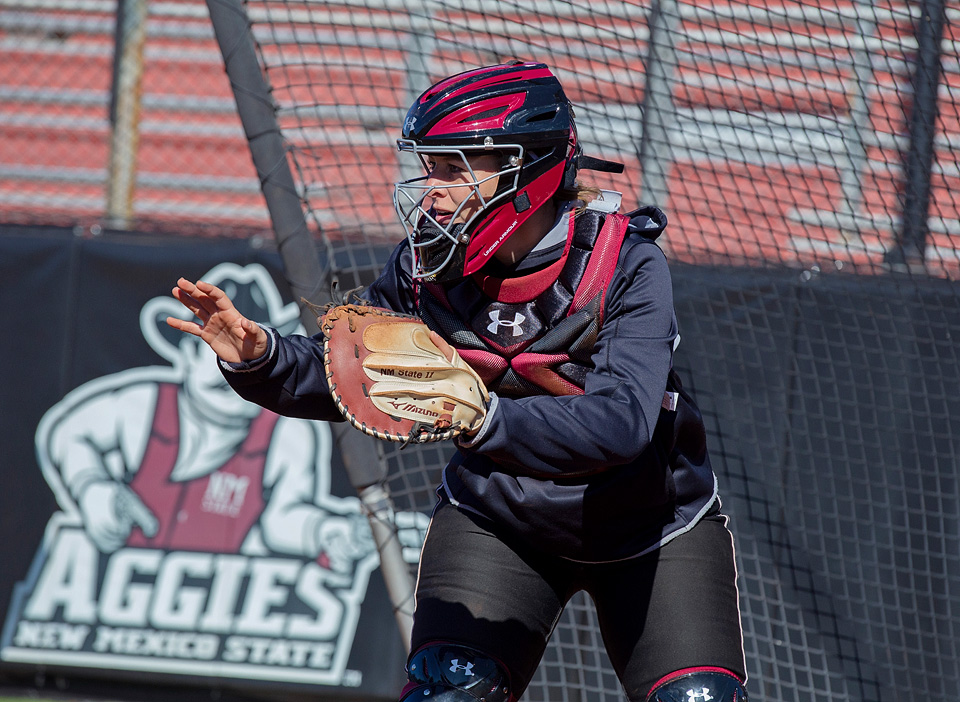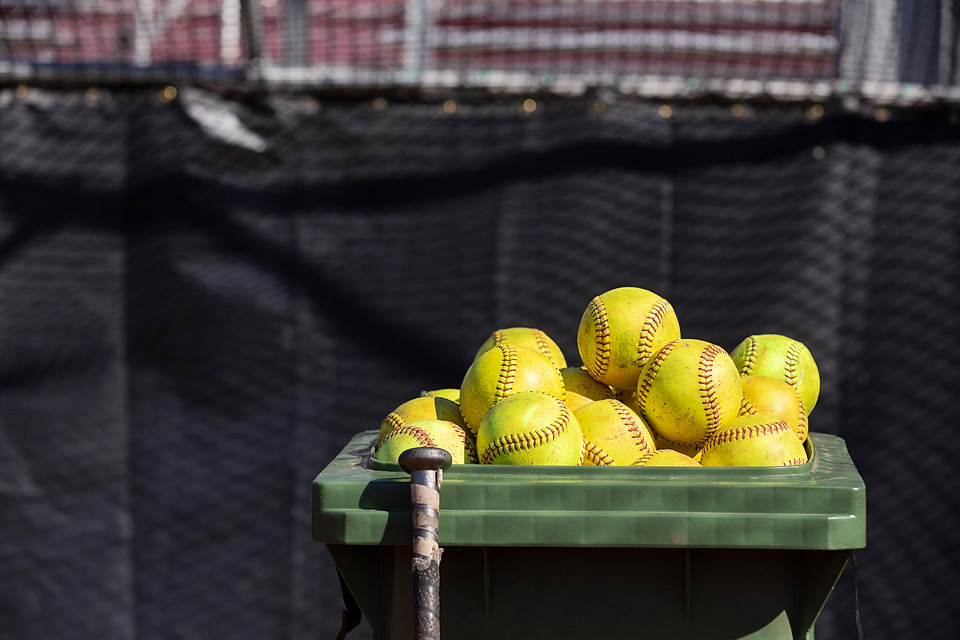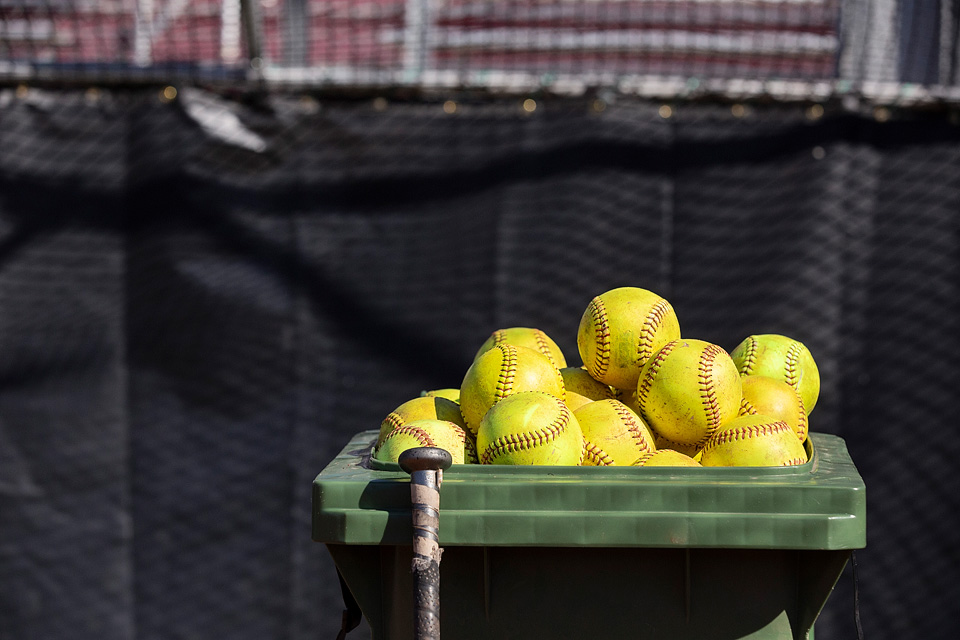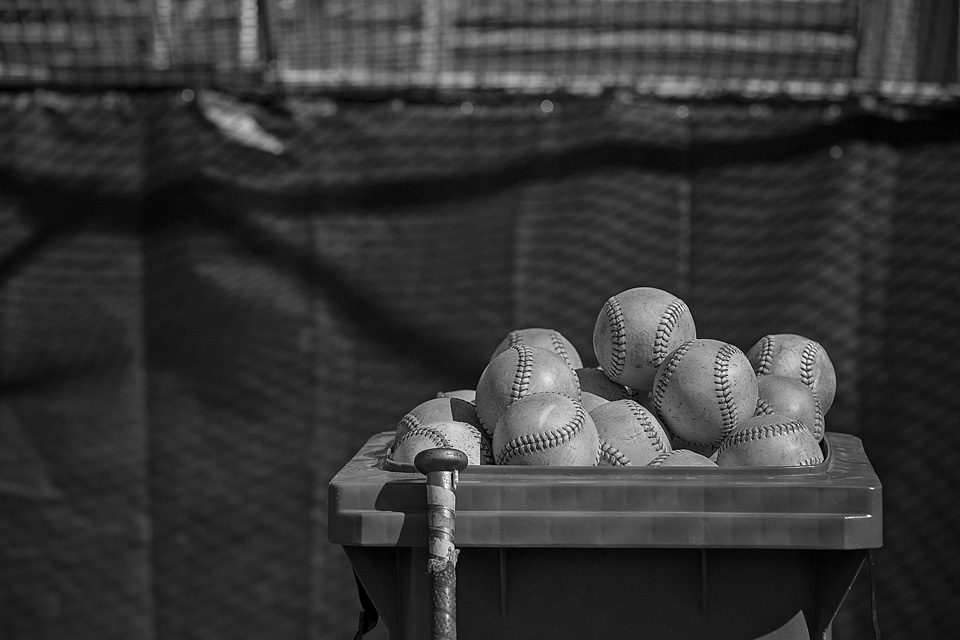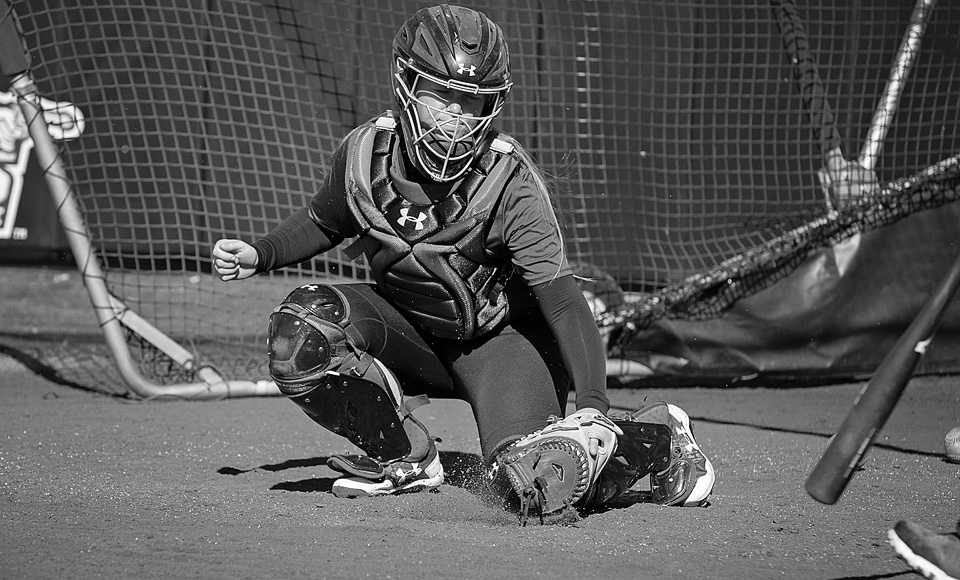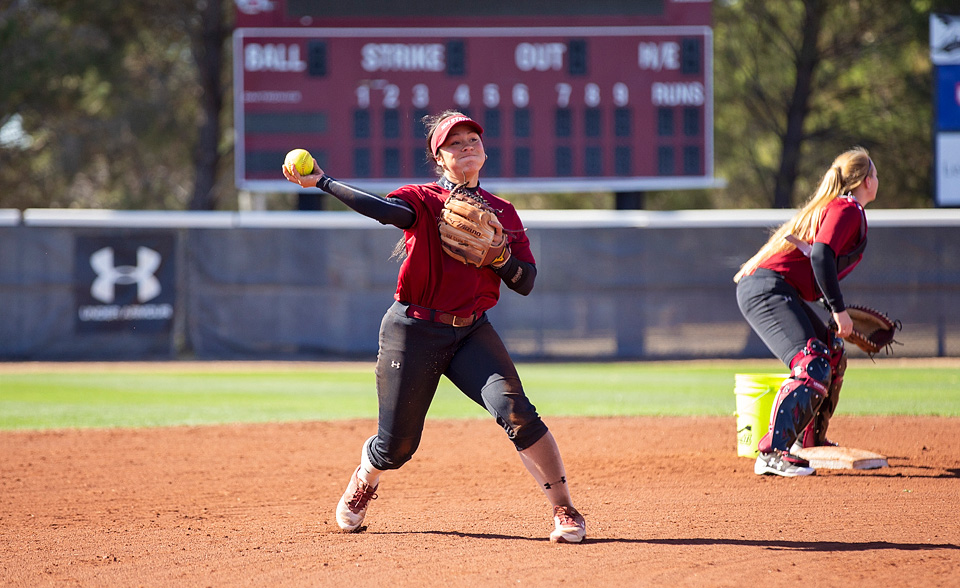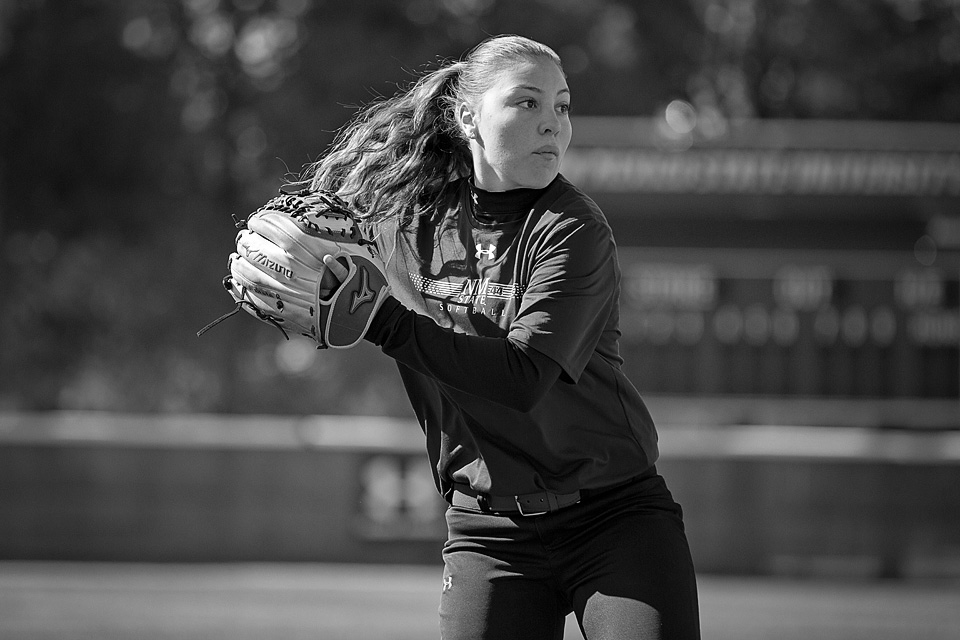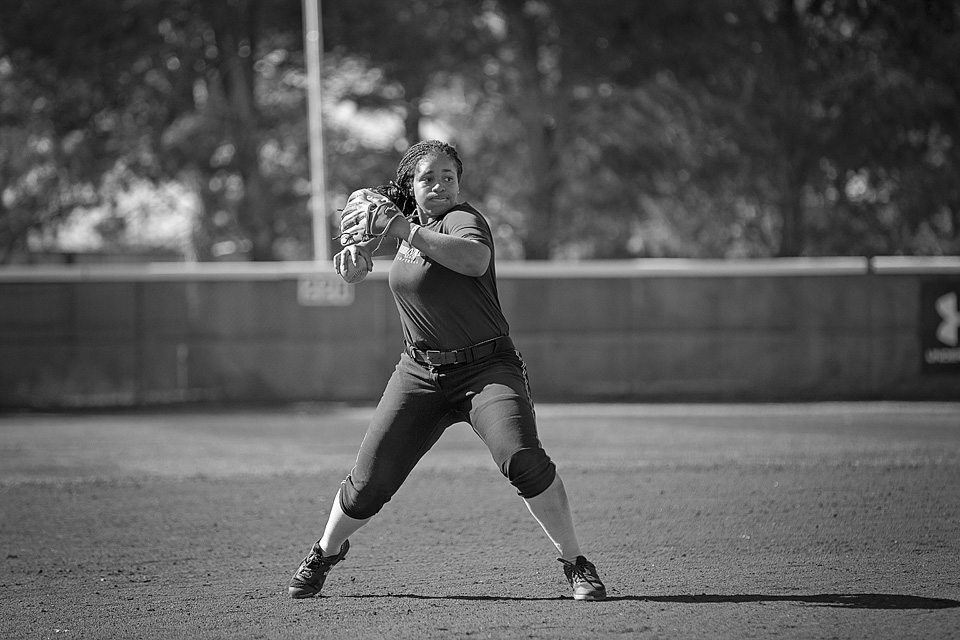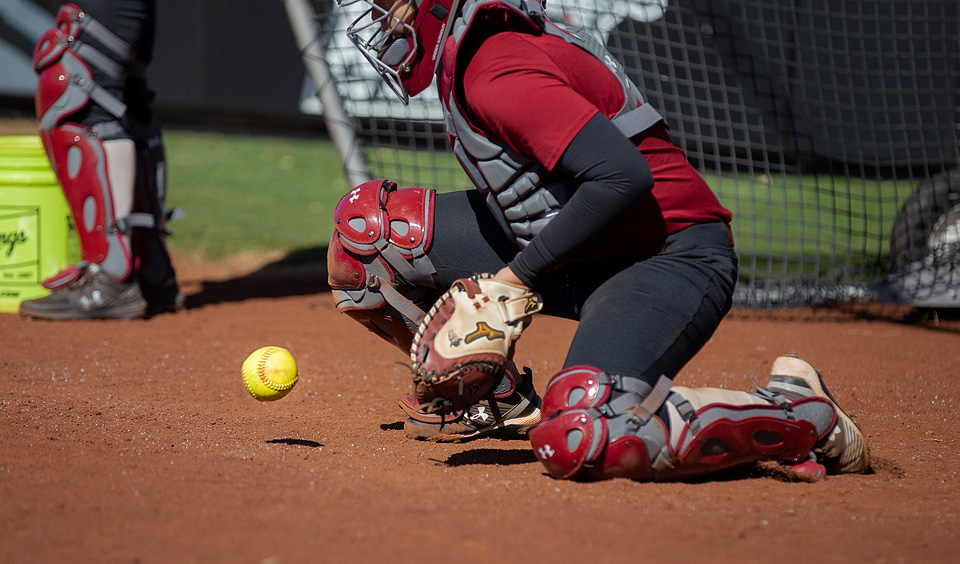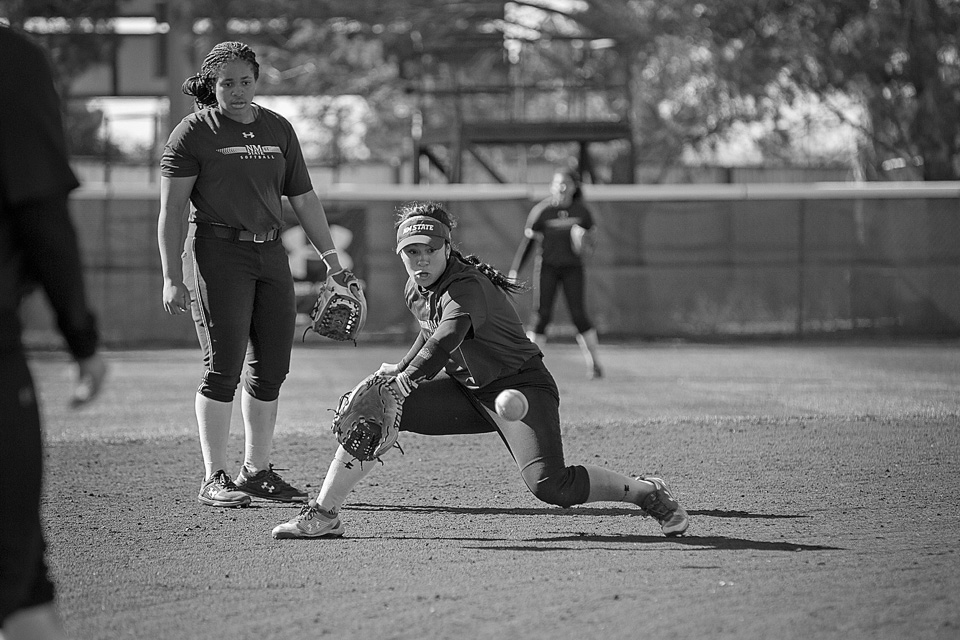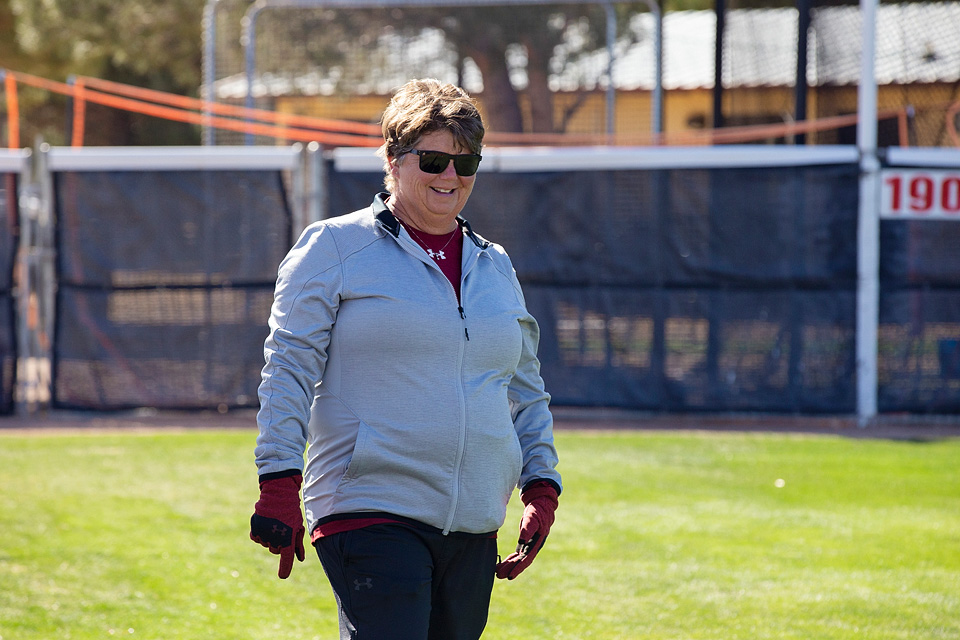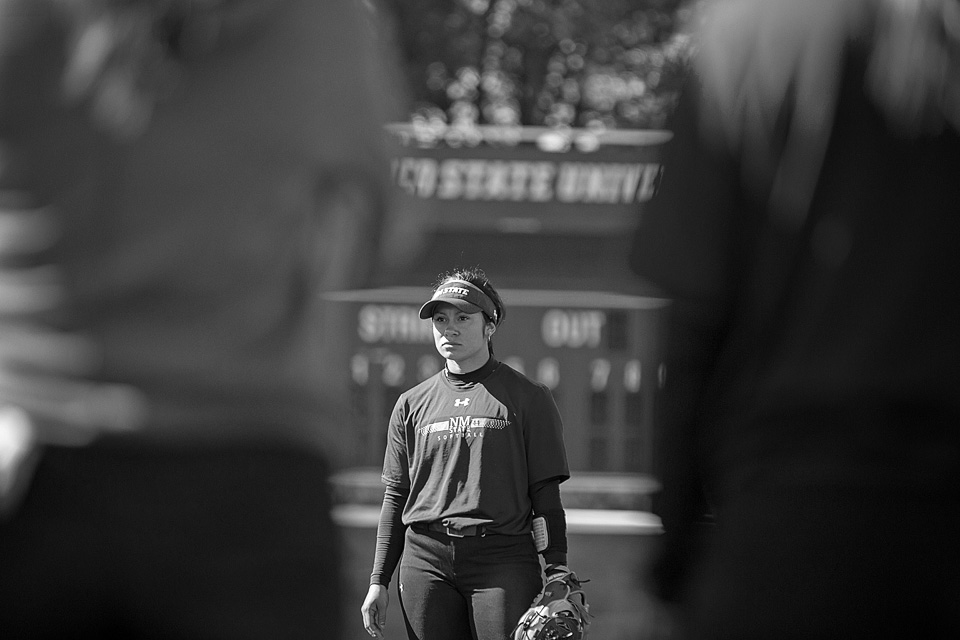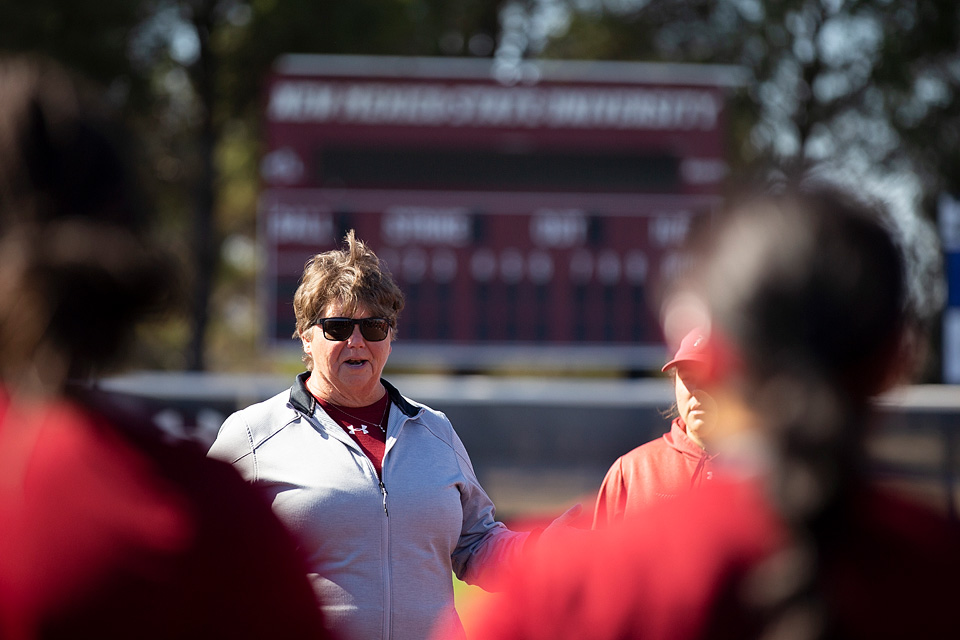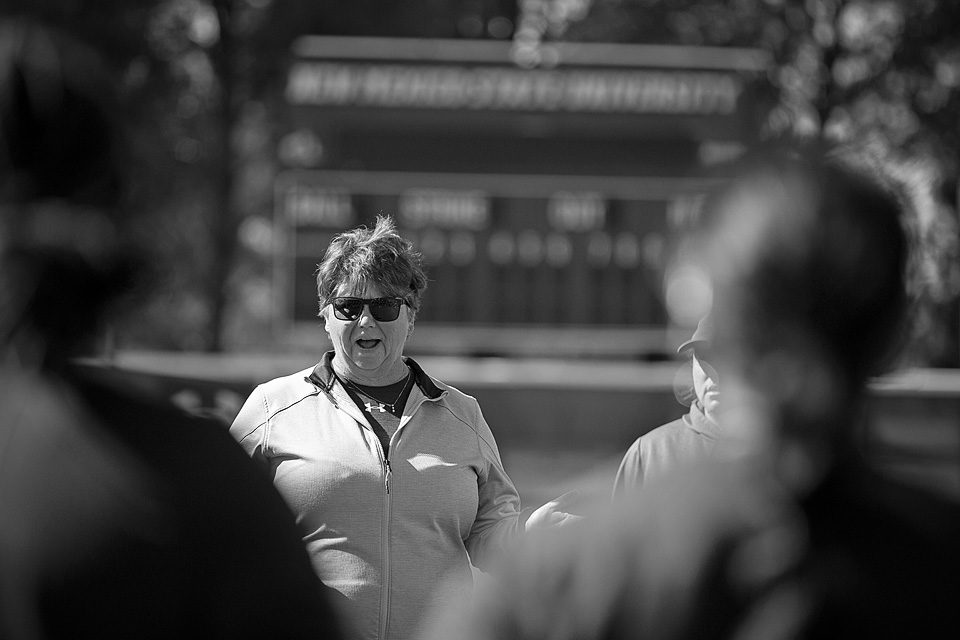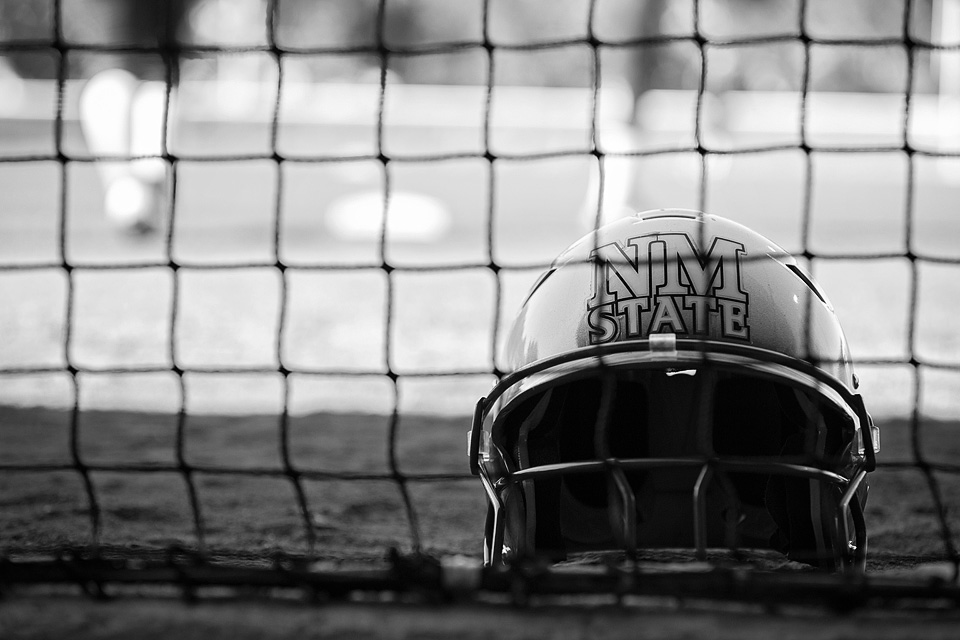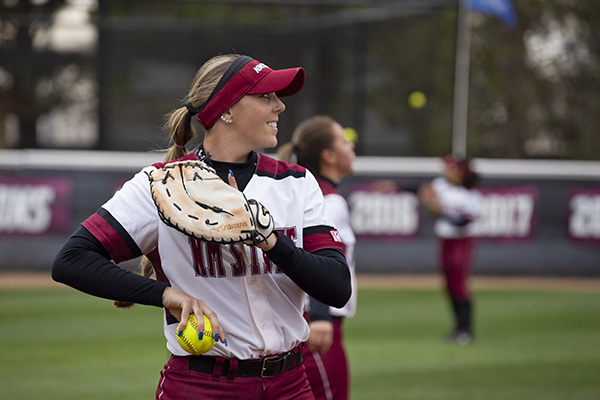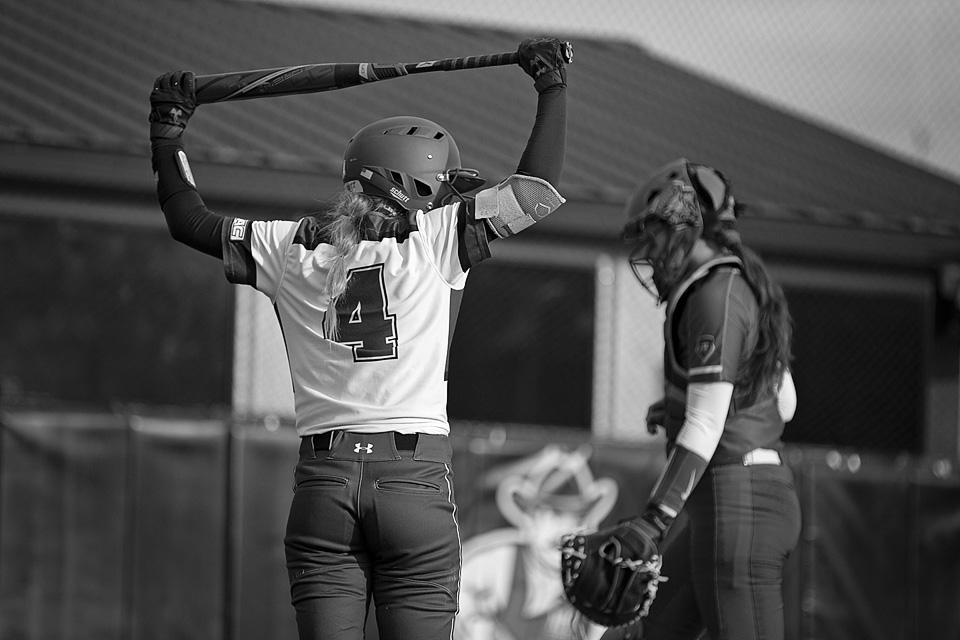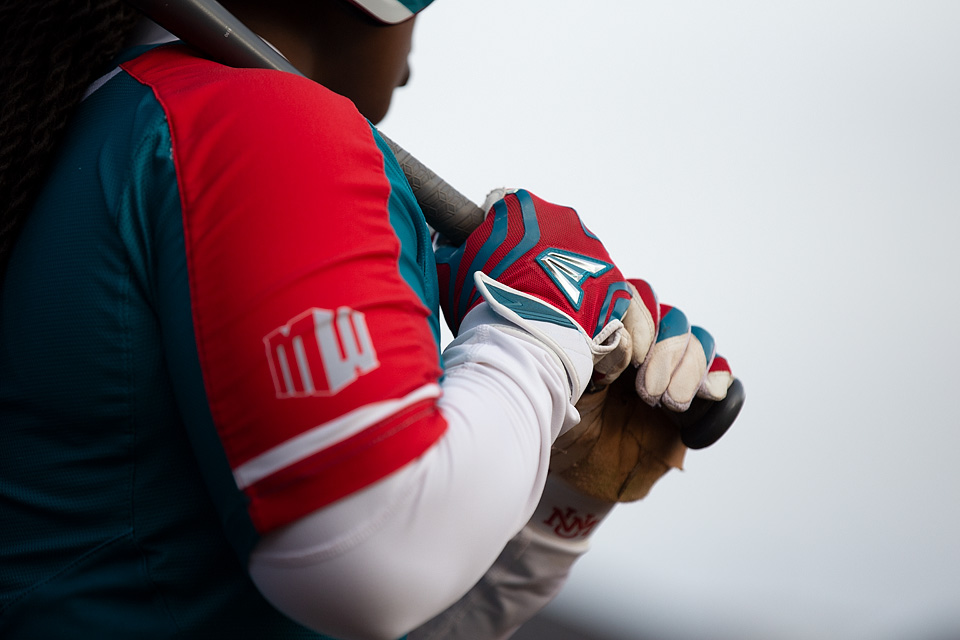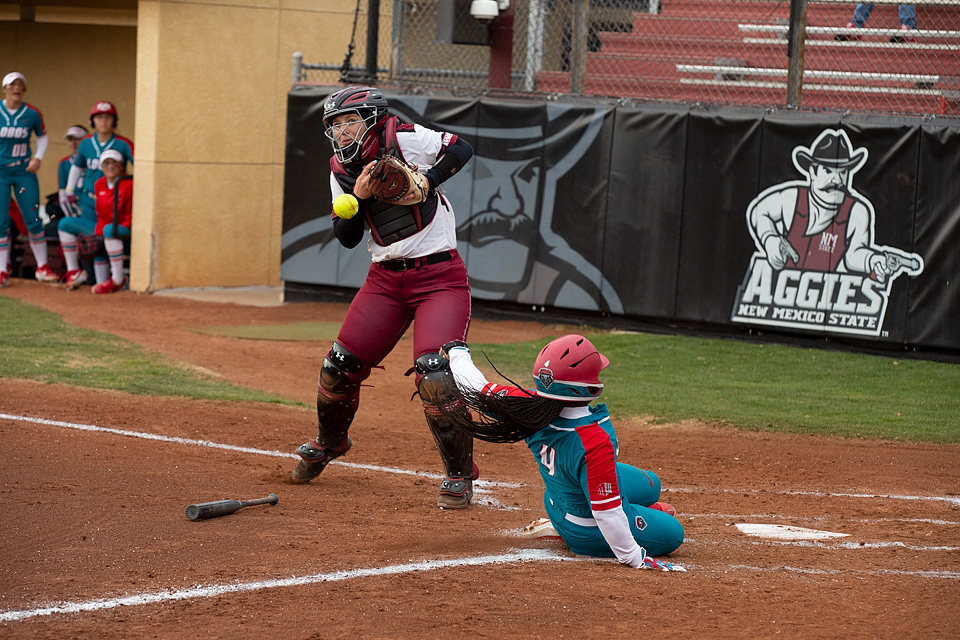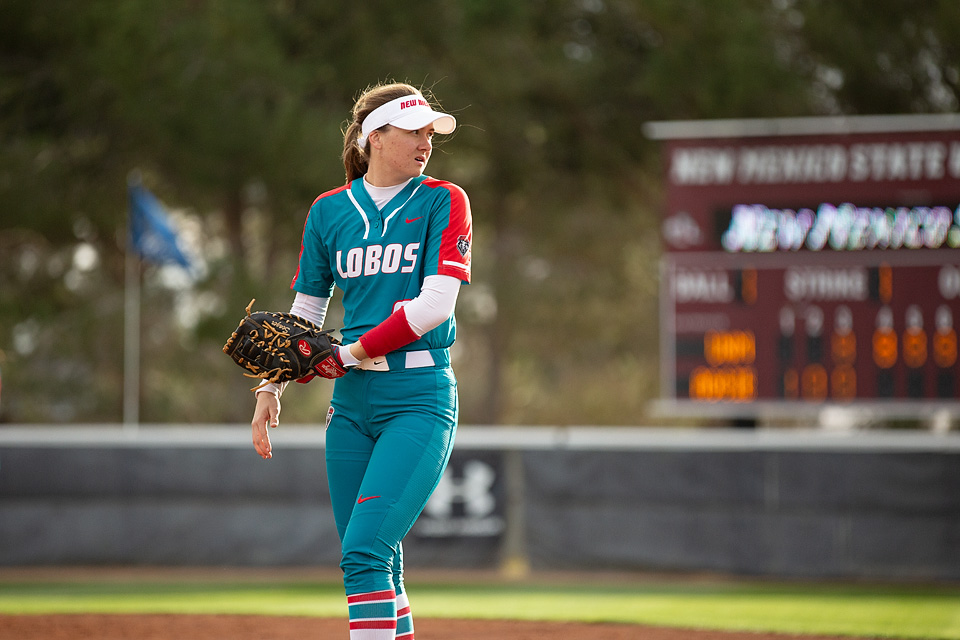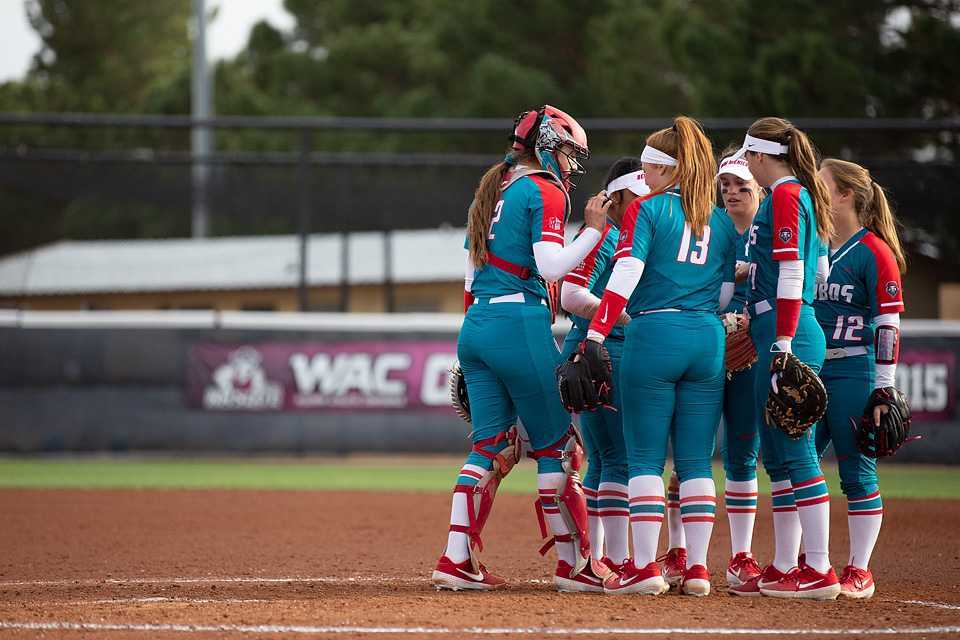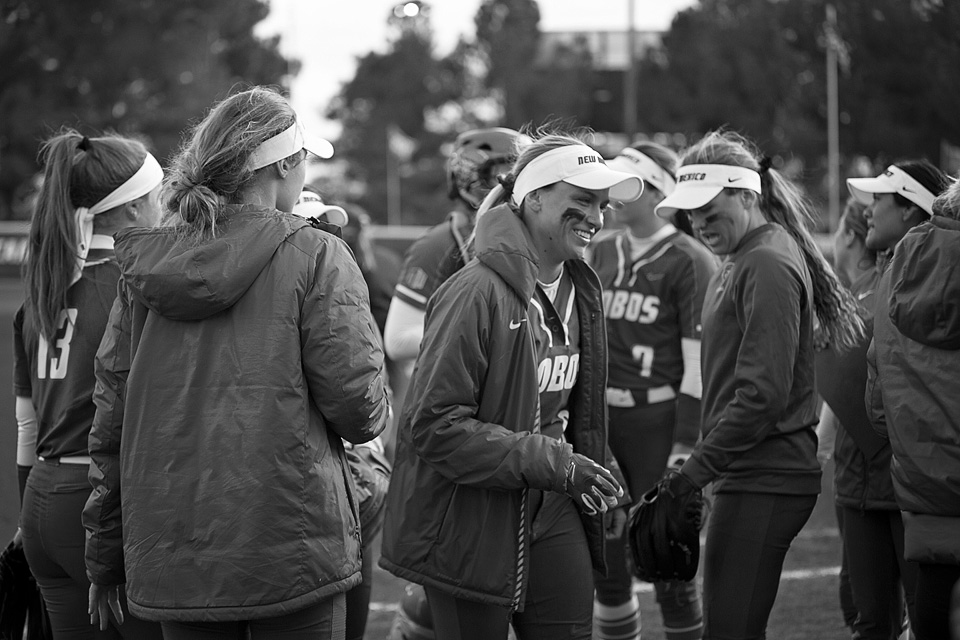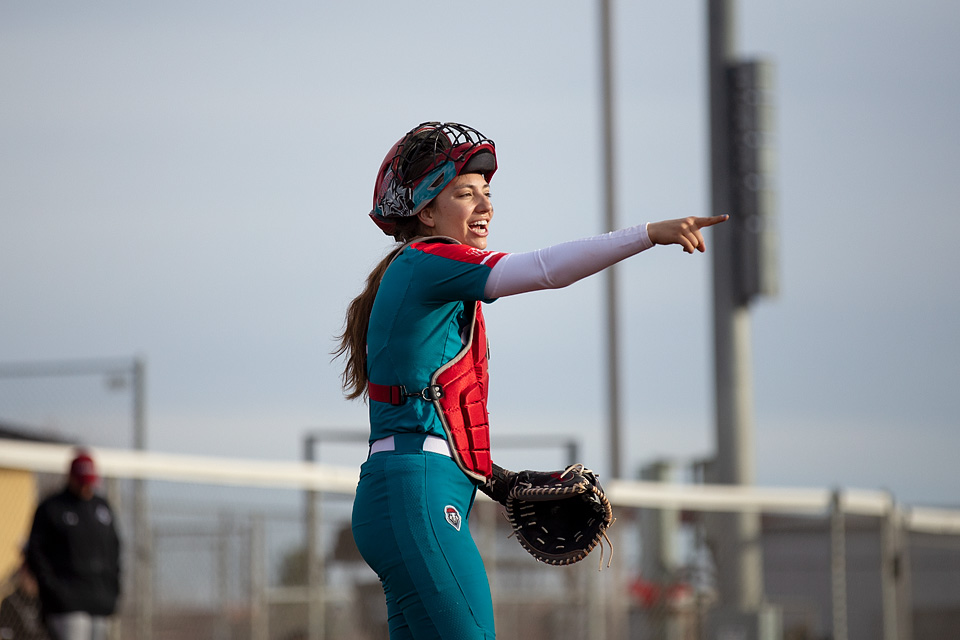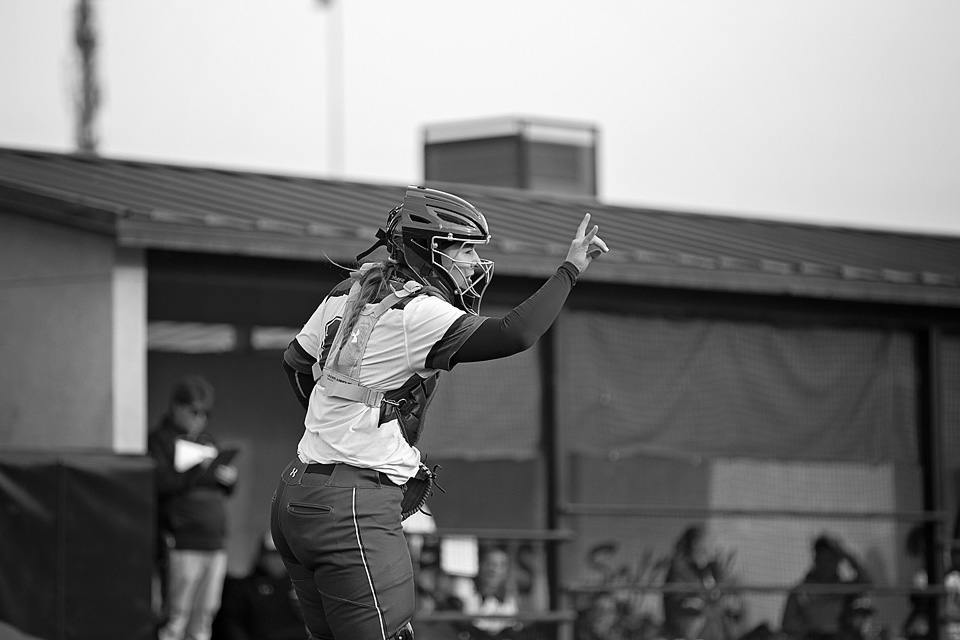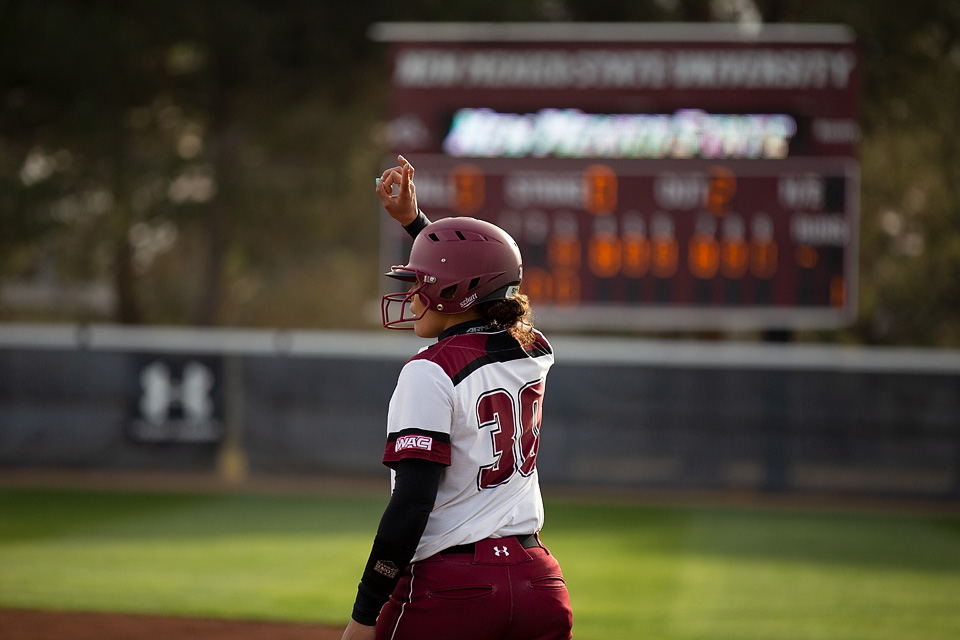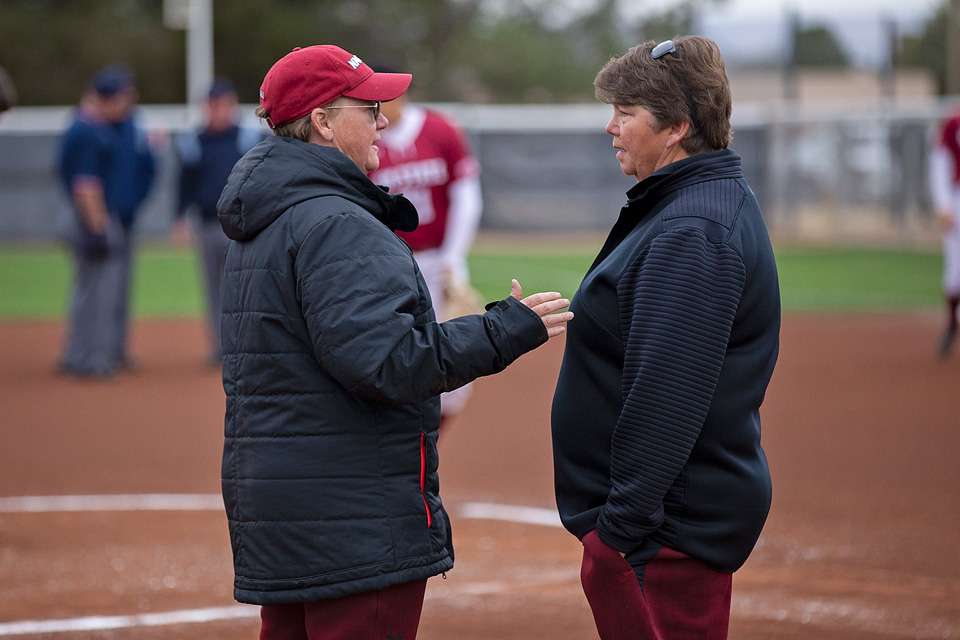 Coaches Kathy Rodolph and Cat Heifner talk strategy.

Coach Rodolph is quickly approaching 700 career wins.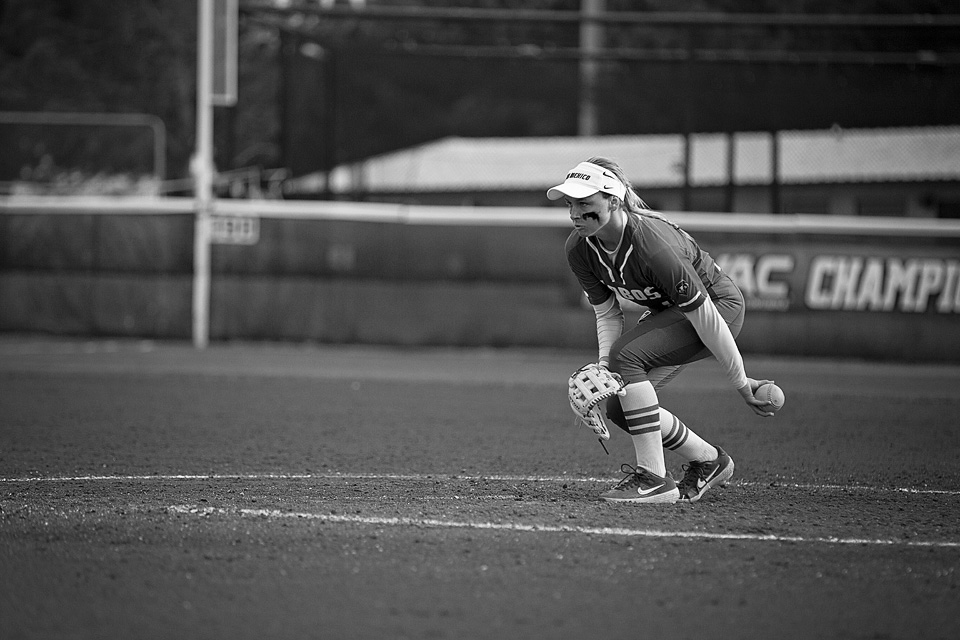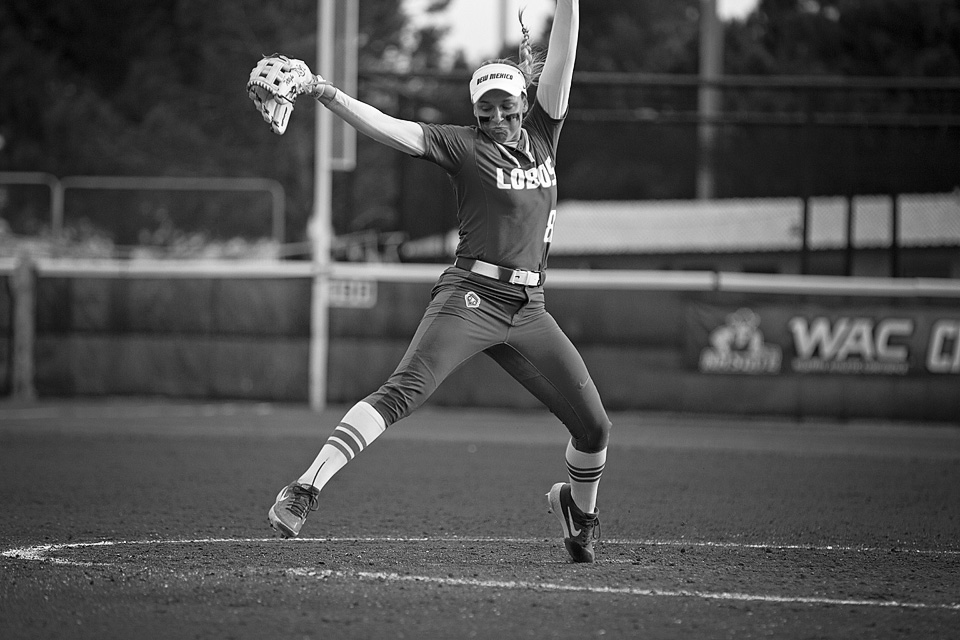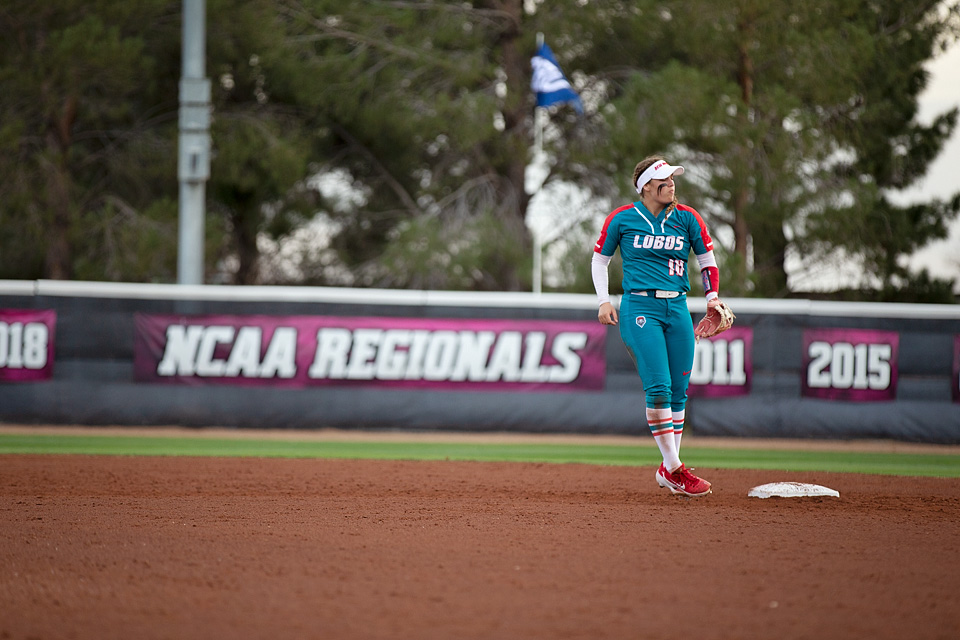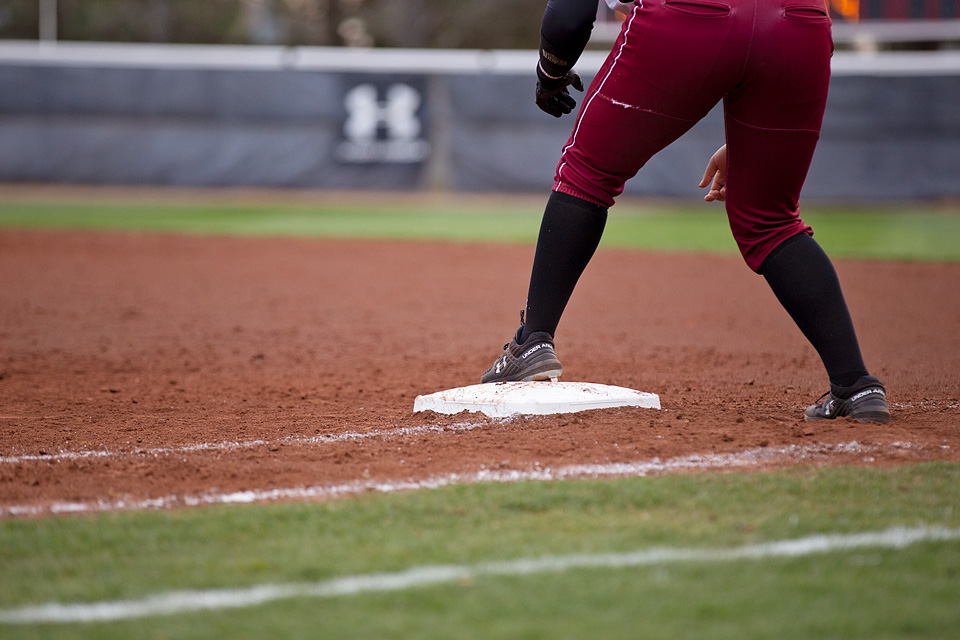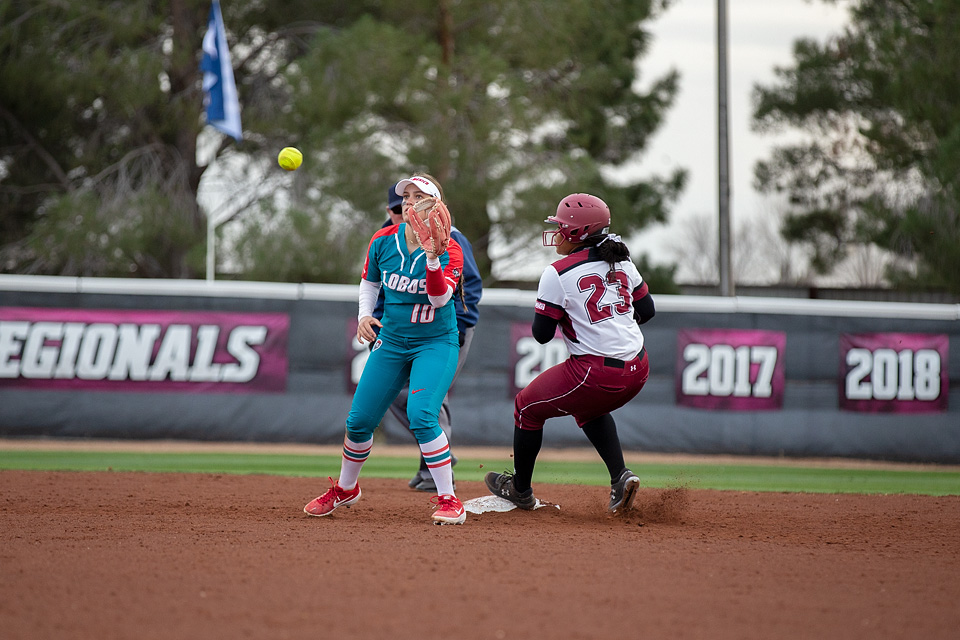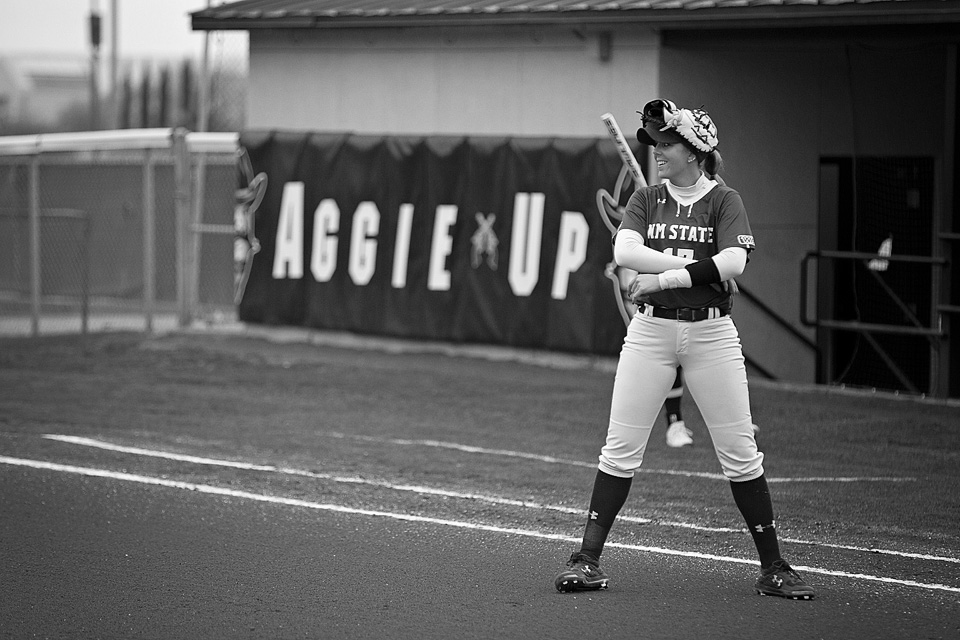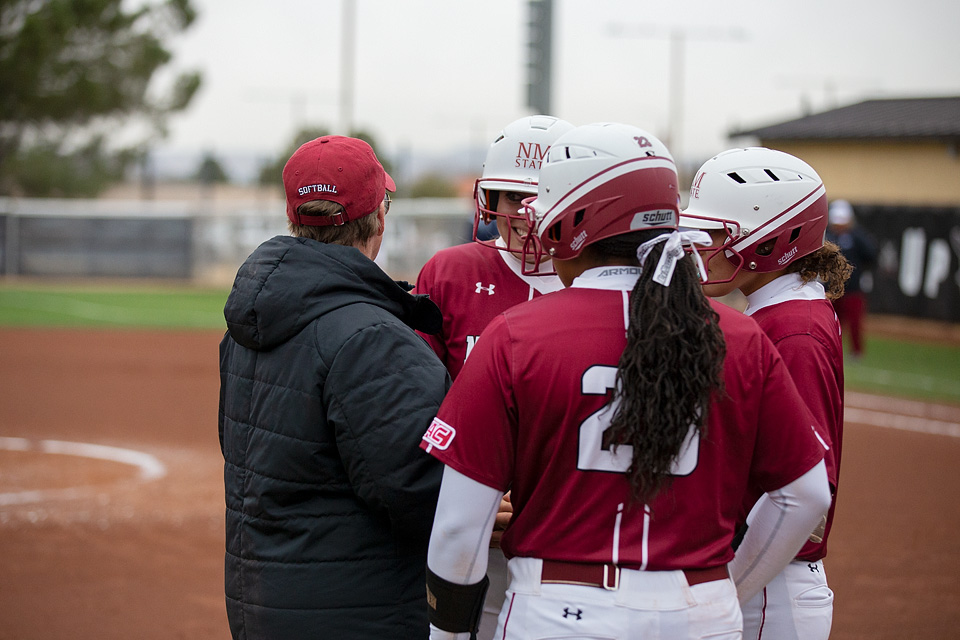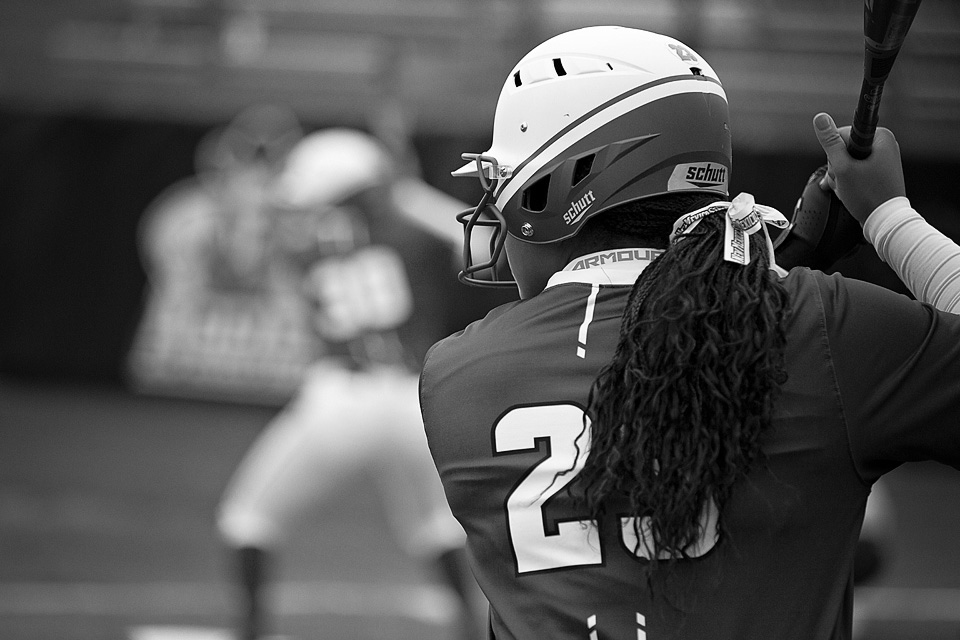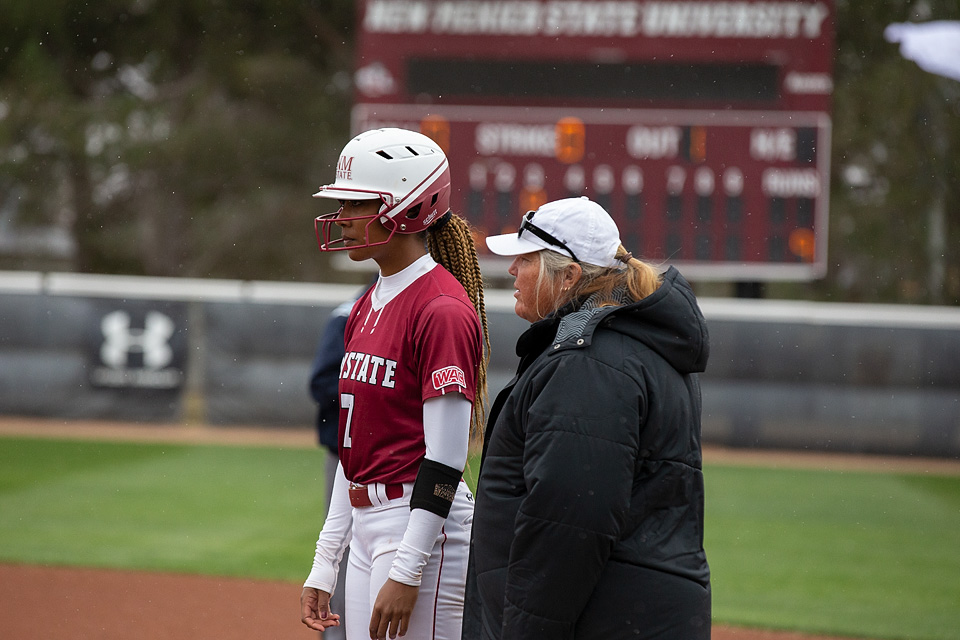 ---