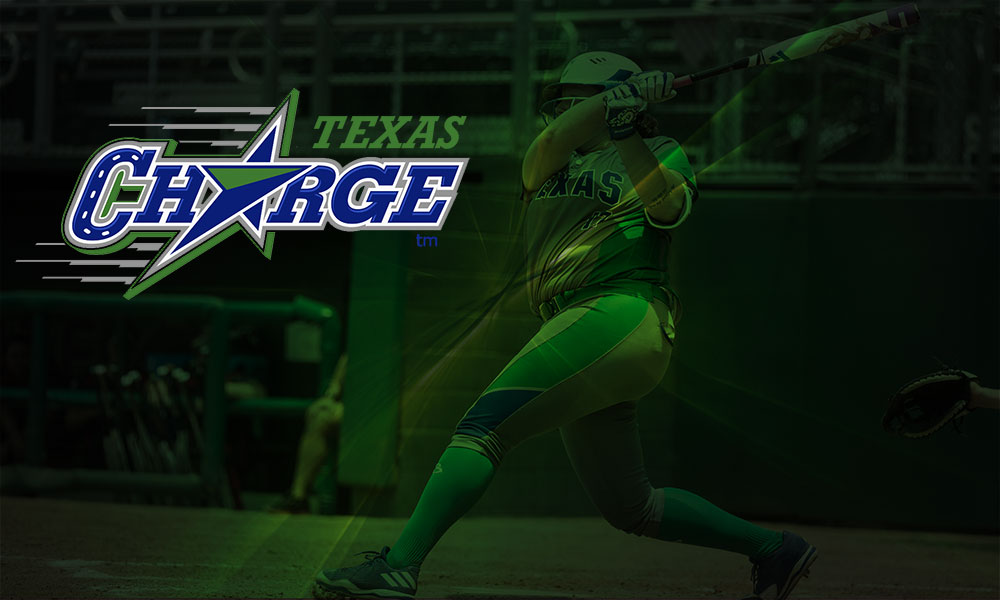 KANSAS CITY, MO (July 12, 2017) — Apparently for the Charge, revenge is a dish best served with Kansas City-style barbecue.
Texas (15-15) turned the tables on first-place USSSA following a tough series in Miami by completing a three-game sweep Wednesday at CommunityAmerica Ballpark in Missouri.
The Charge was fueled by Lauren Haeger's seven shutout innings and Bailey Landry's game-winning home run during their 2-0 victory against the Pride.
USSSA (20-6) came into Monday's opener in Kansas City has not lost consecutive games all season.
Landry's blast came with two outs in the sixth and also plated teammate Breja'e Washington. On the first pitch of her final at-bat against Pride starter Angel Bunner, Landry — a left-handed hitter — muscled an opposite-field homer up and over the fence.
"I just knew going up to the plate that if she was going to throw me a strike, I was going to swing at it," Landry said of her two-run shot. "I was lucky to get a good pitch and I just made sure I had a good swing on it."
Haeger slammed the door shut on the Pride in the top of the seventh after watching Kirsti Merritt tally a leadoff single. The right-hander retired the next three USSSA batters she faced to cap Texas' 17-day road trip in victorious fashion.
Shortstop Ruby Rivera recorded the final out on a routine grounder.
The win featured yet another big-time performance from Landry, who went 2 for 3 from the plate. The rookie from LSU continues to produce no matter where she hits in the batting order.
"I know that wherever they put me in the lineup, whatever the situation calls for, it's my job to do that," Landry said. "So whether I'm leading off or if I'm hitting third and we need a good hit to the outfield to score some runs, I'm capable of doing that."
Washington was 1 for 1 in the contest and led off the bottom of the sixth with a key single to left field. Newly-acquired Alisa Goler and Haeger each collected base hits for the Charge as well.
Haeger also tossed her best game of the year from the pitcher's circle, holding a dangerous USSSA lineup to just five hits. The Florida alum struck out four and issued a pair of walks.
Bunner took the loss for the Pride after surrendering two runs in 5 2/3 innings of work. She fanned five on the night.
USSSA was paced offensively by Hallie Wilson, who finished 2 for 3.
Texas will now receive a well-deserved day off Thursday before hosting the Scrap Yard Dawgs Friday at 7:05 p.m. at Bobcat Softball Stadium in San Marcos.
Three additional days of rest follow that contest before the Charge open a three-game series against the Akron Racers.
Quick Facts
Attendance: 1,544
Game Time: 1:47
Vaultz® Lock it Up! ® Player of the Game: Bailey Landry (Texas Charge)
Courtesy of the NPF