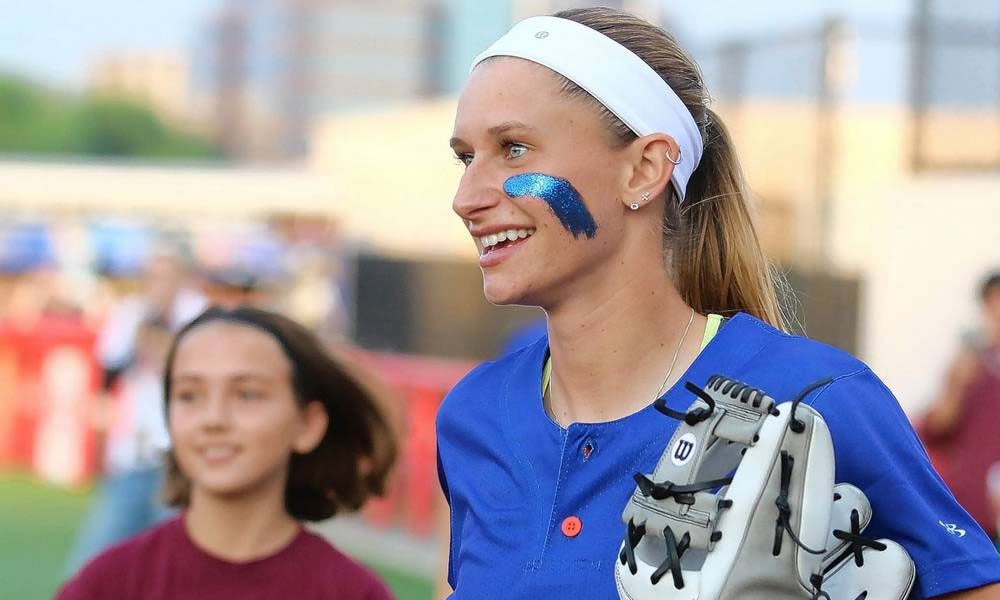 Coming off her best season in the National Pro Fastpitch League, Sammy Marshall will return to the Chicago Bandits in 2018 after agreeing to 1-year extension announced on Monday.
Marshall batted a career-high .322 with a pair of home runs and 11 RBIs along with nine steals in 11 attempts on her way to earning All-NPF honors.
"Joining the Bandit family in 2015 was a dream come true, and I couldn't be happier to sign for my fourth season," Marshall said in Bandits press release. "Being a part of the Bandit culture is truly something special, and I'm looking forward to bringing the Cowles Cup back to Chicago."
Marshall has been part of the Bandits NPF Championships in 2015 and 2016 after being drafted in 2015 NPF Draft by the Bandits coming out of Western Illinois.
" Sammy is the epitome of Chicago Bandits culture,"  said  Bandits pitcher Shelby Turnier  who played with Marshall for two seasons.  Turnier told me that "Her passion for the game are what make her an amazing leader and someone that we all strive to be like."
Marshall currently is beginning her second season as an assistant coach at Division two St Leo in the Sunshine State conference.
"Sammy Marshall is the type of coach that a program doesn't just want, but instead absolutely needs," said the former St. Leo All-American and Sunshine State conference pitcher of the year Stephanie Adkins who I spoke with Monday night on the impact Marshall had on the program this past season. "She's vibrant, energetic, and pushes girls to reach levels they may have never thought were attainable."
Marshall helped St. Leo win the Sunshine State Conference regular-season championship in 2017 and an automatic bid to the NCAA Tournament where St. Leo got to host a NCAA Tournament regional.
"As an athlete at Saint Leo, playing under Coach Marshall was an absolute honor. She has so much game knowledge just from being an active player in the NPF that it strengthens so many aspects of Saint Leo's game. Our slappers and outfielders have made huge strides since she has joined the staff. Even as a pitcher, I learned so much just from having her around because she truly has a wealth of knowledge about the game."
When Marshall returns for her fourth season with the Bandits, she will be playing for her third different head coach. Marshall played for Mike Steuerwald from 2015 and 2016. Following 2016 season. Steuerwald stepped down to become assistant general manager of the Scrap Yard Dawgs and was replaced by Sharonda McDonald for the 2017 season. In 2018 Marshall will play for Stacey Nuveman-Deniz which was announced last week is replacing McDonald as Head Coach of Bandits.
One thing is for sure is despite new coaches, Marshall brings what Bandits fans players  represent as one of  the leaders of the franchise.
" She's the kind of person you want to fight  for that exactly the type of teammate I want to play with," said Turnier. "I can't  picture a Chicago Bandits team without Sammy Marshall on the roster."
You can listen to interview I had with Sammy Marshall back in January talk about why she went into coaching at St Leo as well as her journey to the Chicago Bandits right here.