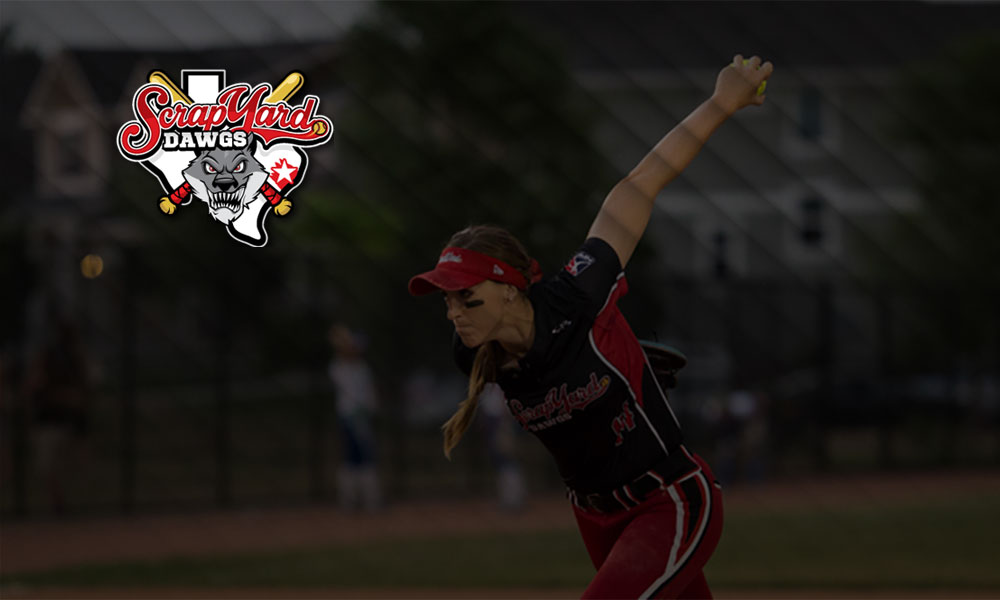 AKRON, OH – The Scrap Yard Dawgs finished the series with the Beijing Shougang Eagles on Wednesday night with a dominating performance by pitchers Morgan Melloh, Cheridan Hawkins and Miranda Kramer and an offensive attack that saw seven different players contribute to an eight run, eight hit performance in an 8-0 win at Firestone Stadium, home of the Akron Racers.
Melloh started the game for the Dawgs and threw three no-hit innings with two strikeouts. Hawkins relieved Melloh to start the fourth inning and carried the no-hitter into the fifth inning when pinch hitter Lu Ying began the inning with a lead-off double. It was the only hit Hawkins allowed in two innings. Kramer entered the game in the bottom of the sixth inning and surrendered a lead-off single to Liu Li Li. Kramer closed the game by retiring the final six batters she faced to complete the combined shutout.
While the troika of pitchers was controlling the game from the circle for the Dawgs, centerfielder Allexis Bennett led a balanced attack that scored in three of the first four innings to build a lead that left the pitchers comfortable. Bennett was the only Dawg hitter to collect more than one hit, going 2-for-2 with a run and a RBI to go with two stolen bases.
Bennett got the offense going in the top of the third inning, picking up an infield single, before stealing second base and advancing to third base on a passed ball. Taylor Edwards followed Bennett with a two-run home run to put the Dawgs ahead 3-0.
In the next inning, Kiki Stokes extended the frame by reaching on an error by shortstop Liu Li Li. Nerissa Myers followed with a RBI double in the right-center field gap to score Stokes. Bennett then followed Myers with a single up the middle to bring the second baseman home and give the Dawgs a 5-0 lead.
The Dawgs completed their scoring in the game with a pair of home runs in the top of the sixth inning. With two outs in the frame, Katiyana Mauga pinch hit for the Dawgs and blasted a home run to left field. Two batters later M.J. Knighten blasted a two-run home run over the left-field wall to put the Dawgs ahead 8-0.
The Dawgs will take on in-state rival Texas Charge on Friday before a two-game series with the Chicago Bandits this weekend, while the Eagles travel to Florida for a series over the weekend taking on both the USSSA Pride and the Racers. All games are available to be streamed on NPF TV.
Quick Facts
Attendance: 117
Duration: 2:14
Vaultz® Lock It Up!® Player of the Game: Allexis Bennett (Scrap Yard Dawgs)
Courtesy of NPF